Contract status last thing on Zimmermann's mind
VIERA, Fla. -- Jordan Zimmermann is enjoying one of the best springs of anyone at Nationals camp. The right-hander's latest performance came on Friday afternoon, when he limited the Cardinals' split-squad team to one run on four hits and a pair of walks while striking out four in six innings. His Grapefruit League ERA sits at 1.37 after his fifth start.
Yet Zimmermann seems prepared to enter the 2015 season pitching in the final year of his contract. He has said he doesn't want to talk about his contract once the season starts, and he reiterated that point after the Nationals' 1-1 tie with the Cardinals.
"If something gets done before then, which is probably pretty rare right now, then it gets done," Zimmermann said. "But it's not looking good."
The impasse between the Nationals and Zimmermann dates back to last year. The two sides tried before the 2014 season, but talks stalled, and Zimmermann ended up accepting a two-year, $24 million extension.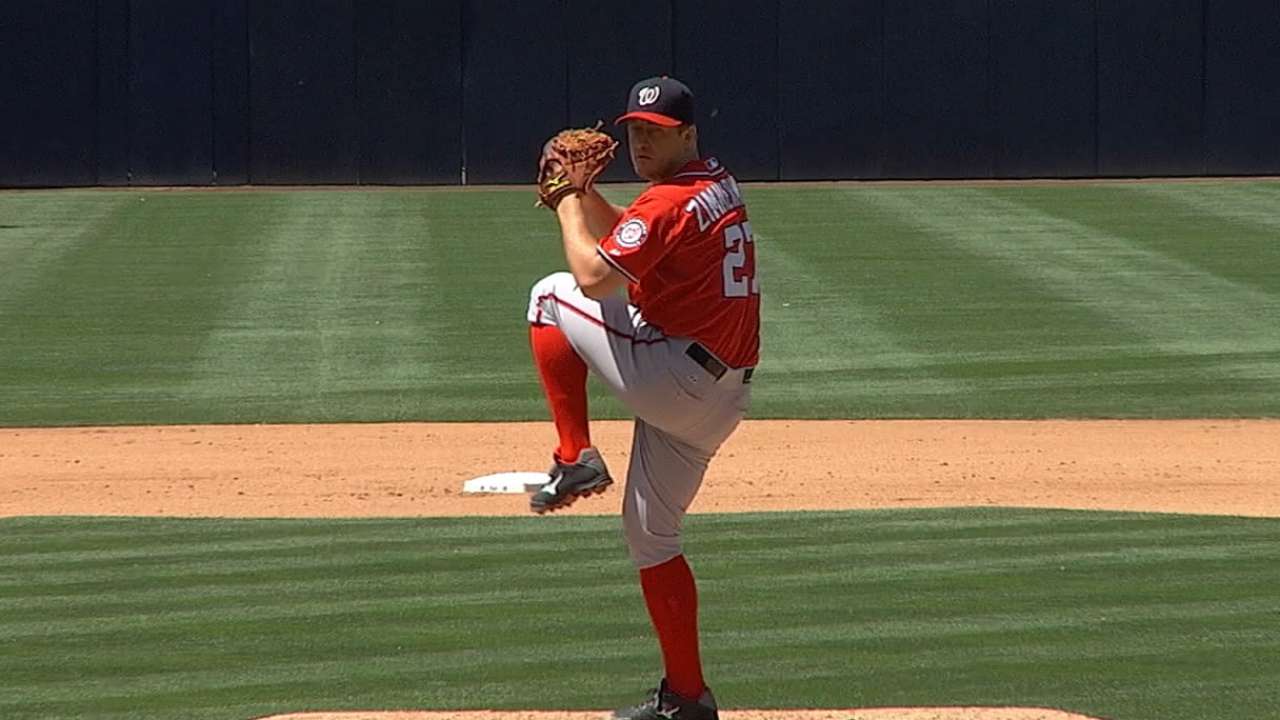 Coming off another stellar season in 2014, Zimmermann has been one of the Nationals' most consistent starters during the past three years. He won 14 games with a 2.66 ERA, made the All-Star team and struck out a career-high 182 in 199 2/3 innings. On the final day of the regular season, he threw the first no-hitter in Nationals history. He held the eventual World Series champion Giants scoreless for 8 2/3 innings in Game 2 of the National League Division Series.
Should he hit the free-agent market, Zimmermann, who will turn 29 in May, is in position to land a lucrative contract.
The Nationals, however, just committed seven years and $210 million to free agent Max Scherzer, who will start Opening Day on April 6. Zimmermann is in line to start the second game of the season against the Mets, and he said he was not disappointed that he did not get the Opening Day nod.
"Any one of us could start Opening Day," he said. "And I'm not a guy that's going to get mad about not being able to start. As long as I'm going out there every five days, that's all that matters."
Jamal Collier is a reporter for MLB.com. Follow him on Twitter at @jamalcollier. This story was not subject to the approval of Major League Baseball or its clubs.