Mets hope Familia, and his pitches, keep rising
Sinker part of reliever's success, but club sees potential elsewhere in zone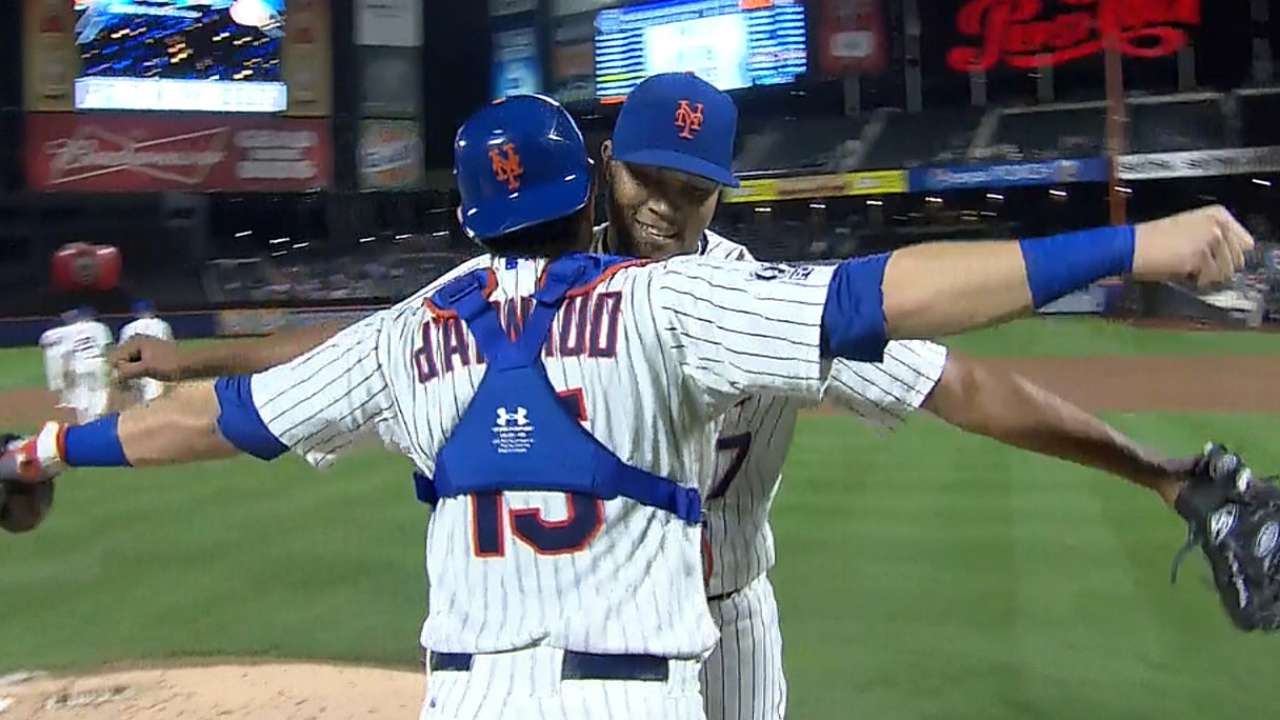 JUPITER, Fla. -- The key to Jeurys Familia's success has always been his ability to throw sinkers low in the strike zone, thereby generating ground balls. No National League pitcher with at least 75 innings last season induced grounders at a higher rate than Familia, who by most statistical measures was the Mets' best reliever.
But the Mets want more out of Familia, who has taken on additional importance with Josh Edgin out for the season, Bobby Parnell set to miss at least another month and Vic Black nursing a right shoulder injury that may sideline him on Opening Day. Pitching coach Dan Warthen has spent time this spring teaching Familia how to pitch up in the zone, going as far as to tweak the right-hander's delivery. The result, the Mets hope, will be a more complete pitcher, capable of putting away left-handers as easily as he does same-sided hitters.
"The way he pitches, everything's down, down, down, down, down," manager Terry Collins said. "We've got to change the look. If he's going to be that guy who we think possibly could pitch deep in the game, he's got to be able to do a couple other things. There's going to be a time when you're going to need a strikeout, especially against lefties. If he can give them something else to look at, he's going to have a better chance to strike them out."
The problem is that altering what is familiar to Familia could be a dangerous game. Last summer, the right-hander posted a 2.21 ERA over 77 1/3 innings, striking out 8.5 batters per nine and generating grounders 57.4 percent of the time. This spring, Familia has produced a 6.43 ERA in eight outings, giving up at least one run in three of them. He has also battled a velocity drop that the Mets expect to disappear by Opening Day.
Despite those checkered early results, Familia is on board with the Mets' desire to have him throw more pitches up in the zone, understanding that left-handed hitters hit 159 points higher and slugged 283 points better against him last year than their right-handed counterparts.
"My sinker, all the time, it's down, down, down," Familia said, adding that physically, he feels normal. "If I can throw more up in the zone, that would be good."
As for his role, Familia should open the year as a setup man, assuming the lion's share of high-leverage innings -- particularly if Black is sidelined. He understands how much responsibility the Mets are giving him.
"Right now, it's a little tough," Familia said of the injuries to Black and Edgin. "They didn't want to get hurt. They wanted to be with us in the bullpen. But we just have to keep doing what we did last year. I'm trying to do what I did last year, or better."
Anthony DiComo is a reporter for MLB.com. Follow him on Twitter @AnthonyDicomo. This story was not subject to the approval of Major League Baseball or its clubs.