MLB.com Columnist
Richard Justice
Tigers crossing fingers on Verlander
Triceps cramp puts damper on day right-hander showed Cy Young form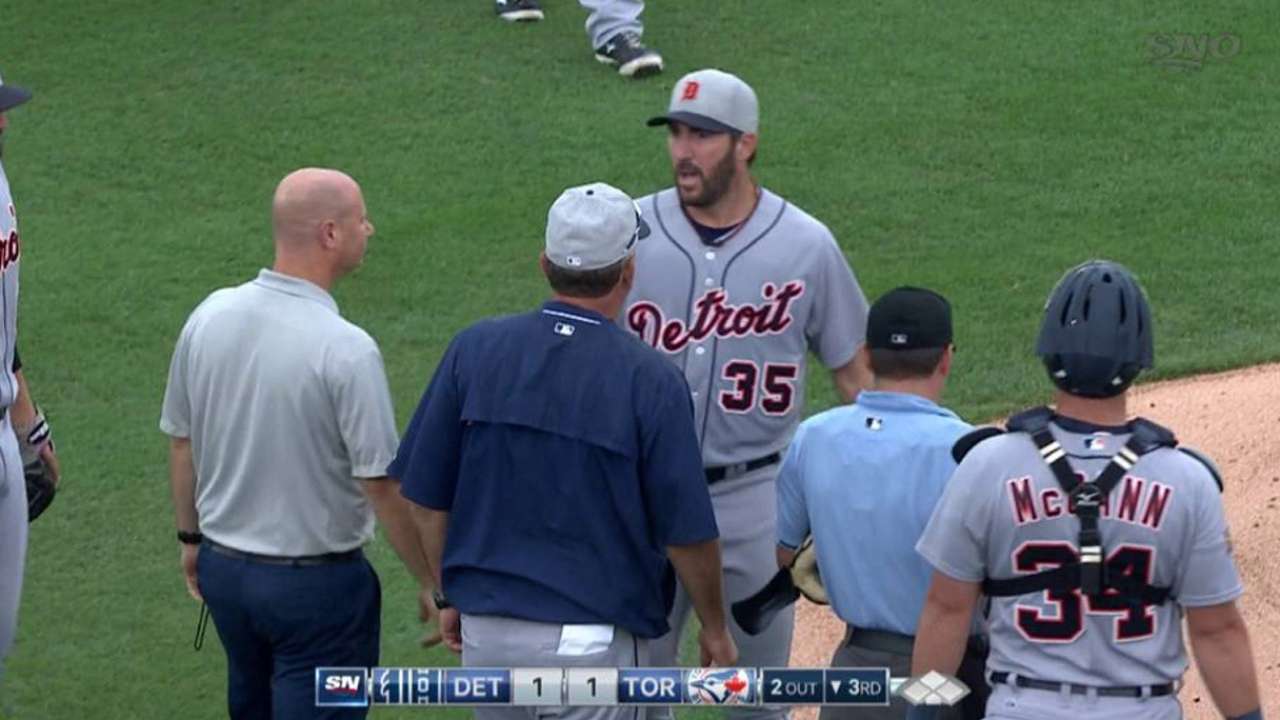 DUNEDIN, Fla. -- What a strange, confusing, scary day for the Detroit Tigers. One moment, there was Justin Verlander at his dominant best.
"That's about as well as I've seen him throw in Spring Training in years," Tigers president Dave Dombrowski said.
The Tigers didn't know if they'd ever see this Justin Verlander again. Remember him? He was throwing hard, consistently in the 94-95 mph range, occasionally touching 96.
He may never throw 100 mph again, but for the first time in a while, he showed off a fastball that could still be one of baseball's best. Better yet, he had a hammer of a curveball and a very nice slider. He threw some changeups too, some good ones.
In short, this was the whole package.
"I felt really good," he said later. "That's where I want to be. Those first two innings are a great sign. I felt like myself. Funny to say."
And then right there in the bottom of the third inning against the Blue Jays, Verlander did something he has done only a very few times in his career.
He signaled for Tigers pitching coach Jeff Jones to come to the mound. Jones had seen this sight so few times that his first thought was that Verlander needed a scouting report on the next hitter.
"Sometimes he'll do that if he forgets," Jones said.
Instead, Verlander had felt a strange, uncomfortable sensation in his right triceps.
"Something I've never felt before," he said.
He described it as a cramp. He'd felt it on a couple of pitches before asking for Jones. Manager Brad Ausmus immediately removed Verlander from the game, and afterward, the Tigers seemed optimistic that it was nothing serious.
"Hopefully, it'll just be a blip on the radar," Ausmus said.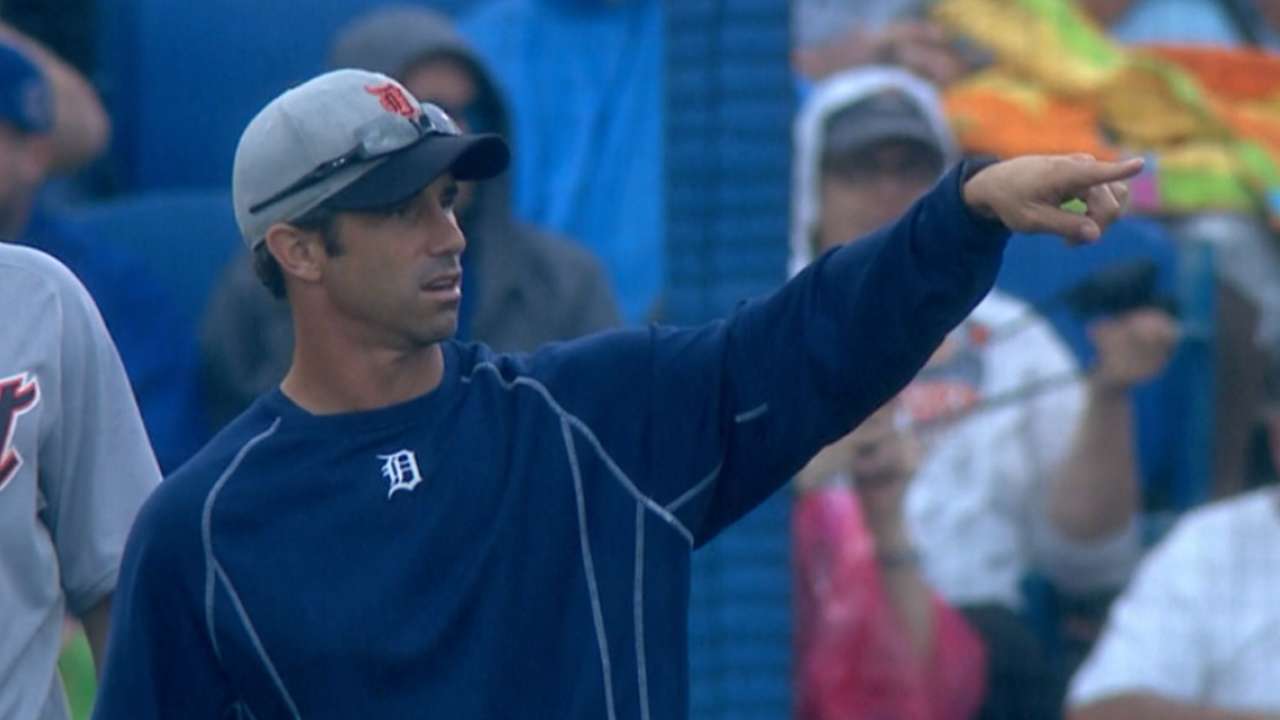 Still, the next couple of days will be nervous ones as Verlander assesses the soreness in the area, and the team's medical staff takes a closer look.
Verlander said a cramp made sense since he hadn't drank a lot of water before taking the mound and could have been dehydrated. Also, he wondered if his retooled mechanics could be putting extra stress on that part of his right arm.
In the end, though, he won't know for a day or two. He simply hopes that the discomfort will diminish and that he'll be good to go for his final spring start.
"It's kind of a roller coaster emotionally," Verlander said. "But stuff-wise, pitching-wise, those first two innings are right where I want to be."
He hadn't been there for awhile, especially last season when his velocity diminished and his ERA rose. Verlander said he thought undergoing core muscle surgery before the 2014 season was the reason for a career-high 4.54 ERA. He simply hadn't had enough time to recover.
But in the seven seasons before 2014, he'd averaged 225 innings and 220 strikeouts. He led the majors in strikeouts in that time and was second only to C.C. Sabathia in workload.
It's reasonable to think all those innings have taken a toll and that at 32, he's never going to be the guy he was at 28. But he's not ready to concede that he'll have to become a changeup artist to win big.
Anyway, in his fifth start of Spring Training on Friday afternoon, he was tremendous.
"When he's throwing like this, he's one of the best pitchers in baseball," Dombrowski said.
Jones, the pitching coach, summed it up with one word: "Great."
Ausmus chimed in: "Best I've seen him."
The Tigers have an assortment of questions to answer. Will Miguel Cabrera's body allow him to put up MVP numbers again? Can Joe Nathan still be a dependable closer?
This really isn't about just making the playoffs. The Tigers have won the AL Central four years in a row. They've gotten as far as the ALCS three times and the World Series once.
All that's left is winning the whole thing. To that end, they are a team built for today, a team that would be bitterly disappointed with anything less than a championship.
And so on a windy afternoon, Verlander seemed on his way to answering one of their key questions. If he can still be Justin Verlander, that is, one of the toughest, most durable and effective pitchers on the planet, the Tigers will leave Spring Training feeling pretty good about their chances.
Now there's uncertainty of a different kind. If the Tigers can line up Verlander, David Price and Anibal Sanchez, they will have a made-for-October front of the rotation.
But if Verlander is sidelined for any length of time, if he can't come back and pitch at a high level, the Tigers might have trouble holding off the White Sox, Indians and Royals in their division.
OK, let's not get ahead of ourselves. In the end, the good news may have outweighed the bad for the Tigers. Unless there's something serious going on with Verlander's arm, he showed today that he still has dominant stuff.
Maybe that's the story line that came out of this day. The Tigers will have their fingers crossed for a couple of days.
Richard Justice is a columnist for MLB.com. Read his blog, Justice4U. This story was not subject to the approval of Major League Baseball or its clubs.