Storen passes test in return from hand surgery
Glove hand feels strong after eventful inning against Cardinals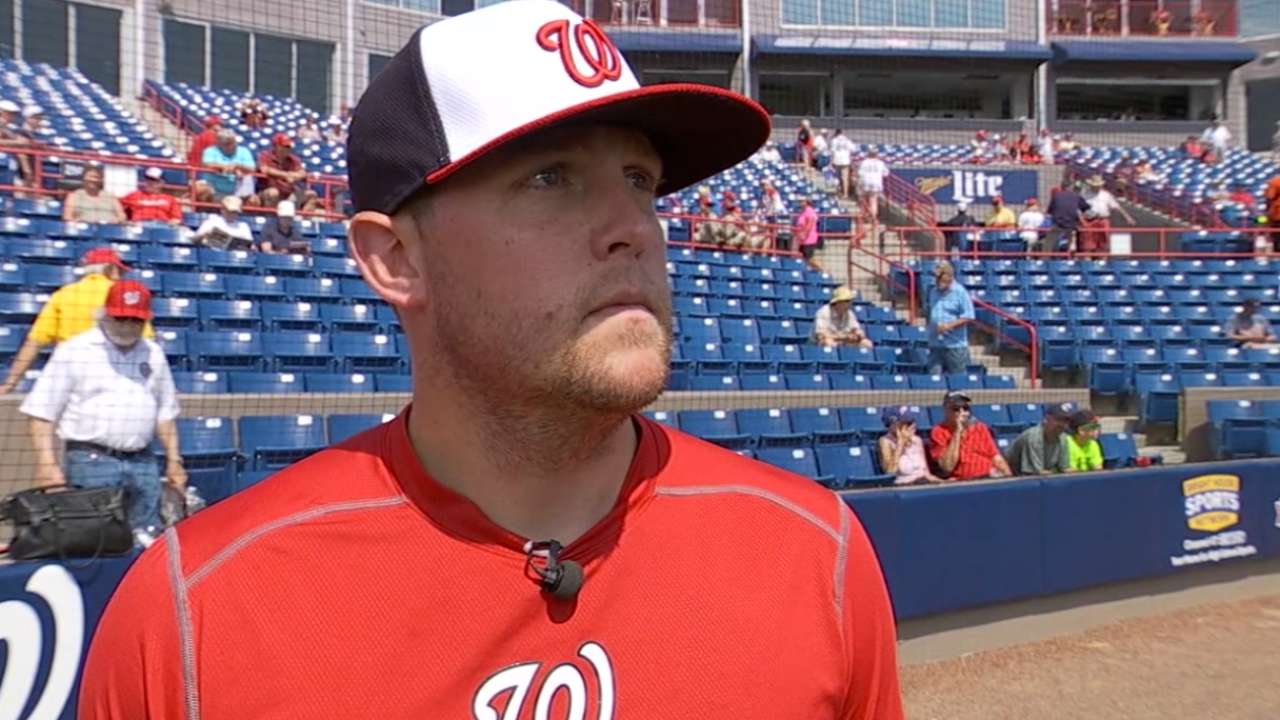 VIERA, Fla -- Nationals closer Drew Storen entered Friday's 1-1 tie with the Cardinals in the seventh inning, making his first appearance in a Grapefruit League game since he had a minor surgery to remove the hook of the hamate bone in his left hand.
Naturally, the first batter Storen faced, second baseman Kolten Wong, hit a grounder to first base that forced the right-hander to cover first base and test out his left hand.
"Couldn't script it any better than a P.F.P. ball the first guy up," Storen said, referring to pitchers' fielding practice. "So right in the deep end. That was good. I felt good, though."
Storen worked his way out of trouble in the inning. The next three batters reached base on an error, single and walk, respectively, leaving Storen with a bases-loaded situation that he called a "high-wire act." He escaped the inning without surrendering a run by getting Jacob Wilson to ground into a double play.
"Yeah, it feels normal," Storen said. "The only thing, if anything, is probably my grip strength isn't normal. But I used, pretty much, a new glove today, so it's still there. I'm not going to set any records with my left hand right now on grip strength, but it feels good."
Storen injured the hand when the knob of the bat drove into his left hand during a hitting drill earlier this spring. The surgery sidelined him for a few days, and while he had not appeared in a Grapefruit League game since March 11, Storen has remained on a regular throwing schedule. He has thrown batting practice, with the aid of someone to catch the ball for him, and pitched in Minor League games, so he feels his work has been unaffected by the injury.
"I knew I was at a fork in the road where if I was going to do something, I needed to do it then," Storen said, "because I knew I had the perfect amount of time to get ready for the season."
Jamal Collier is a reporter for MLB.com. Follow him on Twitter at @jamalcollier. This story was not subject to the approval of Major League Baseball or its clubs.