Avila handles rare start at first base just fine
Catcher plays five innings at position during rain-shortened loss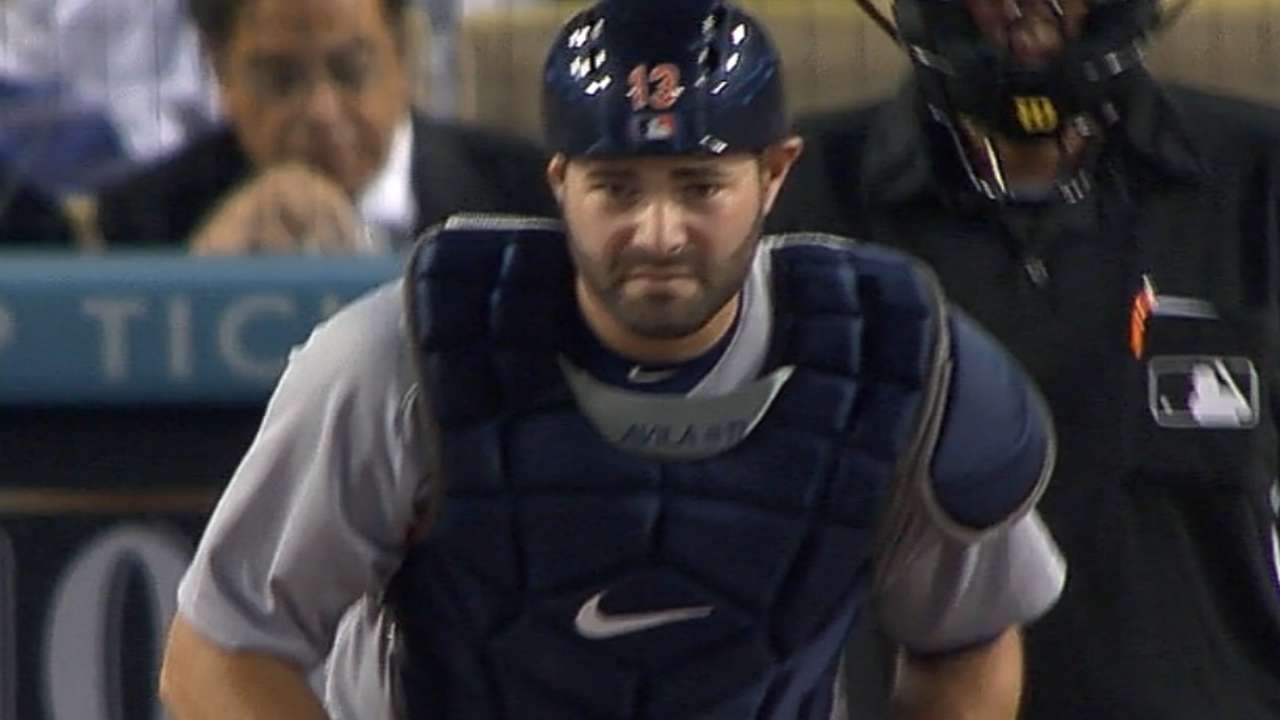 DUNEDIN, Fla. -- Alex Avila didn't want to make a big deal about it. It was one game at first base, a half-game really, and nothing more.
"I really don't want to make a habit of playing there," he said, "but I will if I have to."
If he has to make a habit out of playing first base, the Tigers have bigger problems. It would likely mean Miguel Cabrera or Victor Martinez being sidelined, and nothing Avila can do would fill that void.
As for playing the position, though, the former University of Alabama corner infielder handled it fine in Friday's rain-shortened 4-1 loss to the Blue Jays.
"It's different," Avila said, "but I think I've played there enough I can feel somewhat comfortable to where I can do a good enough job."
Instead of catching Justin Verlander like he normally does, Avila made a toss to him, fielding a third-inning ground ball and flipping it over as Verlander scrambled to cover the bag. He also took throws from around the infield, including an acrobatic throw from shortstop Andrew Romine from deep in the hole.
Romine, ironically, might be more likely to play first base before Avila in a lot of situations. Both Romine and fellow utility infielder Hernan Perez have had playing time at first base this spring as the Tigers try to build a super-utility player in Don Kelly's mold.
Though Avila played one inning at first base last season, the idea of him as an option there came out of the possibility that Cabrera might miss time at the start of the season recovering from his right foot surgery. That possibility seems remote now that Cabrera is making diving stops at first base, but manager Brad Ausmus still wants to be prepared.
Perez, fittingly, was giving Avila tips, or grief.
"The whole time he was telling me to go here, go there, do this, do that," Avila said. "It was fun, though."
Jason Beck is a reporter for MLB.com. Read Beck's Blog and follow him on Twitter @beckjason. This story was not subject to the approval of Major League Baseball or its clubs.