Nathan counting on Opening Day boost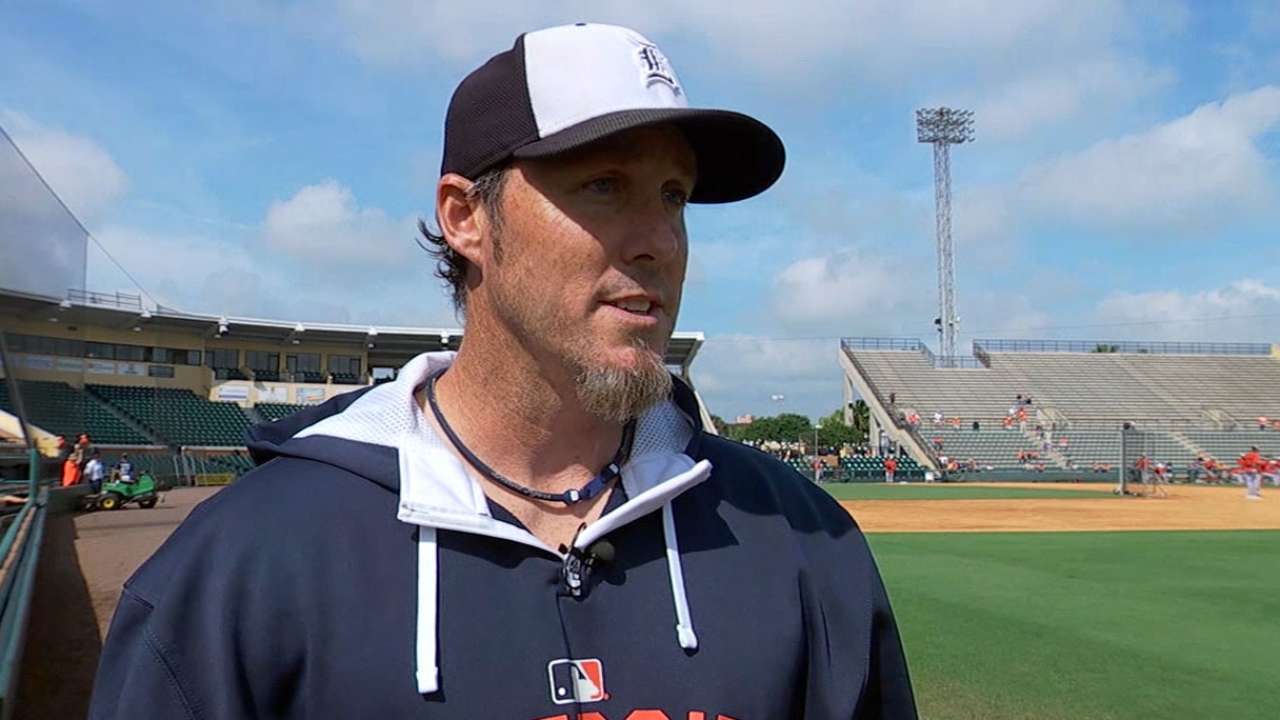 DUNEDIN, Fla. -- Joe Nathan is counting on Opening Day. That has nothing to do with the Tigers' roster situation.
He's counting on the adrenaline rush of Opening Day to give him a boost -- in velocity, in concentration, in command. He's counting on something extra when the bell rings, so to speak, that he doesn't get in Spring Training.
He's like a lot of closers in that regard, using Spring Training to shore up the mechanics while counting on the energy to be there when it counts. Still, as a 40-year-old closer coming off one of the roughest seasons of his career, his situation is different, which is why the Tigers arguably have to see what Nathan has at season's start to judge what he has left for the job.
"As far as velocity, it should help a lot," Nathan said Friday. "Adrenaline's a great drug, and it can help you in so many ways. But you have to hone it in and make it a positive."
Opening Day is a week and a half away. Nathan has three outings, starting next Monday, to shore up his mechanics and his command. He'll spend this weekend trying to allow his thumb to heal from the cut he opened up with a fingernail Thursday.
It didn't leave a mark on the ball, Nathan said, but he agreed with manager Brad Ausmus that it was enough to have an effect on his pitches, notably the hanging slider that Baltimore's Jayson Nix hit out for a game-tying home run in the eighth inning.
"Especially when I threw breaking balls, it just seemed to catch that and kind of lift it up every time," Nathan said. "I knew it out there in the pen, because my breaking balls went from being pretty sharp to, when it happened, they just started rolling up there."
It was the first homer Nathan had allowed this spring, but seventh run he allowed, five of them earned, in 9 1/3 innings.
Most of that damage came in a March 12 unraveling to the Phillies. Still, he has given up damage of late, with two runs on five hits over 2 2/3 innings.
He gave up two hits in a scoreless inning Wednesday before Nix's home run Thursday, and his velocity dropped to 89-90 on one scout's radar gun. Afterwards, manager Brad Ausmus said there was no competition going on for the closer role Nathan has held since the start of last season.
"Did I get much out of yesterday? Not really," Nathan said. "I threw five pitches and really didn't get into any kind of rhythm. But what I did get out of it was throwing two days [in a row] which, more importantly, was what I was looking to do yesterday."
With a velocity drop, his modus operandi is fairly simple. He has to hit his spots with precision to succeed, and miss out of the strike zone when he doesn't hit them. He's looking for a boost there.
"Especially Opening Day, getting that big jump tends to raise that level of excitement and adrenaline that hopefully you can turn into a positive out there," Nathan said.
Jason Beck is a reporter for MLB.com. Read Beck's Blog and follow him on Twitter @beckjason. This story was not subject to the approval of Major League Baseball or its clubs.