Teaford making a push for spot on Rays pitching staff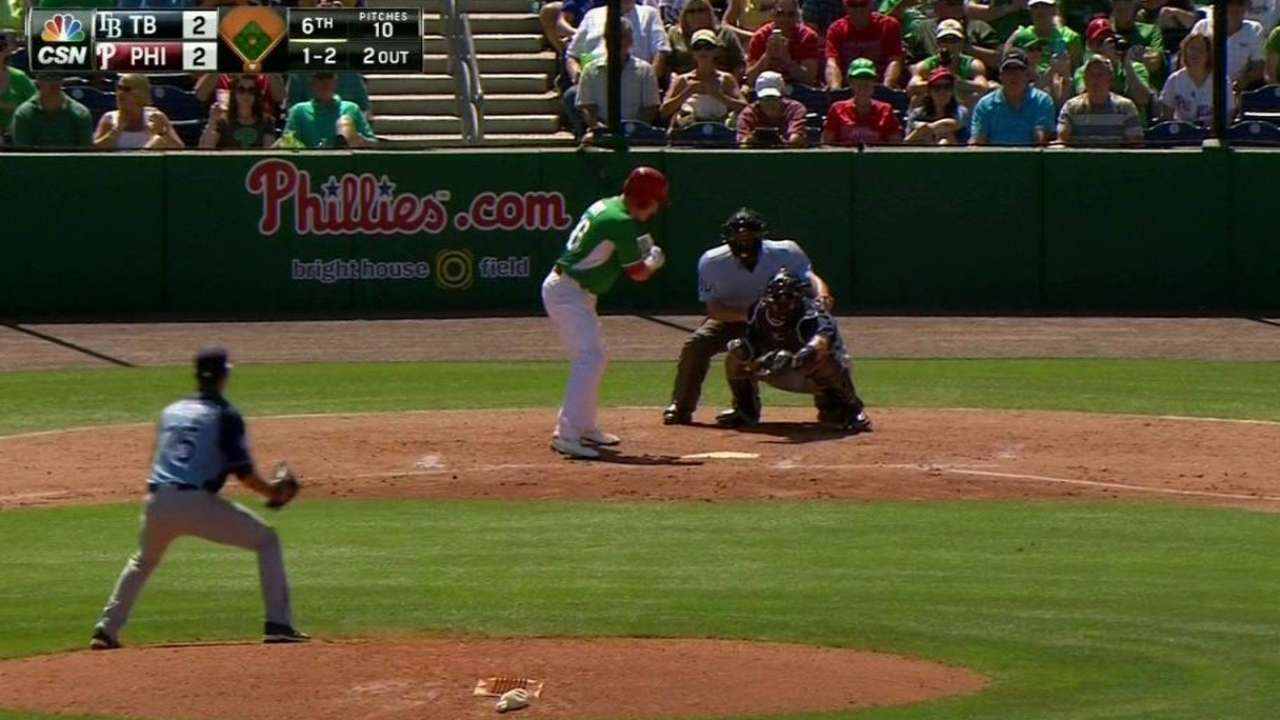 SARASOTA, Fla. -- With his 31st birthday drawing near, a modest 106 Major League innings under his belt and multiple spots on the Tampa Bay pitching staff up for grabs, Everett Teaford's career has reached a critical stage.
And the Rays' left-hander is pitching accordingly.
Boasting an otherwise fluid delivery with an effective hesitation at its peak, Teaford shook off a home run by Nolan Reimold on the first pitch of his outing in Friday's ultimately rained out game with Baltimore.
He retired six consecutive Orioles -- all likely Opening Day starters -- as he continued to make a convincing case for a spot on the Rays' pitching staff.
"To face a good lineup like that and hold your own? It Definitely gives you a little more confidence," said Teaford moments after his performance. "It's good to face quality players, and I try to raise my game a little bit."
After hitting the zone on 15 of his 21 pitches on Friday, Teaford has now thrown a remarkable 67 of 79 pitches for strikes this spring -- an 85 percent clip. For some perspective, the typical Major League pitcher averages 60-62 percent, with upper-echelon hurlers reaching the 67 percent level.
"That's really been the biggest thing I wanted to do this spring is not walk anybody. If I'm going to get beat, make them beat me and up to this point, I really have," said Teaford.
"I feel like I've commanded the strike zone very well."
Rays manager Kevin Cash, who will be the ultimate arbiter on how the Rays' Opening Day staff is structured, agrees.
"I thought he threw the ball well. First pitch, Reimold was ready to go, but after that I thought Teaf did a nice job of mixing pitches just like he always does."
If there's one thing that impresses a manager more than a pitcher who faces no adversity whatsoever, it's a pitcher who knows how to escape it.
"He's been around enough that he's probably given up enough home runs and big hits so he knows how to handle it when he does deal with some adversity," said Cash. "I wouldn't have expected anything other than that from him. Just getting right back into the strike zone again."
Cash is convinced that Teaford's skills translate equally to a starting or relief role, and that the lefty could help the Rays in a variety of ways.
"His versatility is one of his best assets. You watch him, he drops down against some lefties so we're very aware that he's capable of fulfilling both roles and then going forward, it will be a matter of how it best helps our team," said Cash.
Added Teaford: "I feel that at least this spring I can say hey, I laid it all out on the table. If I'm one of the 25 or if I fit in early in the year, then great."
Michael Kolligian is a contributor to MLB.com. This story was not subject to the approval of Major League Baseball or its clubs.