MLB.com Columnist
Phil Rogers
Maddon sees NL Central as the new AL East
Skipper, whose Rays grew vs. Yanks, Sox, says competition helps young players develop faster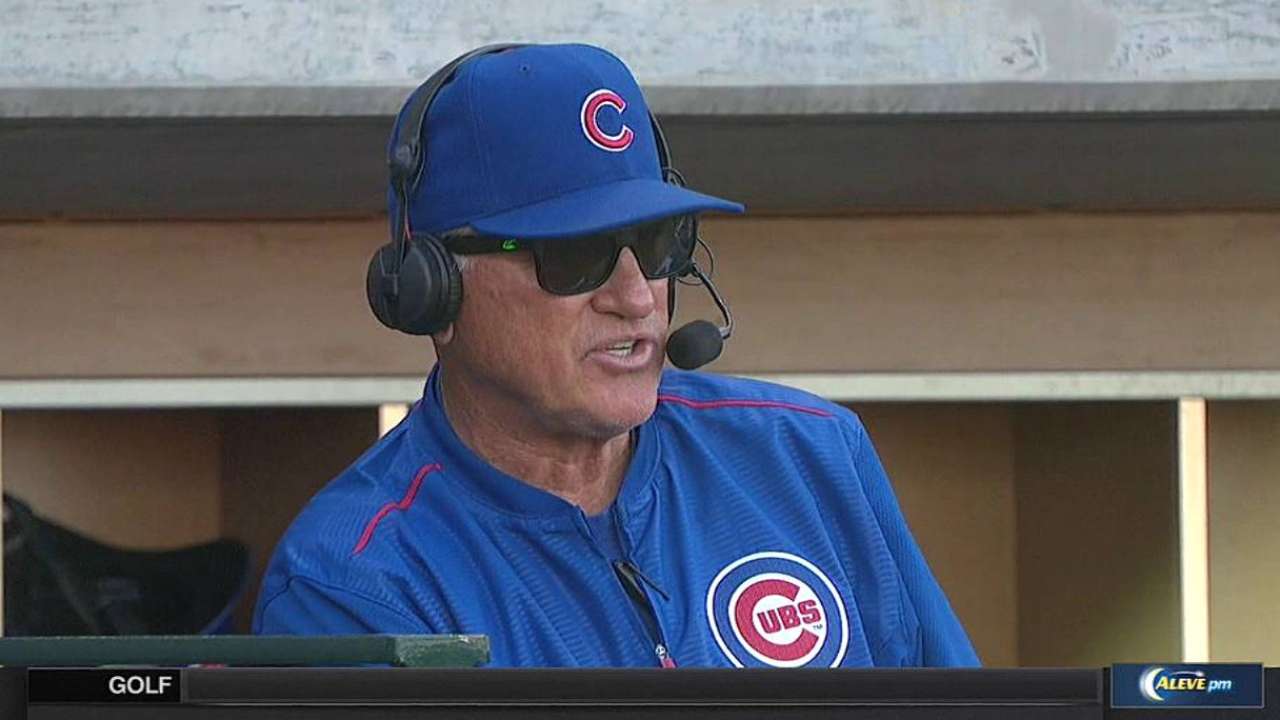 MESA, Ariz. -- When Joe Maddon took over the Tampa Bay Devil Rays, lots of people -- Lou Piniella included -- felt they were on a dead-end street, trapped in the American League East like a house hunter on a budget in the Hamptons.
Every preseason publication -- including the baseball preview in Cigar Aficionado -- started with the Yankees, Red Sox, Orioles, Blue Jays and then, just to be nice, threw in a couple hundred words about the Rays. That was life in baseball's best division, and Maddon loved it.
Now that he's moved to the Midwest, he knows there's some buzz about the National League Central being the new AL East, and he can't wait to check it out for himself. He insists he'd love nothing better than for the next five years to be regular battles between his Cubs and opponents regarded as the teams to beat in the NL.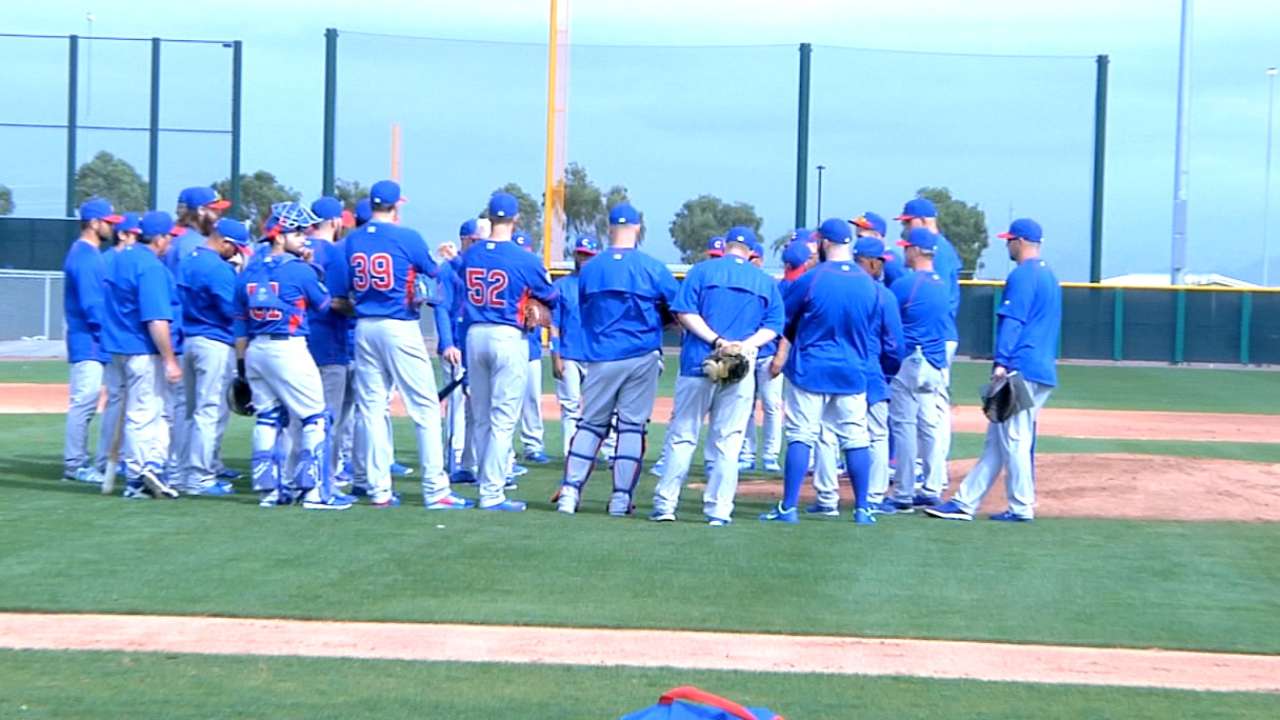 The longer he talked, the more excited he sounded about managing against players like Yadier Molina, Adam Wainwright, Andrew McCutchen, Carlos Gomez, Billy Hamilton and Aroldis Chapman.
"I felt kind of good about the Rays playing in what we considered the best division in baseball at that time, and I also believed, and I said at that time, 'It's very important that you play in a good division,'" Maddon said Friday. "It helps your young players get better faster. I thought our young players got better faster because they're playing in venues like Yankee Stadium and Fenway Park often. There's no snoozing, man. You have to be on your toes when you're playing in those venues against those teams.
"I think the ascension of the Rays was partly responsible to being in that division. Some people thought we should be in another division. No way, man. I want this NL Central to be considered the best division in baseball. I want it to be that strong. The stronger it is, the faster we get better. That's the way I look at it."
Maddon got a sneak peek at his new neighborhood last season, when Interleague Play had the Rays matched up with teams from the Central. They went 10-6, losing only a series against the Pirates at Tropicana Field, but he saw talent everywhere he went.
"I saw a lot of good stuff, I thought," Maddon said. "Obviously you can talk about the stars, but there's other stuff. [Devin] Mesoraco, the catcher from Cincinnati, really stood out for me as an example of a guy I really didn't know about. At that time, [the Rays] get [Ryan] Hanigan [in a trade from Cincinnati], and I'm wondering, 'If Hanigan's available, the other guy's got to be good,' and he was. Really good. Saw the [Gregory] Polanco kid for the first time in Pittsburgh, and how good he can be.
"St. Louis, the thing that always impresses me about the Cardinals is they play the game properly. Period. Exclamation point. That's what stands out. They have a pretty physical group of pitchers there too. Milwaukee, they have the bangers, what they're able to do up there. Cincinnati, Chapman was hurt when we played them last year. We didn't get to see him."
When Tony La Russa managed the Cardinals and Dusty Baker ran the Cubs, it sometimes seemed that the managers were engaged in their own form of hand-to-hand combat, if that's possible when they're in different dugouts. That was the way it was with Maddon and managers like Terry Francona, Joe Girardi and Buck Showalter, and it's the way it will be with him and the likes of Mike Matheny and Clint Hurdle, even if Maddon downplays the managerial matchups.
"My biggest concern about that is to understand the other manager -- what are they willing to do, what kind of risks are they willing to take?" Maddon said. "Just trying to understand what he would do and what he would not do. That opens up certain things for us. I don't play the competitive game with other managers. I'm not worried about that."
Maddon said the Cardinals' Matheny is the only one of the four other Central managers he doesn't know well. The Reds' Bryan Price pitched for Maddon in 1986, when he was managing the Midland (Tex.) Angels. The Brewers' Ron Roenicke coached alongside Maddon in the Angels' organization. And Maddon says he has a special relationship with the Pirates' Hurdle. They knocked heads at home plate in 1976, when Hurdle was a first-round stud in the Mets' system and Maddon an undrafted backup catcher in the Angels' system.
A catcher blocking the plate holds his ground. But a team trying to climb upward in the standings has to do a little bit more. It has to develop its own personality, and Maddon's Rays did that on the field, holding their own in incidents against the Yankees and Red Sox. He says that standing up to the big boys made an "attitudinal" difference for his team, which would go from 66 wins in 2007 to 97 and a trip to the World Series in '08.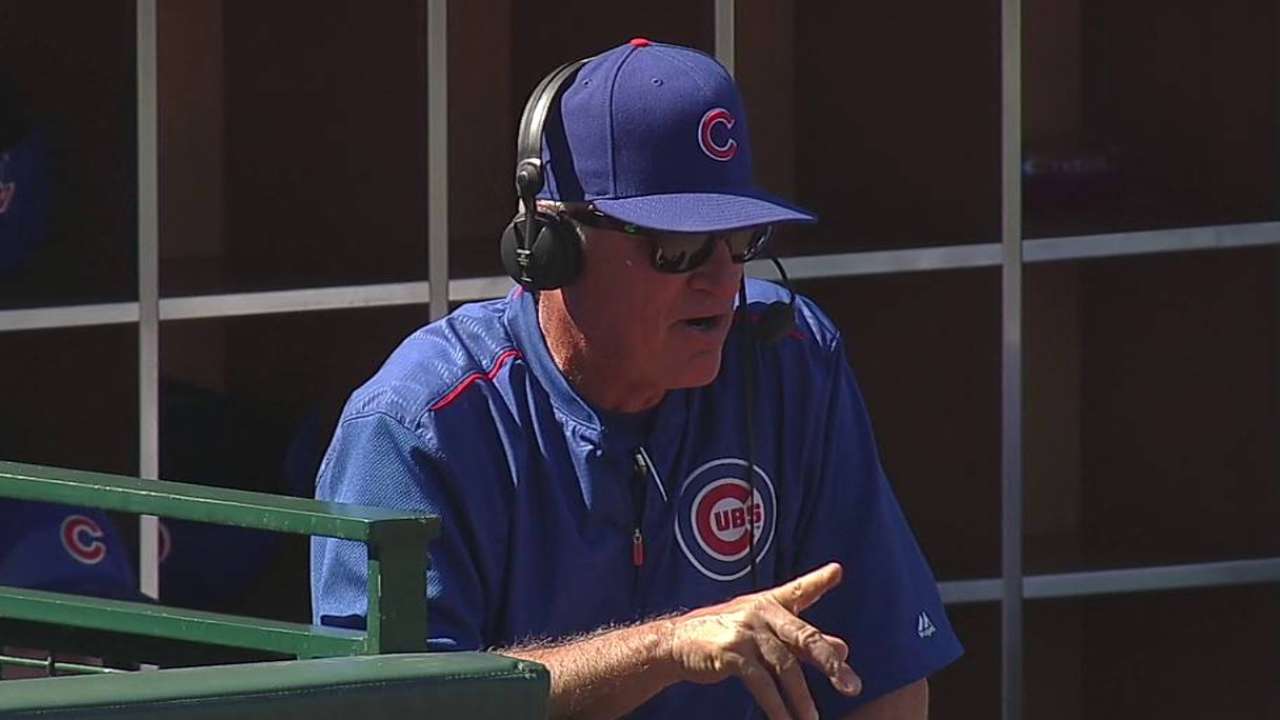 "It began with the Eliot Johnson play at the plate with [Francisco] Cervelli," Maddon said, recalling a Spring Training collision. "Cervelli and I have become good friends since then. At the moment, I felt awful about the guy. The point was, and I feel the same way here, I want us to play the same game regardless of the date on the calendar. That happened to be like March whatever it was. Elliot was trying to score and the catcher was in a bad position. He ran him over, and he broke his wrist.
"It was awful. I didn't want to see Francisco get hurt at all. But that led to the spiking of Aki [Iwamura] by Shelly Duncan -- also a good friend of mine now -- [who] goes into second base with the cleats in the chest of Aki and then here comes Gomer [Jonny Gomes] and everybody in from the outfield."
Three months later, the Rays were at Fenway Park. Maddon played a significant role in instigating a brawl that would cause eight players to be suspended, including Jon Lester, James Shields and Carl Crawford.
"I was partly responsible for that," Maddon said. "The night before, Jason Bartlett blocked the bag on Coco [Crisp] on a steal, put his leg down. Coco didn't like it, so he took out Aki on a double play that was pretty extreme. So I went to make a pitching change -- I think it was the bottom of the eighth -- and I screamed into their dugout [while walking] from the dugout to the mound. That led to Coco jumping up on the top step of the dugout."
The Rays and Red Sox went at it like the Sharks and the Jets, and afterward the Rays had strengthened a bond that Maddon believes helped them win a seven-game AL Championship Series against Boston, one of the teams that was used to owning them.
"All this stuff is necessary sometimes," Maddon said. "Nothing is going to be given to you. We can't expect anything to be given to us. We're going to have to take it. ... You got to take it, man. That's the whole thing. Leadership is not given, leadership is taken. With our players, if we're going to ascend within this division, we're going to have to take it. Nobody is going to want to do us any favors. I can promise you that."
Maddon's first game with the Cubs will be next Sunday ... against the Cardinals. Sounds like he wouldn't want it any other way.
Phil Rogers is a columnist for MLB.com. This story was not subject to the approval of Major League Baseball or its clubs.