Karns uses new mindset to earn spot in Rays rotation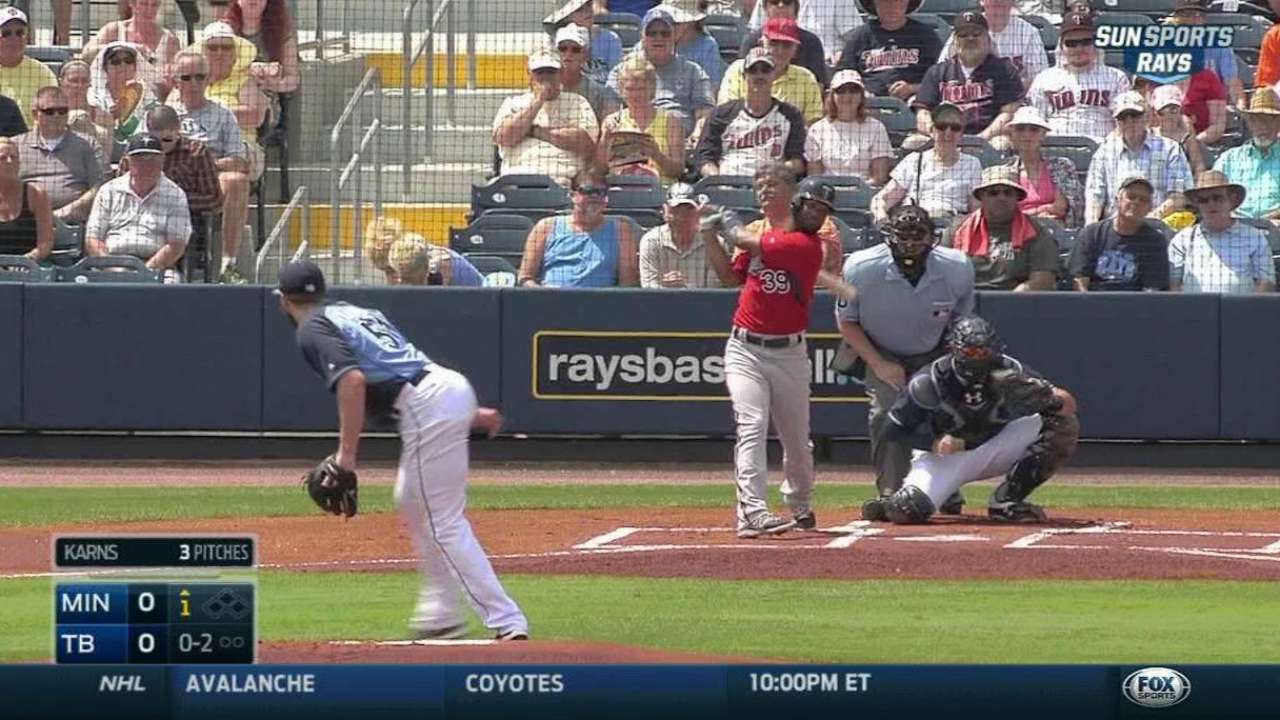 PORT CHARLOTTE. Fla. -- Along with the standard equipment he typically brings to Spring Training each February, Nathan Karns decided to pack something else this year.
A modified mindset.
At 27 years of age and with only 24 Major League innings under his belt, Karns found himself at a career crossroads as reporting day neared, and responded by bringing a powerful, businesslike approach to Port Charlotte.
It was a wise decision.
"He's been a real bright spot in camp," says manager Kevin Cash of his 6-foot-3 right-hander, who has parlayed four impressive Grapefruit League starts into a spot in the Rays' rotation.
"Karnsie has gone out in every outing and been very consistent. He manages difficult situations on the mound really well. He has improved on the things we've asked him to improve on since day one. Whatever it is, he's taken on the challenge and exceeded it."
For Karns, it's been all about eliminating distractions.
"The approach has let all the little things go out the window for me, and now I can just focus on what I need to do every day," says Karns.
"In the past, I may have got caught up in thinking further up the road and getting away from what I needed to do that day. This year, I just focused on what I needed to do and once I did that, it just took all the pressure off of me and let it go."
When asked which teammate has been a particularly powerful influence during camp, Karns doesn't cite an individual pitcher.
He credits the entire staff.
"If you look at this section right here," says Karns while motioning to the lockers that surround his own, "it's every one of these guys. They're all pitchers. We sit here and talk, and as you can see, most of our chairs are all facing one another. We're all friends, all buds. I'm in a good section of the locker room."
So, you're like a fraternity?
"Definitely. Some of us pitch more innings than others but at the end of the day, we're all doing the same job. We're trying to get hitters out. It's all about sharing information and ideas, how to pitch guys. We're really tight and we're really open, so that helps out a lot."
Which reflects well on Rays pitching coach Jim Hickey, who has figured prominently in Karns' development this spring.
"He's done a great job with me in this camp. He's kept it simple, not overwhelmed me with much," says Karns. "In the past, I've had guys who have overwhelmed me with multiple things at once. With Jim, when we're in the bullpen we always have a purpose, and he helps me stay on track."
And Hickey keeps it real, a quality his emerging protégé greatly appreciates.
"I don't want someone to say I look good when I really don't. Jim gives me straightforward answers and doesn't sugarcoat things. I enjoy that," says Karns. "I look forward to seeing what more comes from it during the regular season."
Michael Kolligian is a contributor to MLB.com. This story was not subject to the approval of Major League Baseball or its clubs.