Brantley heeds dad's advice, eyes opposite-field power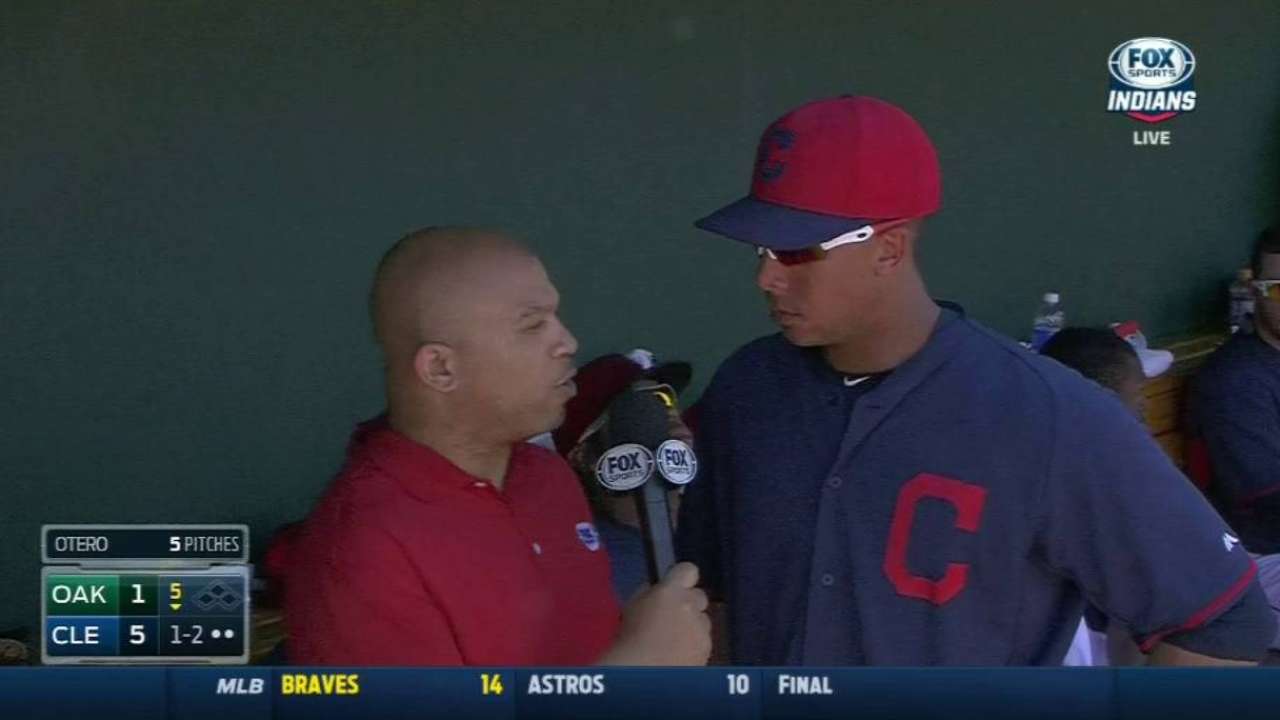 GOODYEAR, Ariz. -- Before Michael Brantley leaves for Spring Training each year, his dad offers a suggestion for the upcoming season. Mickey Brantley is a former big league outfielder and hitting coach, so the Indians' left fielder always takes the advice to heart.
What did Mickey Brantley have in mind for this season?
"Hitting it over the left fielder's head -- not always in front," Michael Brantley said. "Making sure that we're catching the ball still out front, but still staying through it so we could stay behind the ball and drive the ball to left-center and over the left fielder's head this year."
Last season, Brantley's father wanted his son to be more aggressive at the plate, taking advantage of early-count fastballs more often. Michael Brantley tested out the theory in Spring Training a year ago, enjoyed some strong results and decided to carry the approach into the regular season.
Brantley went on to have a breakout campaign, becoming the first hitter in Indians history to finish a season with at least 20 home runs, 20 stolen bases, 40 doubles ad 200 hits. The outfielder hit .327 with 20 homers, 45 doubles, 94 runs, 97 RBIs and 200 hits on the nose. He made his first All-Star team, picked up a Silver Slugger Award and finished third in voting for the American League's Most Valuable Player Award.
Brantley plans on remaining aggressive this season.
"That's not going to change. It worked OK," Brantley said with a laugh. "I don't want to change things that work. There's no set way of going about it, but you've got to be aggressive in this game. The pitching is getting too good to not be aggressive anymore."
Brantley's challenge now is to add more opposite-field pop to his game.
"Same swing, letting the ball travel," Brantley said. "Sometimes I like to guide it over there [to left field] and take a single and call it a day almost. This time, it's just staying on that ball and trying to actually drive it through the shortstop, through the left fielder with good backspin and carry."
Jordan Bastian is a reporter for MLB.com. Read his blog, Major League Bastian, and follow him on Twitter @MLBastian. This story was not subject to the approval of Major League Baseball or its clubs.