Roster bubble is nothing new to D-backs' Lalli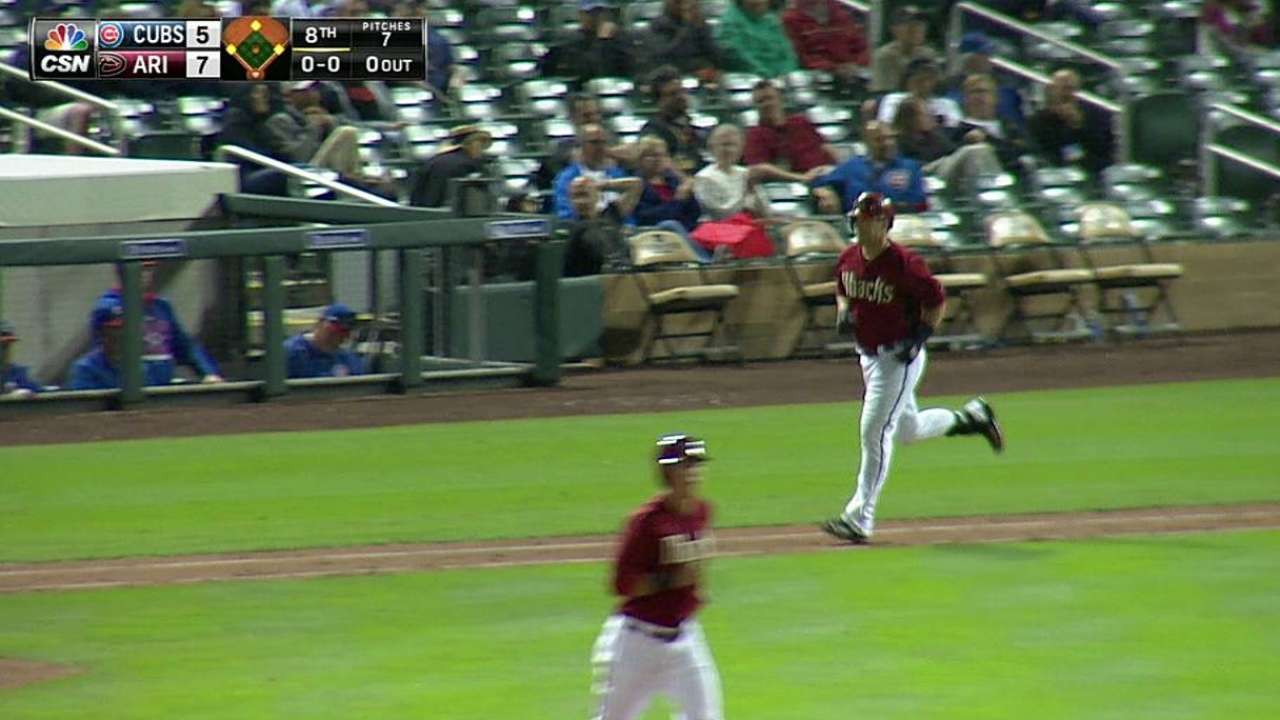 SCOTTSDALE, Ariz. -- With a little more than a week left in Spring Training, D-backs catcher Blake Lalli finds himself squarely on the roster bubble. It's familiar territory for him.
Lalli is trying to make the D-backs in a backup role to Tuffy Gosewisch and is competing with Gerald Laird and Jordan Pacheco for what could be one or two spots depending on whether manager Chip Hale elects to go with two or three catchers.
In 2013, Lalli was in the same boat with the Brewers. It appeared he was going to make the Opening Day roster until Milwaukee signed free-agent pitcher Kyle Lohse late in the spring, forcing a different roster composition.
"You just keep playing and try not to look into things, because it's impossible," Lalli said. "I feel like if you do your job on the field, that's all you can do for sure. I know it sounds cliche, but it's true. I try not to pay attention to decisions that aren't mine."
Players will say they don't read what is written about them, but even if that's true, they can't help but know what the situation is.
"You can look around and see and kind of figure you're in it," Lalli said.
Lalli is still in the running because he swings the bat well and he can play multiple positions.
During his nine-season career, spent mostly in the Minors, Lalli has caught, played first base, third base, second base and left field.
That kind of versatility makes him a valuable bench player in the National League and makes him an option to stick as a third catcher/utility guy this year.
"I've played a lot more infield in my professional career than I have caught," Lalli said. "That's what I played in college and throughout pro ball. I played third in college and mostly first in pro ball. The last couple of years has been primarily catching, but I've done way more infield in my pro career than I have caught."
Lalli hit .275 for Triple-A Reno last year, and he was valued more for his hitting than his catching early in his career. The D-backs, however, feel he has made great strides behind the plate the past couple of years.
Being a left-handed hitter is also a plus for Lalli, given how right-handed the D-backs' lineup is.
"He's swung the bat well," Hale said. "He's a left-handed hitter, which is important to us. I think he's handled the pitching staff well. I think, defensively, he's good enough to be a backup for us, and his bat gives us a lot."
Steve Gilbert is a reporter for MLB.com. Read his blog, Inside the D-backs, and follow him on Twitter @SteveGilbertMLB. This story was not subject to the approval of Major League Baseball or its clubs.