MLB.com Columnist
Fred Zinkie
Best of Fantasy411 Twitter chat with Fred Zinkie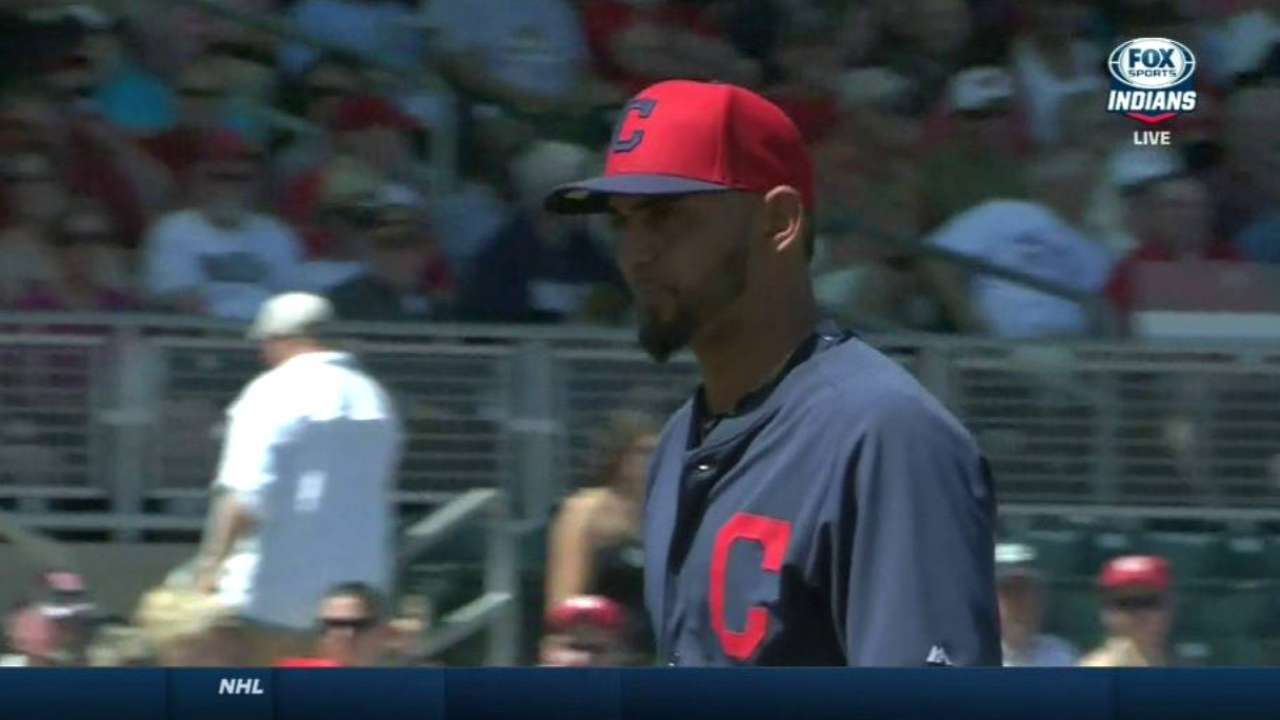 MLB.com fantasy guru Fred Zinkie fielded questions from fans during a live Twitter chat at @Fantasy411 today. To learn from someone whose been there and won that, check out the chat transcript below and check out the @Fantasy411 Twitter handle, MLB.com's Player Preview and MLB.com's fantasy home. Questions and answers have been edited for clarity.
Q: @Peter_Hamner Should I drop Danny Salazar or hold him?
Answer: Drop in 10- or 12-team mixed leagues. Hold in deeper leagues.
Q: @sritsema11 What round should I try for Kris Bryant?
Answer: If he goes before Round 10, let someone else have him.
Q: @Grayson_R93 Who has the higher upside, Joc Pederson or Mookie Betts?
Answer: Betts. He should be a five-category stud.
Q: @CHilla415 With Denard Span's current health situation, would you pick Dalton Pompey over him?
Answer: Shallow league, stash Span. Deep league, take Pompey.
Q: @U_neek81 Who is the better Toronto pitcher in a 12-team mixed league head-to-head points league with quality starts not wins, Aaron Sanchez or Daniel Norris?
Answer: Sanchez, barely.
Q: @TheHotCorner7 Who is a better third baseman in a 10-team points league (-1 point for batter K's): Ryan Zimmerman, Manny Machado, Kyle Seager, David Wright or Pablo Sandoval?
Answer: Seager, then Zimmerman, then Wright.
Q: @KVanDeWalker who is going to make the A's rotation? Sonny Gray and Scott Kazmir, but who else?
Answer: Likely Drew Pomeranz, Jesse Hahn and Kendall Graveman. All fine sleepers.
Q: @jbShoesgetter Michael Brantley or Jacoby Ellsbury?
Answer: Brantley.
Q: @jbShoesgetter Is Kris Bryant worth the pick?
Answer: He's likely getting too expensive for the return. Should be good, but price is very high.
Q: @DeMarcoBradford Who finishes the year with more home runs, Giancarlo Stanton or Mike Trout?
Answer: Stanton. But Trout finishes with better overall numbers.
Q: @jaseeAu Better closer in a 10-team head-to-head re-draft league, Neftali Feliz or Hector Rondon?
Answer: Rondon.
Q: @Burns13Eddie Who's the best closer in baseball right now?
Answer: For fantasy -- Aroldis Chapman. His strikeout rate is the difference.
Q: @CoryBaker13 Who are some second-base sleepers?
Answer: Marcus Semien and Micah Johnson.
Q: @JakeKo412 Who are your top 5 catchers, and one sleeper, for a points league?
Answer: Top 5: Buster Posey, Jonathan Lucroy, Brian McCann, Devin Mesoraco, Russell Martin. Sleeper: Travis d'Arnaud.
Q: @Nickfromlb Best advice on draft strategy for pitching in a 14-team head-to-head league.
Answer: In head-to-head, get a couple elite aces early.
Q: @scott_peterson4 Who gets the most at-bats between Arismendy Alcantara, Rusney Castillo, Jon Singleton, Alex Guerrero, Michael Saunders and David Peralta?
Answer: Saunders, Alcantara, Castillo, Peralta.
Q: @TheReal_Ankur How would you rank Trevor Bauer, Jimmy Nelson, Kevin Gausman, Drew Pomeranz and Danny Duffy for 2015 alone?
Answer: Pomeranz, Gausman, Duffy, Bauer, Nelson.
Q: @RealJustinGlass Joey Votto or Prince Fielder?
Answer: Votto in a points league, Fielder in rotisserie.
Q: @EstradaLion Any under-the-radar players I can draft towards the end?
Answer: Marcus Semien, Daniel Norris, Michael Saunders.
Q: @StickpileGM Who would you rather have on your roster in a non-holds league: Andrew Miller or Joakim Soria?
Answer: Soria.
Q: @BobbyCastillo42 What round would you draft Carlos Rodon in a keeper league?
Answer: Late rounds. He could be great, but try to win now.
Q: @ShortandPhat Kendall Graveman, Aaron Sanchez or Daniel Norris?
Answer: Sanchez.
Q: @RyanMooch How would you rank Yasiel Puig, Bryce Harper, Michael Brantley in a keeper league?
Answer: Long-term: Harper, Puig, Brantley.
Q: @JaySilverman1 Any hope of Brad Miller finally fulfilling his long-awaited sleeper potential?
Answer: Small hope. Just enough for a bench spot.
Q: @jkokales Who is a third-base sleeper for an NL-only roto keeper league?
Answer: Jake Lamb.
Q: @CarminePuma Who do you like most for this season, Joc Pederson, Steven Souza or Yasmany Tomas?
Answer: Souza.
Q: @Waxpacks I see Gausman pitched only one inning yesterday. Is he heading to the bullpen?
Answer: Possibly, but he is still worth a late-round pick for now.
Q: @_HappyMeal_ Any thoughts on Hector Olivera?
Answer: No mixed-league interest right now. Dodgers are so deep!
Q: @Dill_49 Troy Tulowitzki or Hanley Ramirez?
Answer: Hanley, but I'm in the minority on this one.
Q: @NatureUScary What round is good to take Alex cobb in a 10-person points league?
Answer: Round 12, because of injury concerns.
Q: @_tommo How should you approach stolen bases in a 6x6 OPS roto league? Most SB guys hurt OPS and more right?
Answer: Spread out speed with versatile talents.
Q: @WilcoWacko Please rank Rougned Odor, Jedd Gyorko, Marcus Semien, Javier Baez, Jace Peterson and Micah Johnson based on breakout potential for 2015.
Answer: Semien, Johnson, Gyorko.
Q: @jacobduncan9 Who are the best first-base sleepers?
Answer: Billy Butler, Steve Pearce, Ike Davis, C.J. Cron.
Q: @DStiggity Who is a better keeper in a roto 5x5 dynasty league: Madison Bumgarner or David Price?
Answer: Price. More K's.
Q: @WilcoWacko How do you compare James Paxton to Taijuan Walker as breakout candidates?
Answer: Prefer Walker. Could have lower WHIP.
Q: @ebbluesox28 Who is going to close for the Rays? When do you think Jake McGee will be back?
Answer: May for McGee. Boxberger or Jepsen could close.
Q: @TheReal_Ankur Josh Donaldson or Adrian Beltre and why?
Answer: Donaldson. He's in his prime, durable and made a positive park relocation.
Q: @Albertosom In what order would you take Jason Hammel, Jake Odorizzi and Drew Hutchison?
Answer: Hutchison, Hammel, Odorizzi.
Q: @MarkBrown80 With the 10th pick in a 10-team roto league, can you go Jose Bautista and Edwin Encarnacion? Does same team matter?
Answer: Same team doesn't matter.
Q: @Gregbrotzman Addison Russell, Archie Bradley or Noah Syndergaard for a three-year keeper, 5X5 roto league?
Answer:Russell.
Fred Zinkie is a Fantasy writer for MLB.com. This story was not subject to the approval of Major League Baseball or its clubs.