Scheppers falls back into role as setup man
A year after Opening Day start, elbow injury, righty returns to bullpen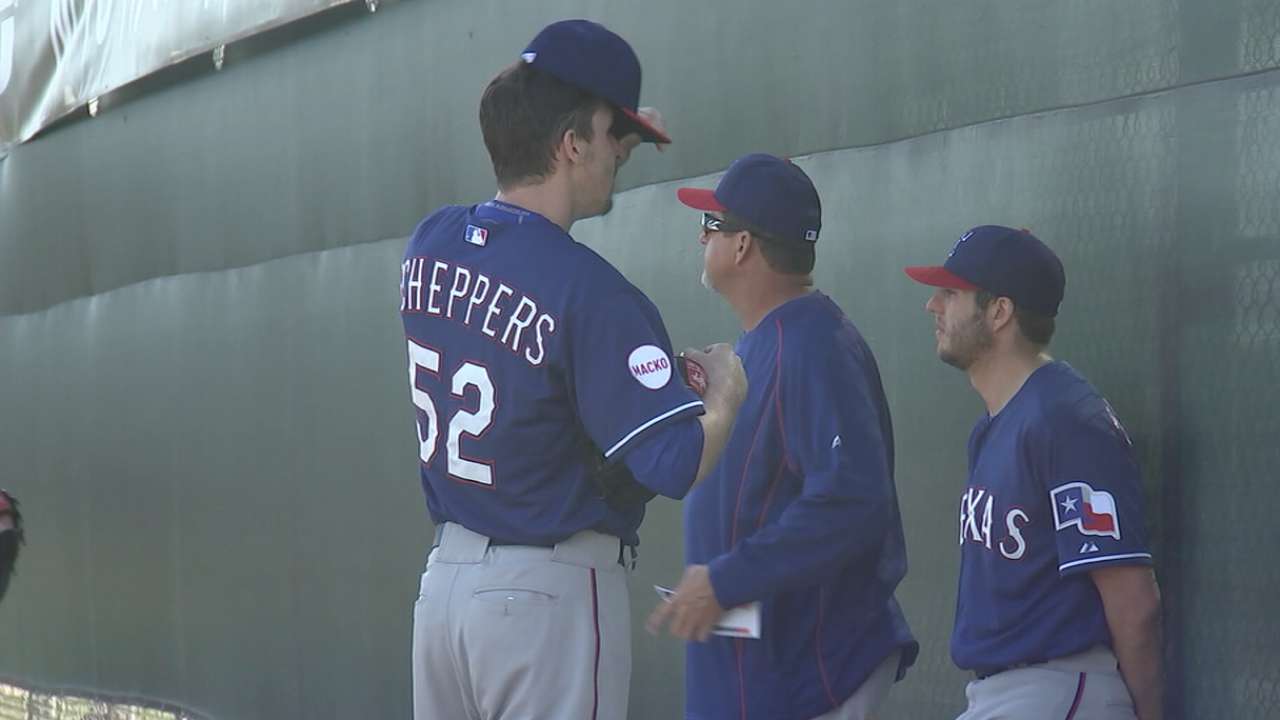 SURPRISE, Ariz. -- Yovani Gallardo was named the Rangers' Opening Day starter on Thursday. That brought back memories for reliever Tanner Scheppers.
"Of course," Scheppers said. "I will remember Opening Day for the rest of my life."
Scheppers was the Rangers' unexpected Opening Day pitcher in 2014. Now, after injuries derailed his hopes of being a starting pitcher and wrecked his 2014 season, Scheppers is back as a setup reliever. His job is to take what the starter and middle relievers give him, hold it for an inning or two, and then turn it over to closer Neftali Feliz.
"We talked to him about what his role is right now," manager Jeff Banister said. "He is pitching significant innings at the back end of the game. We are looking for Tanner to be one of our guys, along with Neftali to lock down the game and help us win the games we are supposed to win."
The Royals, with Kelvin Herrera and Wade Davis setting up in front of closer Greg Holland, reinforced what a power bullpen can accomplish when they went to the World Series last year.
Scheppers did the setup job well in 2013 when he was 6-2 with a 1.88 ERA in 76 games. That led the Rangers to give him a chance to start in 2014. Scheppers eagerly embraced the opportunity and was good enough to be the Opening Day starter until being shut down with elbow inflammation. He returned in June as a reliever, but pitched just four games before being shut down for good.
The talent to be a starter is still there. Scheppers can still bring it to the plate at 94 mph, along with an excellent slider and occasional changeup. It's the kind of talent that still may command a bigger role in the future but exactly what remains unknown.
"Yeah, it's a fair question, but who really knows what tomorrow brings," Scheppers said. 'I'm worried about today, building up arm strength and getting ready for the season. I don't want to worry about the future."
In a way, Scheppers is following the same initial career path as former Rangers pitcher C.J. Wilson. Both came through the system as top prospects, only to be waylaid by injury. Once they got there to the big leagues, they became effective setup relievers.
That was never enough for Wilson, who was unabashed in his desire for a much bigger role either as a starter or a closer. Scheppers isn't as vocal as Wilson, but he is no less eager to contribute maximum value to his team.
"Of course I have big expectations for myself," Scheppers said. "If you're in the big leagues, you want to be a big key on the team you are playing on. But I have found out the hard way that if you look too far ahead, you get excited and then have a setback, it brings you back to earth.
"The lesson needs to be learned that it is a process and every experience I go through makes me better. I'm really happy playing baseball. Of course I have big plans for big things, but right now I have a job to do and that's get 3-6 outs."
It is still unknown if Scheppers could hold up physically for 200 innings as a starter. The possibility also exists that Scheppers could be groomed to replace Feliz as the closer. Feliz can be a free agent after the 2016 season, while Scheppers has four more years before he will be eligible.
That may be the prudent way to go, but the Rangers still have a whispered belief that a pitcher with Scheppers' talent eventually should pitch in a bigger role than he will in 2015.
T.R. Sullivan is a reporter for MLB.com. Read his blog, Postcards from Elysian Fields, and follow him on Twitter @Sullivan_Ranger. This story was not subject to the approval of Major League Baseball or its clubs.