Healthy Pujols is in vintage form this spring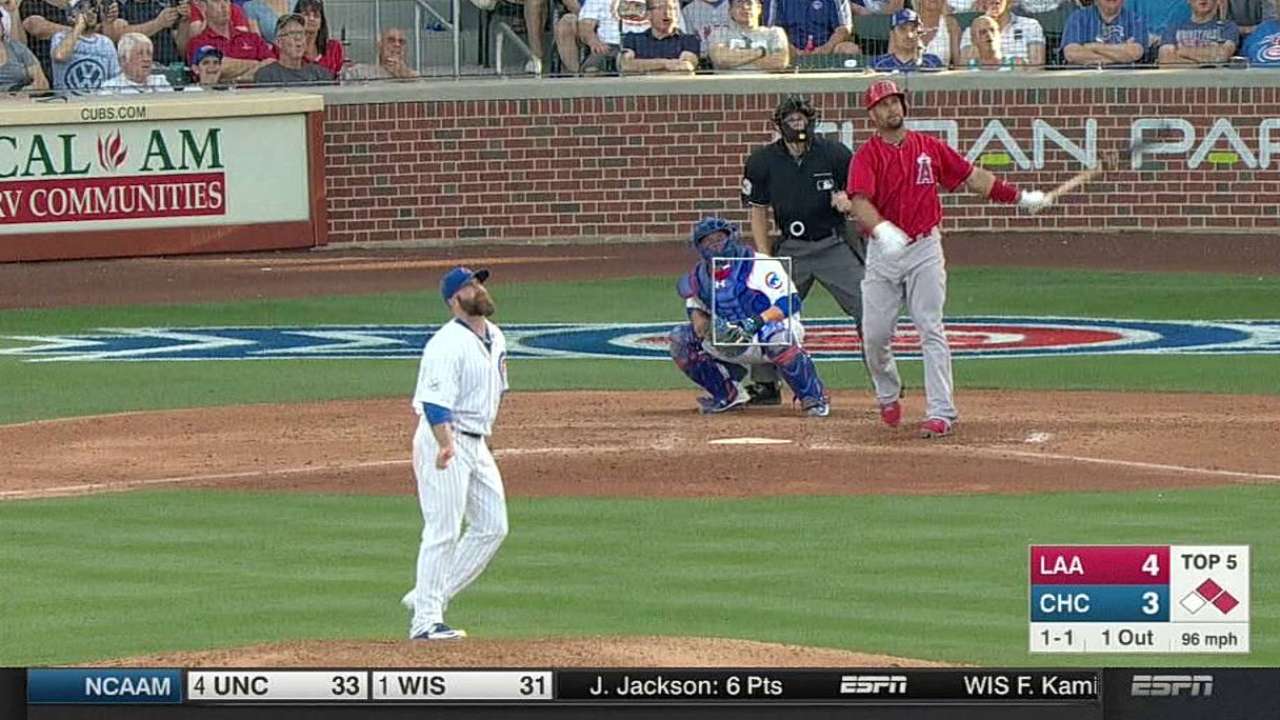 TEMPE, Ariz. -- Albert Pujols has never really had a bad Spring Training. He's hit at least .286 and as high as .407 over the last 10 springs, because he always shows up in shape and it never takes him long to find his timing.
He just seems, well, different this spring.
More specifically, his legs look healthier than they have in the last three years.
Pujols entered Spring Training 2013 recovering from offseason surgery to his right knee, then he was diagnosed with plantar fasciitis around the middle of camp, a condition that didn't allow him to play past July of that season. That was followed by a prolonged offseason that allowed Pujols to get healthy, but the Angels first baseman wasn't able to strengthen his right knee like he wanted to until this past winter.
Now, it seems, he has a strong foundation at the plate again.
"You could tell the difference when you're in good health, and he is right now," Angels shortstop Erick Aybar said.
"He looks strong right now," third baseman David Freese added. "His lower half looks strong; as strong as I've seen it over the last few years, watching him and obviously seeing it in person. I think he's taking care of himself."
Pujols entered Friday's game batting .326 (14-for-43) with four home runs in Cactus League play. All of those homers have come over his last six games, with the latest coming Thursday, a towering shot to left-center field on a high and inside fastball from Cubs reliever Jason Motte.
But the 35-year-old Pujols has been driving the ball to the opposite field all spring, an indication that his right leg is feeling better and a positive sign considering he was shifted on more than any right-handed hitter in baseball last year.
"I think he's found ways to manage what's been bothering him with the experience of going through it," Angels manager Mike Scioscia said. "He's certainly in great shape, and he's moving well."
Some additional notes from Friday:
• C.J. Wilson dealt with a nightmarish, five-run, 30-pitch second inning on Friday, so he was only able to complete 4 1/3 innings in his second-to-last start before the regular season. Because of that, Wilson will likely pitch in a Minor League game on Wednesday, which would allow the Angels to make sure he gets up six or seven times.
• Marc Krauss, out since Sunday with back spasms, played left field for the last two innings of Friday's game and struck out in his only plate appearance.
• Drew Rucinski pitched in a Minor League game on Friday, giving up three runs on seven hits and no walks in 5 1/3 innings. Rucinski, in the running for one of the last spots on the Angels' pitching staff, struck out five and threw 50 of his 75 pitches for strikes.
• Freese, who suffered a hyperextended left elbow on Tuesday, took batting practice and did some defensive work in the morning. He's expected to return to the lineup on Saturday.
• Kole Calhoun, who exited Thursday's game after taking a fastball to his right triceps muscle, played catch but stayed away from hitting. The Angels' right fielder is expected to return to the lineup this weekend.
• The Angels are still stretching out Jose Alvarez as a starter, but not to the point where he'll be throwing 100-plus pitches. They want to give him enough length to potentially serve as starting-pitching depth, but Alvarez is also in the running for a bullpen spot.
"With he, with Rucinski, with some of the swing guys, you have to find a balance," Scioscia said. "… You want them to get enough length to be depth in your rotation but still maintain their stuff to where you can have them in your bullpen. He's on the depth chart in two spots."
Alden Gonzalez is a reporter for MLB.com. Read his blog, Gonzo and "The Show", and follow him on Twitter @Alden_Gonzalez. This story was not subject to the approval of Major League Baseball or its clubs.