Despite shaky outing, Twins pleased with May's spring
Righty competing for fifth rotation spot, unsure where he'll start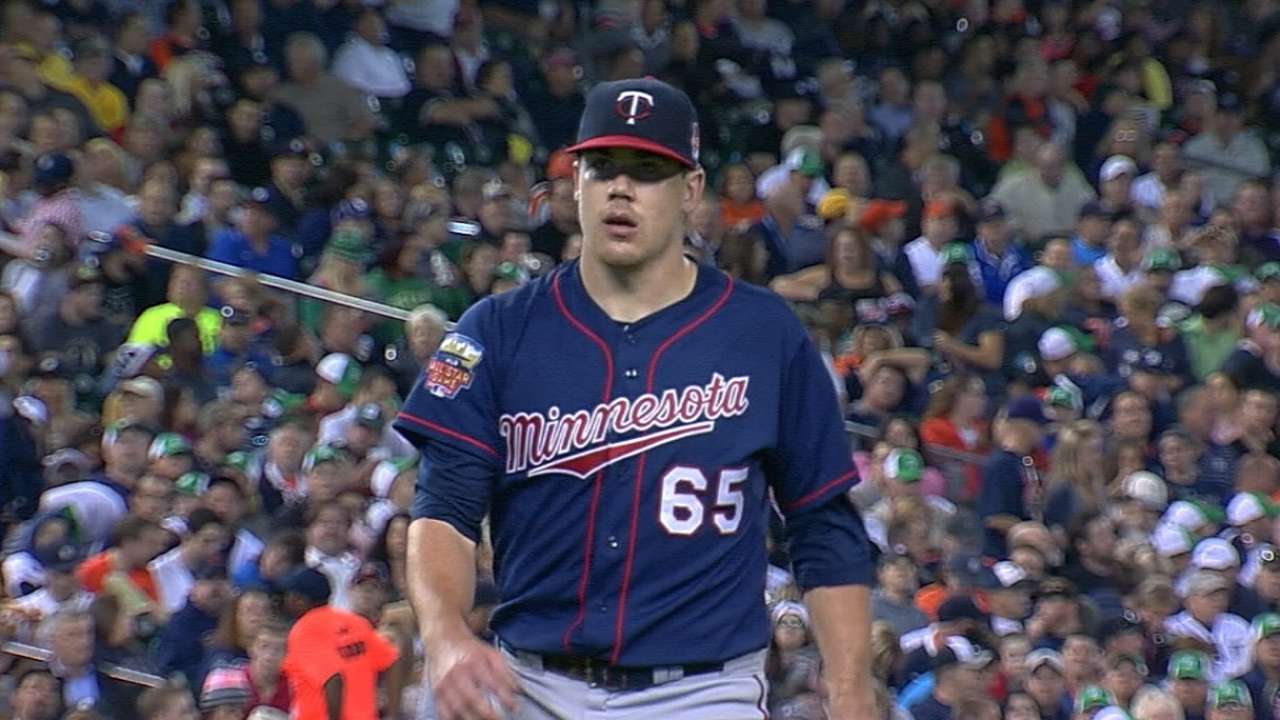 FORT MYERS, Fla. -- After an uneven outing against the Pirates on Friday, right-hander Trevor May said he's still not sure where he'll start the season.
May, who is competing for the fifth spot in the rotation with left-hander Tommy Milone and right-hander Mike Pelfrey, made his final showcase start with Twins manager Paul Molitor set to announce the club's fifth starter on Saturday. May went 4 2/3 innings, giving up four runs on eight hits and a walk. Of those eight hits, seven were for extra-bases, including a pair of homers to Gregory Polanco and Tony Sanchez, although Sanchez's homer to right was wind-aided.
May, ranked as the club's No. 11 prospect by MLB.com, said he was given no indication by the coaching staff whether he'll be in the rotation, head to the bullpen or start the year at Triple-A Rochester.
"They shook my hand and just said, 'Way to battle,'" May said. "And it was one of those days that's what I was doing. Guys were on base quite a bit, and I was just trying to get one out at a time. And I think they know that."
May entered with a 1.50 ERA in six Grapefruit League innings, including a no-hit performance in four innings against the Rays his last time out on Saturday. He failed to build on that outing, but Molitor said he's still pleased by the 25-year-old's overall body of work this spring.
"Not quite as good," Molitor said. "He gave up some hard-hit balls. He got dinged up and left the fastball up. I know he can be up there at the right times, but he was up there more frequently than we'd like to see. But overall, no complaints with that young man this spring. It probably wasn't his best day compared to his last couple."
May said he's doing his best not to worry about what the Twins decide, as it's ultimately out of his hands at this point.
"Whatever feel I have really doesn't matter because it's not my decision," May said. "My biggest thing is just trying to maintain my approach no matter what is happening. I feel like it's something I've done and got much better at."
Rhett Bollinger is a reporter for MLB.com. Read his blog, Bollinger Beat, and follow him on Twitter @RhettBollinger. This story was not subject to the approval of Major League Baseball or its clubs.