In meet-and-greet, Manfred praises Pirates brass
FORT MYERS, Fla. -- Rob Manfred stopped by Hammond Stadium on Friday to introduce himself to Twins and Pirates players, but Major League Baseball's 10th Commissioner didn't need an introduction to the braintrust that has steered the Buccos back on a winning track.
Pirates chairman Bob Nutting and club president Frank Coonelly both have worked closely in the past with Manfred, and have earned his respect.
Nutting also earned a seat on Manfred's executive council of owners, after having been part of the committee that recommended his selection as Commissioner Emeritus Bud Selig's successor. Coonelly worked alongside Manfred as MLB's senior vice president of labor prior to being named to his current position in September 2007.
"Sometime, because baseball is cyclical, those cycles can take a while," said Manfred, mindful of the 20 seasons between winning seasons by the Bucs. "I think the Pirates have tremendously benefited by Bob Nutting's presence and leadership. And those of you who know the history won't be surprised to hear me say that I'm a huge Frank Coonelly fan; he's done a fantastic job, including his selection of [general manager Neal Huntington].
"They've made good decisions with respect to entry-level talent, and it's resulted in success on the field."
In Manfred's view, Nutting's "profile inside the game rose as a result of being involved" in his selection process.
"He is an example of my efforts to get a newer group of owners involved in the game," said Manfred, whose eight-member executive council includes six newcomers.
The Commissioner is nearing the end of his 30-team tour, having already visited 15 clubs that hold Spring Training in Arizona. After spending a half-hour in Hammond Stadium's visiting clubhouse, Manfred addressed the Pirates' travel squad, which sparked different questions from the players.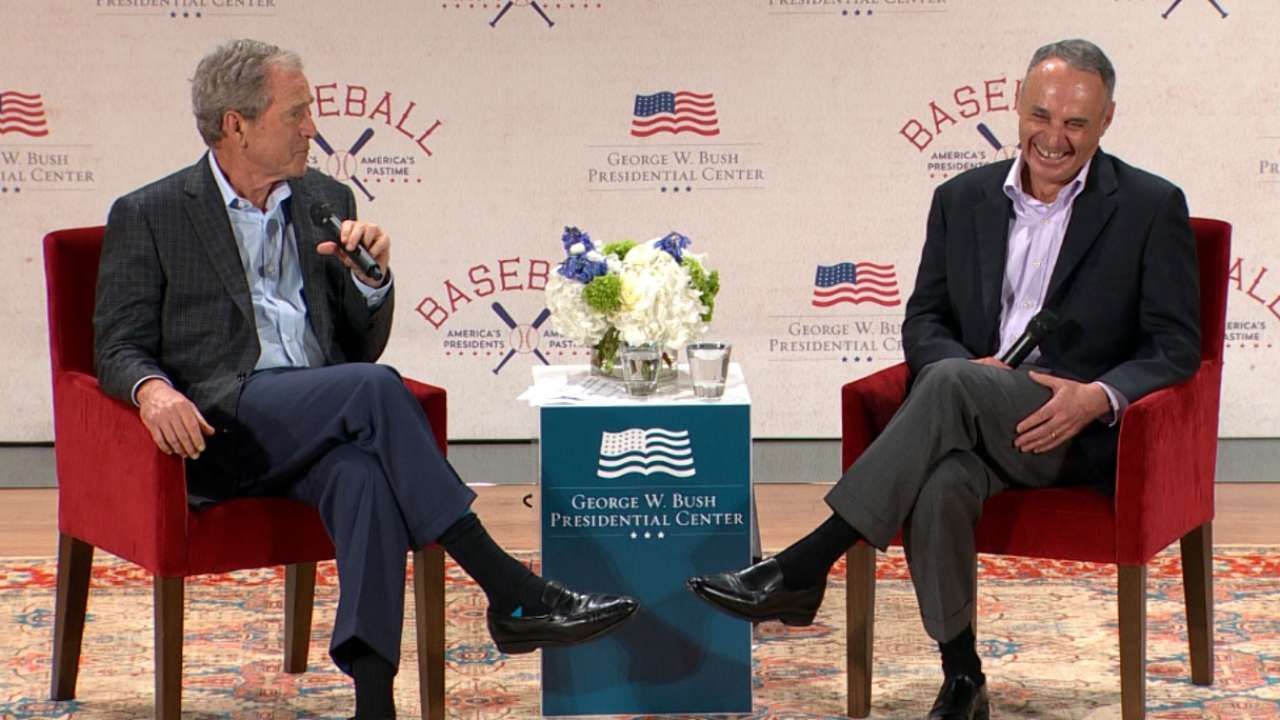 "Most were about pace of game and marketing the players -- topics that are important to me," Manfred said. "The feedback [to pace-of-play innovations] has been positive. We are all of the view that it's important to be responsive to our fans."
Touching all the bases
• First: Justin Sellers named his newborn son Jace Ryan Sellers, and he said he'd never really heard of anyone else with that name. On Thursday, Jace Peterson played second base for the Braves against the Bucs.
• Second: Huntington, at 9:30 a.m. -- "If [Jung Ho Kang] hits three of the balls he has hit with the wind blowing out instead of in, we're excited about a guy with four home runs." Kang, at 1:20 p.m. -- His hard-hit ball is fanned by the wind over Twins center fielder Aaron Hicks' head for a triple.
• Third: Tony Sanchez has a .452 batting average -- which doubles to a .903 slugging percentage, thanks to five doubles and three homers.
• Home: Seven of the Bucs' nine hits in the rain-shortened 4-2 win over the Twins went for extra bases.
Tom Singer is a reporter for MLB.com and writes an MLBlog Change for a Nickel. Follow him on Twitter @Tom_Singer. This story was not subject to the approval of Major League Baseball or its clubs.