MLB.com Columnist
Tracy Ringolsby
Kershaw the engine that drives Dodgers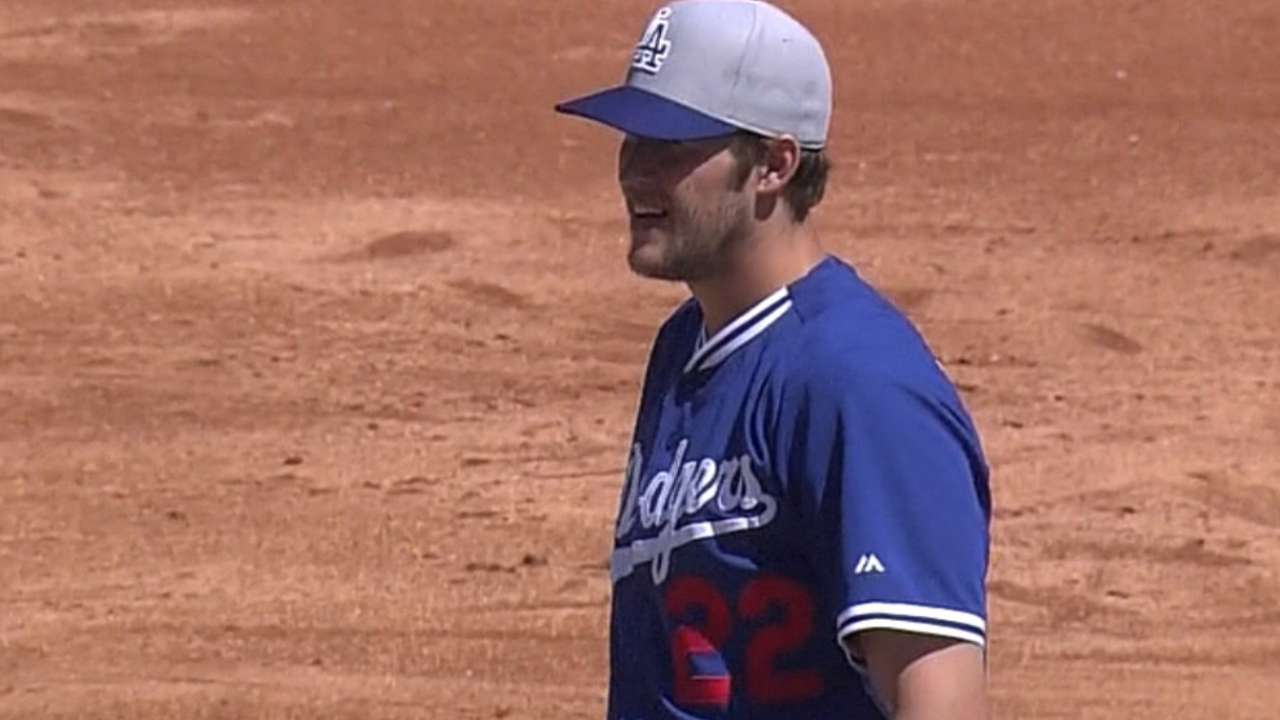 GLENDALE, Ariz. -- Clayton Kershaw has taken on a larger-than-life persona -- and not just with the Dodgers' fan base.
Kershaw is more than the ace of the Dodgers' rotation. He is the trump card.
It is why what would normally just be a routine spring start turned into an event on Thursday afternoon when Kershaw returned to the mound for the first time since he took a line drive off his jaw five days earlier.
It's why there was such a feeling of relief after Kershaw worked his way through an 88-pitch, six-inning effort in which he gave up a run on four hits with one walk and eight strikeouts, and then announced, "It's still sore. I can't eat jawbreakers or anything, but it's OK."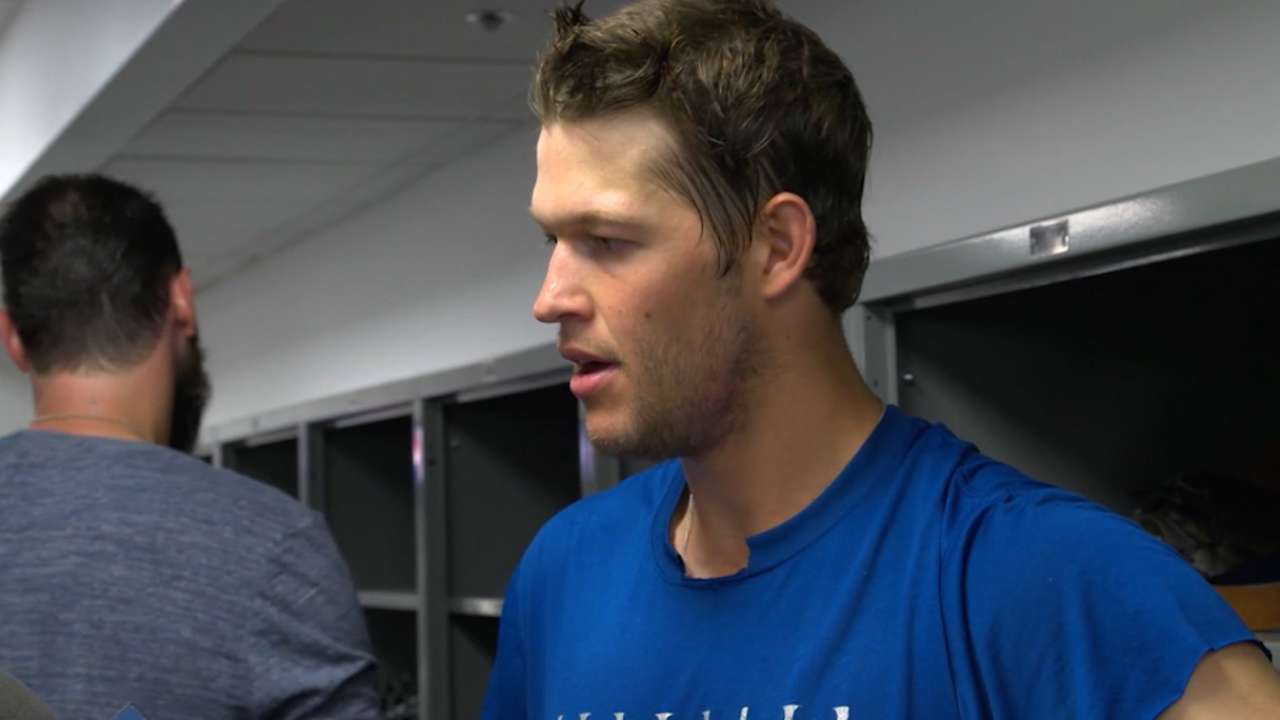 And right now, that means everything is OK with the Dodgers' rotation, which has a veteran flavor that is punctuated by medical question marks.
Hyun-Jin Ryu is headed to the disabled list with discomfort in his left shoulder -- similar to what sidelined him for three weeks last April and again in September -- which has the Dodgers looking at options for the two times in the first three weeks they will need a fifth starter. They are hoping Ryu will be back after that.
Zack Greinke was slated to make his fourth start of the spring on Friday night, although he was initially held back after receiving a "precautionary" injection in his right shoulder.
And then there are veteran offseason additions Brandon McCarthy and Brett Anderson, whose careers have been marked by injuries -- including McCarthy being hit in the head by a line drive in September 2012 that required surgery to relieve cranial pressure after CT scans revealed he had suffered an epidural hemorrhage, a brain contusion and a skull fracture.
McCarthy worked 200 innings for the first time in his 13-season professional career in 2014.
Anderson, meanwhile, has suffered injuries that have ranged from Tommy John surgery to being limited to eight starts and 43 1/3 innings with the Rockies last year because of a broken hand suffered by the vibration of a bat after he hit a ball. He has started 20 games only once in six big league seasons (during his rookie season in 2009), and he's worked a total of 206 1/3 innings over the last four seasons.
"As Andrew [Friedman, president of baseball operations] mentioned, we are going into this with our eyes open," manager Don Mattingly said. "We know there is a huge upside, but there also is a little bit of history. Like everybody else, we worry about our starting depth."
That's why Kershaw has that larger-than-life presence. The left-hander turned 27 earlier this month, and he's shown a consistency and level of success that is rare for a pitcher of his age. He is the first pitcher to win three Cy Young Awards before the age of 27. He has had an ERA below 3.00 in each of his six full seasons in the big leagues, and below 2.00 each of the last two years.
Kershaw's career ERA of 2.48 is the lowest of any pitcher since the mound was lowered five inches in 1969. Only six other pitchers who worked at least 1,300 innings have starting ERAs lower than 3.00 in that time frame -- Jim Palmer (2.76), Tom Seaver (2.91), Andy Messersmith (2.92), Pedro Martinez (2.95), Adam Wainwright (2.99) and Bob Gibson (2.99).
Oh, and Kershaw has become a major factor inside the Dodgers' clubhouse.
"He has been pretty amazing at this point," said Mattingly. "When he first came up and did well, it was hard to be the leader of the club that had guys who had been around a long time. But I think he is now confident with his role."
It's not a "go-go" leadership, but rather one built on Kershaw's focus on details and his diligent work ethic.
"I try not to take anything for granted," said Kershaw. "It is awesome to be in the big leagues, and it is awesome to have been here as long as I have been here."
He doesn't back down, not even in Spring Training. After that Andy Parrino line drive went off his jaw, Kershaw was able to remain in that game against the A's, and he finished his scheduled work before going to the bullpen for an extra session.
And it didn't affect his preparation for his next effort.
The only concession Kershaw is making to the injury was he had to have a cap put on the left bicuspid, which was broken by the impact. It will take some time to have the stitches in his mouth removed before his scheduled three-inning appearance Wednesday in a final tuneup before starting the Dodgers' season opener against the Padres at Dodger Stadium on April 6.
Kershaw said he feels he has prepared for the season this spring, but he stopped short of saying he is satisfied.
"It's fear of failure," he said of his motivation.
It is an approach that has made Kershaw among the game's most feared pitchers.
Tracy Ringolsby is a columnist for MLB.com. This story was not subject to the approval of Major League Baseball or its clubs.