MLB.com Columnist
Anthony Castrovince
Healthy legs foundation of Mauer's hope to rebound
Veteran is back at first base for second season after decade behind the plate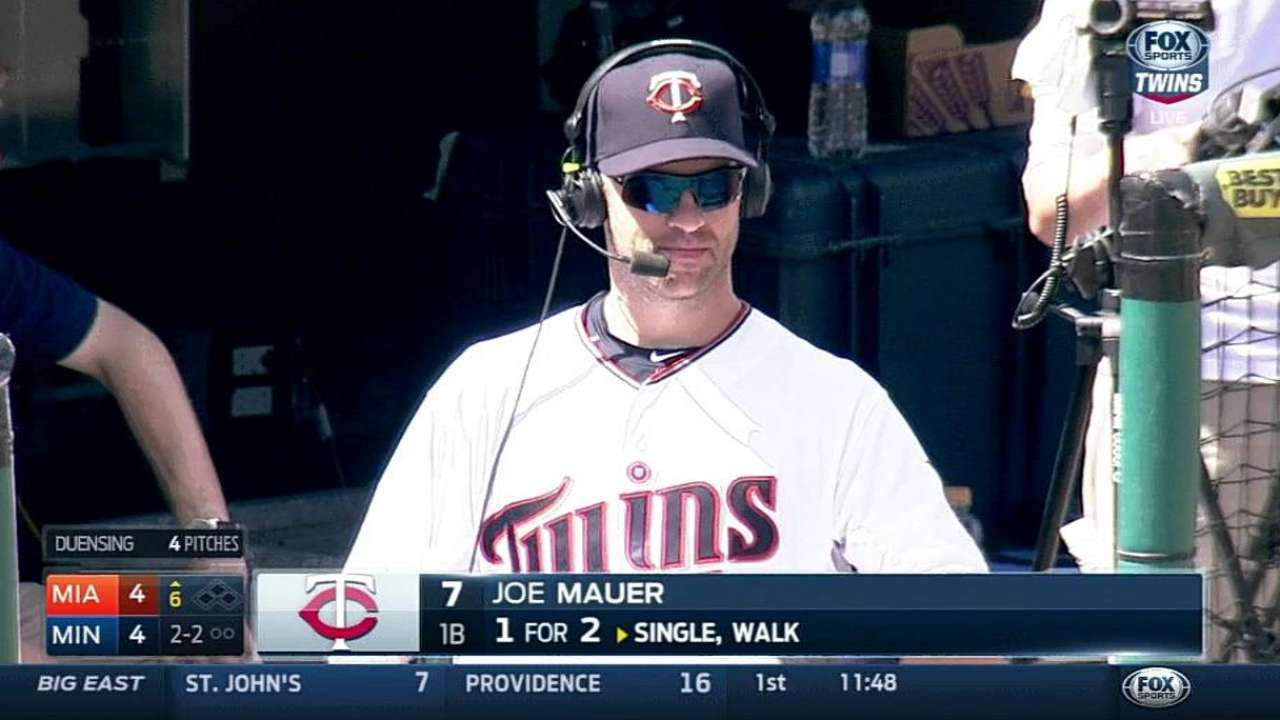 FORT MYERS, Fla. -- The funny, frustrating thing about those 7,883 regular-season innings Joe Mauer caught before the Twins yanked him away from the position to preserve his body? They stuck with him. Turns out, all those foul tips and bent knees and bumps to the noggin and sweaty summer nights tend to take their toll on the human body, and not even a full-time shift to first base was going to instantly heal all that ailed the former American League MVP Award winner.
"I caught for 11 years," Mauer said. "All those nicks and bruises don't just go away."
Boy, was that evident last year.
If the Twins thought Mauer's move was going to boost his bat to yet another elite level last season, they were sorely mistaken, and Mauer was pretty sore, too. He went into the year still hampered by a 2013 concussion, and that pushed back his winter workouts. His lower half, therefore, was nowhere near as strong as it once was, and a strained right oblique suffered in early July thwarted what little mojo Mauer had.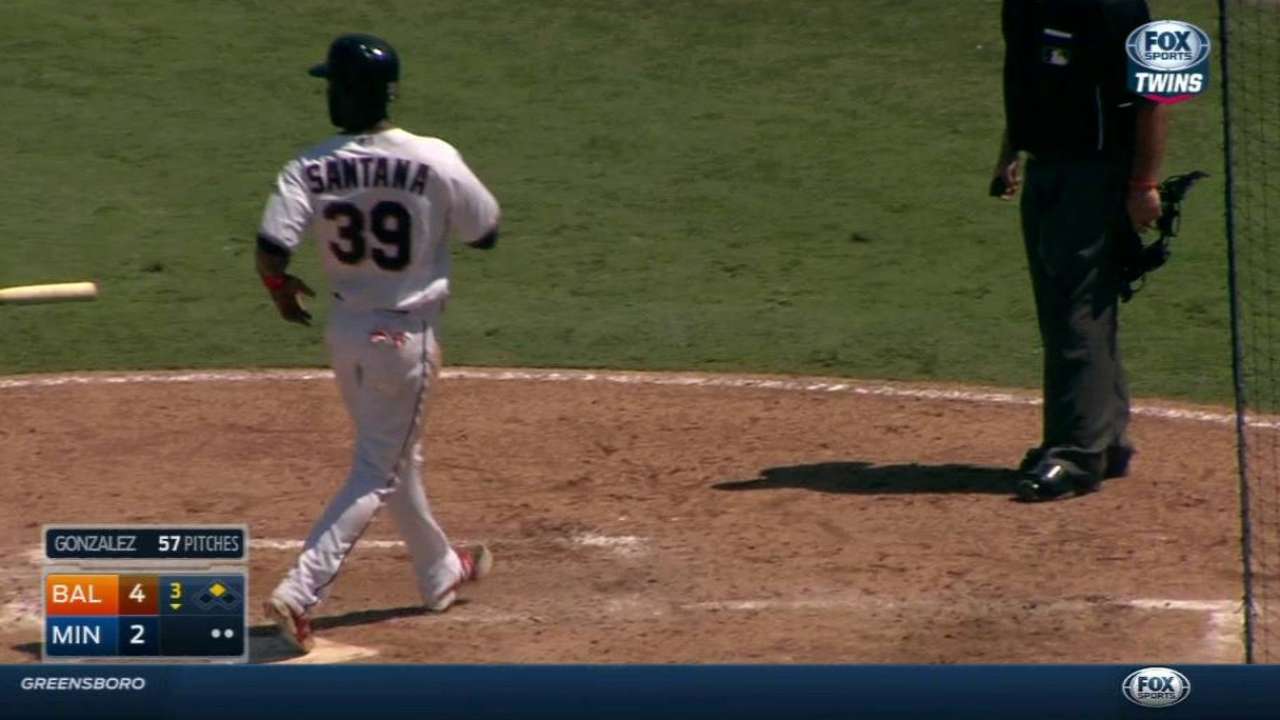 He finished with some very un-Mauer-like totals: a .277 average, a .732 OPS, four homers and 27 doubles in 120 games. It was his worst season since a 2011 that was essentially cut in half by knee troubles.
So, among the many questions about this Twins team coming off four straight seasons of 90-plus losses is the one surrounding their signature star:
Can Mauer get back to his batting-champ ways of old?
Hey, we love some of the young talent that's begun to infiltrate this team, we love general manager Terry Ryan's aggressiveness in addressing what was an unacceptable rotation, we love the return of Torii Hunter, and the emergence of Brian Dozier, and the potential of Paul Molitor as a forward-thinking Major League skipper.
Ultimately, though, this is still Mauer's team, and the Twins' attempted return to relevance is very much centered on Mauer's health and help.
"We feel good about Joe," said Ryan, "because he feels good."
Indeed, Mauer said there is a "night and day" difference in the condition of his legs after some rigorous winter work, and that lower-body rotation is key to his overall coordination. We can guess -- especially in Target Field -- that Mauer will never again reach or eclipse the 20-homer mark, something he only did in his AL MVP Award season of 2009. But we also know that Mauer can hit it to the gaps in all fields when his swing and his body are in shape, and that's what the Twins are counting on in his age-32 season.
There was a time when Mauer might have gone into a season like this intently focused on boosting that batting average back over the .300 mark.
But these days, Mauer has a different stat as his focal point.
"Games played," he said. "I just need to go out there and play. If I do that, everything else will take care of itself."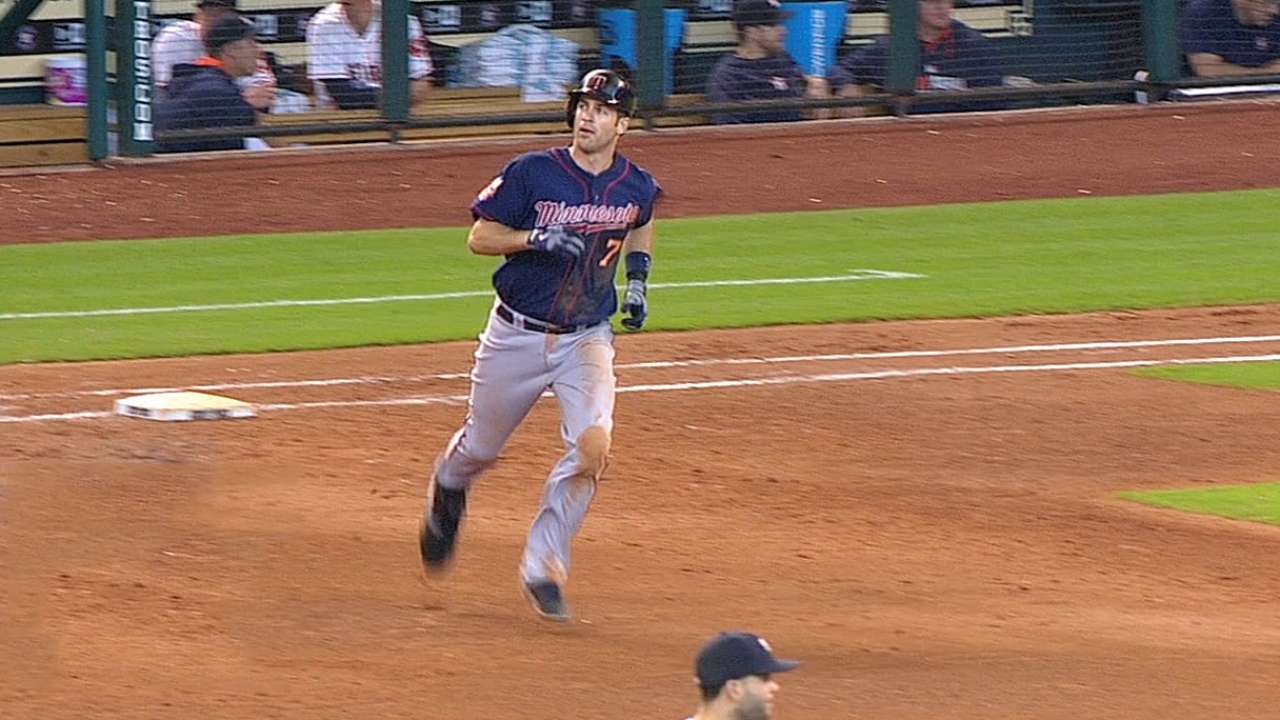 Still, it's going to take more than mere attendance to get Mauer back to the hitter he once was. As is the case with so many other hitters in today's climate, a variety of factors -- the depth of bullpens, the expansion of the strike zone, the proliferation of the cutter -- have conspired to attack his average. Mauer has long been one of the game's more selective offensive forces, an OBP machine, but suddenly his strikeout rate has risen five percentage points over the past two seasons.
"He's struck out more than I anticipated," Ryan said. "There were pitches I thought he should get and he didn't."
At this later stage of his career, Mauer's not about to fundamentally adjust his approach and become a more aggressive hitter on first pitches, but he does feel better about his body's base and his own understanding of his still-new role as a first baseman.
"I'm excited about where I'm at and now knowing how to take care of myself as a first baseman versus a catcher," he said. "Knowing what to do in terms of on-field workload. Last year was kind of a trial and error. I definitely have a better feel of what I need to do."
Given recent history, people are going to shrug off this Twins team as an also-ran in an otherwise competitive AL Central. But don't put it past them to be a bit of a handful night to night.
This was a team that made some serious offensive strides as 2014 evolved, finishing the season seventh in the Majors in runs scored. While we're still waiting patiently for top prospects Byron Buxton and Miguel Sano to arrive, Dozier has become a top-five second baseman in the bigs, left fielder Oswaldo Arcia hit 20 home runs at the ripe old age of 23 last year, designated hitter Kennys Vargas has shown the potential to be a middle-of-the-order masher, shortstop Danny Santana, while potentially due for some statistical regression, is an intriguing leadoff option, and Hunter can still deliver at the plate.
Then there's Mauer. He says he feels a "night and day" difference with his body at the dawn of a new season.
Maybe the improvement in results will be just as stark.
Anthony Castrovince is a reporter for MLB.com. Read his columns and follow him on Twitter at @Castrovince. This story was not subject to the approval of Major League Baseball or its clubs.