The Big Bang: Fantasy baseball's evolution
Now played by millions, game can trace its origins back to offseason of '79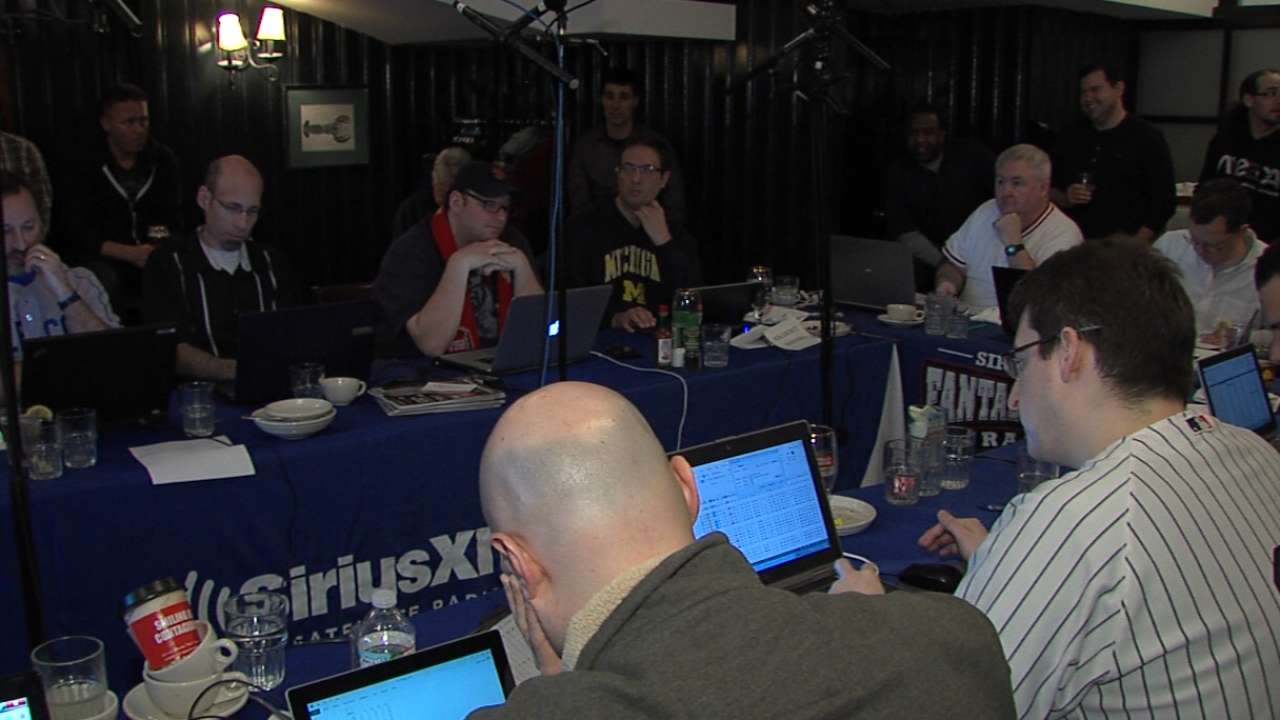 Fantasy411 Editor's note: MLB.com's VP of stats Cory Schwartz is widely regarded as one of the premier fantasy baseball players in the world. He has the hardware to prove it, having won multiple expert leagues -- including the prestigious Tout Wars league -- across the years.
With roughly one week to go before the first pitch of the 2015 Major League Baseball season, Schwartz took a look through the history of fantasy play and opined on the state of the game today.
Imagine a world without mobile devices that display scores, stats and even live play-by-play updates. Imagine a world without the sophisticated data and analytics to evaluate fantasy baseball trades, which can be executed on those same devices.
Heck, imagine a world without fantasy baseball.
That was a reality prior to Opening Day 1980, the year of the first Rotisserie League, which spawned the hobby played by millions today.
In devising the first set of rules in November 1979, Daniel Okrent unwittingly pioneered a worldwide phenomenon. Despite the many changes during the 35 years since, fantasy baseball maintains much of the tradition that cemented its popularity in the first place, just like the on-field game it mimics. Okrent's original 4x4 scoring format featured seven categories -- batting average, homers, RBIs and steals for hitters; wins, ERA and saves for pitchers -- that were easy to find in newspapers' box scores. The fourth pitching category was called IPRAT, a metric of his own creation now known as WHIP.
The addition of runs for hitters and strikeouts for pitchers resulted in the creation of 5x5, the most popular scoring format today. Many modern leagues, however, use customized categories and scoring formats that would have been completely foreign to Okrent.
What started as a friendly game among colleagues grew into the concept of the "experts league" in 1994, when John Hunt of USA Today recruited some of the biggest names in fantasy baseball, including Bill James, Glenn Waggoner, Ron Shandler and Greg Ambrosius, to join him in the League of Alternative Baseball Reality.
Although Okrent's original scoring format has withstood the test of time, numerous new setups now exist, including high-stakes national competitions; monthly, weekly and daily games; and survivor-style "pick 'em" contests.
One such contest, MLB.com's Beat the Streak, began in 2001 and today carries a grand prize of $5.6 million for anyone who can "top" Joe DiMaggio's big league-record 56-game hitting streak by picking 57 straight batters to record a hit.
But for all of fantasy baseball's evolution, one aspect has remained constant: Every league crowns a champion. At the end of that inaugural season, the league gathered to honor its triumphant co-owners and introduced another fantasy tradition: the "Yoo-hoo shower." That ritual still occurs, but it has also been modified; the first attempt nearly ruined the carpet, so ceremonies now usually take place in bathtubs.
Cory Schwartz is the VP of Stats for MLB.com. Follow him on Twitter @schwartzstops. This story was not subject to the approval of Major League Baseball or its clubs.