Brown's injury likely to impact Opening Day roster
Not looking like outfielder will be ready; Sizemore, Phelps among bench candidates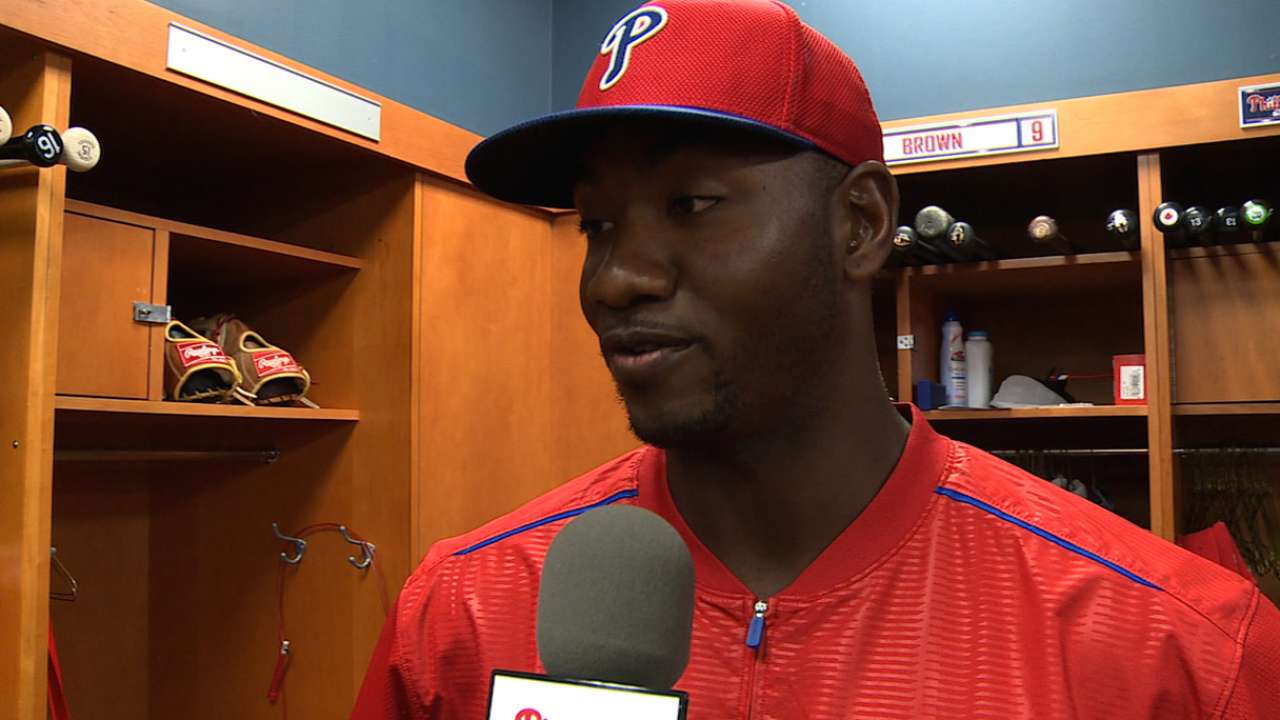 CLEARWATER, Fla. -- It seems more and more likely that Phillies right fielder Domonic Brown will open the season on the disabled list.
He has been sidelined since March 19 because of tendinitis in his left Achilles, and his recovery has been slow.
"It could be unlikely," Phillies manager Ryne Sandberg said when asked if Brown could catch up in time and be ready by Opening Day on April 6. "A little bit of work in the cage and just a little bit of light shagging in the outfield -- he's coming slowly. There's a lot of work to be done in a short period of time."
Brown's potential trip to the DL has 25-man roster ramifications. The Phillies could open the season with six bench players, because they do not need a fifth starter until April 12, but they ultimately will settle on five.
There are probably 11 players with a legitimate chance at those five or six jobs. That number jumps to six or seven if Brown is on the DL, and there are a number of combinations the Phillies could use.
Candidates includes catcher Cameron Rupp; infielders Andres Blanco, Russ Canzler, Cesar Hernandez and Cord Phelps; and outfielders Brian Bogusevic, Jordan Danks, Jeff Francoeur, Odubel Herrera, Darin Ruf and Grady Sizemore.
Rupp, Herrera and Ruf are locks for three jobs.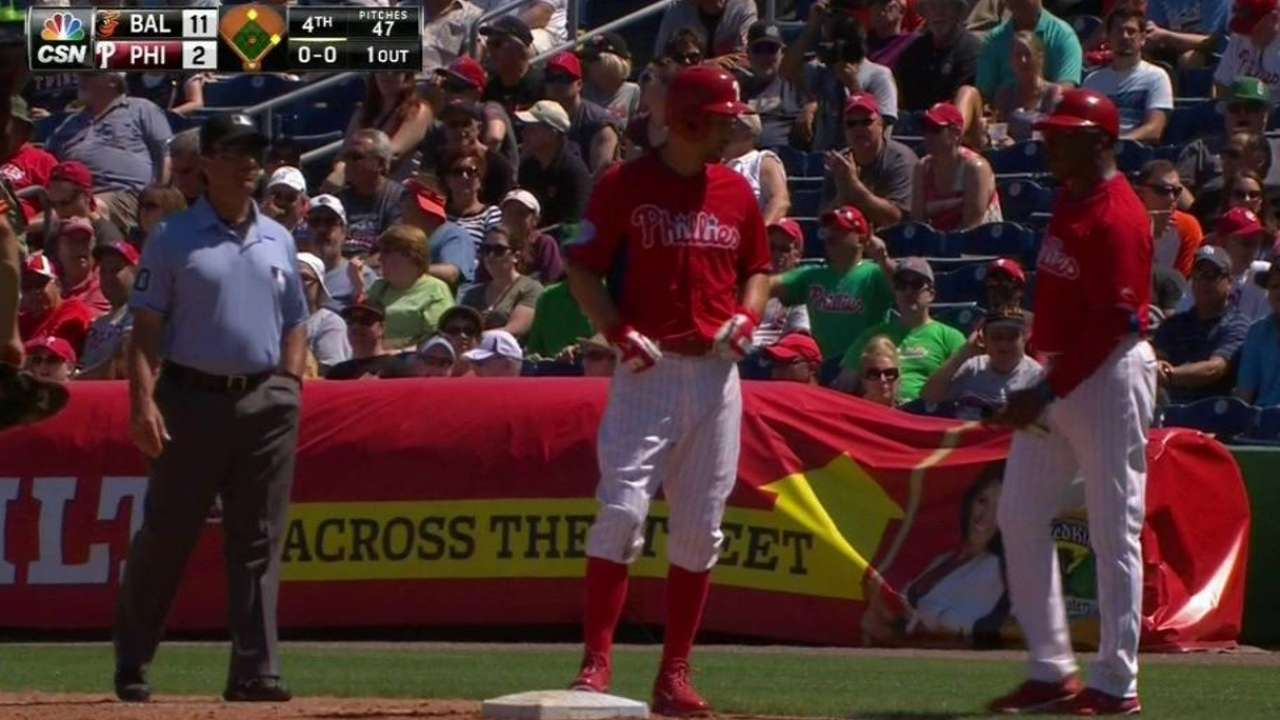 Sizemore has the edge on a fourth, if for no other reason than he has a guaranteed $2 million contract. (Even if the Phillies release him, they are on the hook for the entire contract.) He is hitting a mere .161 (5-for-31) with no extra-base hits. Other outfielders in camp have outplayed him.
Hernandez, Canzler and Phelps are competing for a utility-infield job. Blanco is considered a long shot. Hernandez is out of options, which plays big in the Phillies' front office; they do not want to lose a player if they do not have to. But Canzler and Phelps have had much better springs. Canzler is hitting .313 (10-for-32) with two doubles and three RBIs. Phelps is hitting .294 (10-for-34) with one double, one home run and five RBIs.
Hernandez is hitting .098 (4-for-41) with two doubles and one RBI.
Both Canzler and Phelps are non-roster invitees. No non-roster invitees have opt out clauses at the end of camp. That means there is no risk of losing them if they do not make the Opening Day roster, which comes into play, too.
Bogusevic, Danks and Francoeur are in the mix to be an extra outfielder. Bogusevic has had the best spring. He is hitting .355 (11-for-31) with two doubles, three home runs and eight RBIs. Danks is hitting .281 (9-for-32) with two doubles, one home run and five RBIs. If the Phillies are looking for defense, they could lean toward Danks.
Francoeur is hitting .200 (6-for-30) with two doubles and two RBIs. He threw out Alex Rodriguez in the plate in the second inning Friday, so his arm still plays. He also has the best track record of the three and hits right-handed, which is big.
The Phillies are loaded with left-handed hitters.
There are a lot of moving pieces with a little more than a week before the season opener. It could go a number of ways, but Brown's health could open up a spot for an extra bench candidate.
Todd Zolecki is a reporter for MLB.com. Read his Phillies blog The Zo Zone. Follow him on Twitter. This story was not subject to the approval of Major League Baseball or its clubs.