MLB.com Columnist
Jim Callis
MLB Pipeline checks in from Mariners camp
Power percolating throughout Seattle's system; top prospect Jackson talks adjustments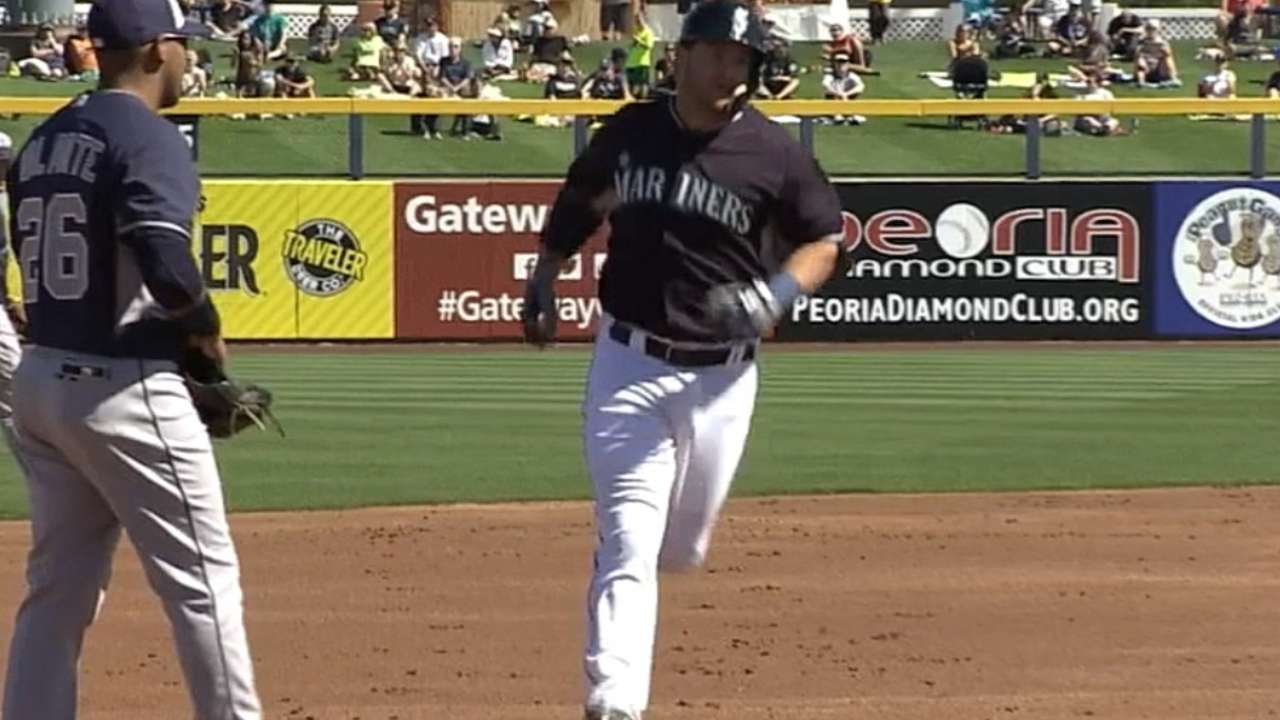 Every Spring Training, prospects get a chance to show what they can do as they prepare for the season ahead. Some are competing for jobs in big league camp, others are prepping for the season as they vie for spots at Minor League affiliates up and down a team's system. MLBPipeline.com will be visiting all 30 camps this spring. Today, we check in on the Seattle Mariners.
PEORIA, Ariz. -- In the past decade, the Mariners have had just two homegrown right-handed hitters who managed to hit 20 homers in a season. Jose Lopez, signed out of Venezuela in 2000, accomplished the feat in 2009. Mike Zunino, the No. 3 overall pick in the 2012 Draft, did so last year.
Plenty of right-handed pop is starting to percolate through the farm system, however. Seattle has spent its past three first-round picks -- and $10,959,100 -- on righty sluggers Zunino, D.J. Peterson and Alex Jackson. Nine of the first 16 prospects on MLBPipeline.com's Mariners Top 30 are right-handed power hitters: Jackson, Peterson, Patrick Kivlehan, Gabriel Guerrero, Austin Wilson, Tyler Marlette, Tyler O'Neill, Gareth Morgan and Jordy Lara.
"It's hard to find those guys, right-handers with power," Seattle director of player development Chris Gwynn said. "I like where we are. We're trying to make sure they understand the strike zone too, because when that happens, boom! They become pretty good hitters."
MLB Pipeline Spring Training Reports
Camp standouts
Left-hander Danny Hultzen went second overall in a loaded 2011 Draft, and he landed an $8.5 million big league contract, the fifth-largest guarantee in Draft history. But instead of racing to Safeco Field as expected, he injured his shoulder in early 2013 and missed all of last season recovering from surgery to repair tears to his labrum, rotator cuff and capsule. The Mariners have been encouraged by what they've seen from Hultzen this spring.
"He touched 95 mph the other day," Gwynn said. "It's really good to see him throwing again. He probably wanted this to happen sooner, but he's back. His changeup was a double-plus pitch, and it's back. We've tweaked his delivery to take a little stress off his shoulder. I just hope he stays healthy, because it's fun to watch him pitch."
Another southpaw with a lot less pedigree has been sensational in Cactus League play. Tyler Olson signed for $10,000 as a Gonzaga senior taken in the seventh round in 2013, and he advanced to Double-A early in his first full pro season. He may win a big league bullpen job, because he has yet to give up an earned run or a walk in eight outings while striking out 11 in 9 2/3 innings.
"He has the ability to throw strikes and pitch backward," Seattle director of pro scouting Tom Allison said. "His fastball isn't overpowering, but he's deceptive and has some funk. He has two types of breaking balls and a changeup, and his slider might be his best secondary pitch. This guy has pitched like he belongs."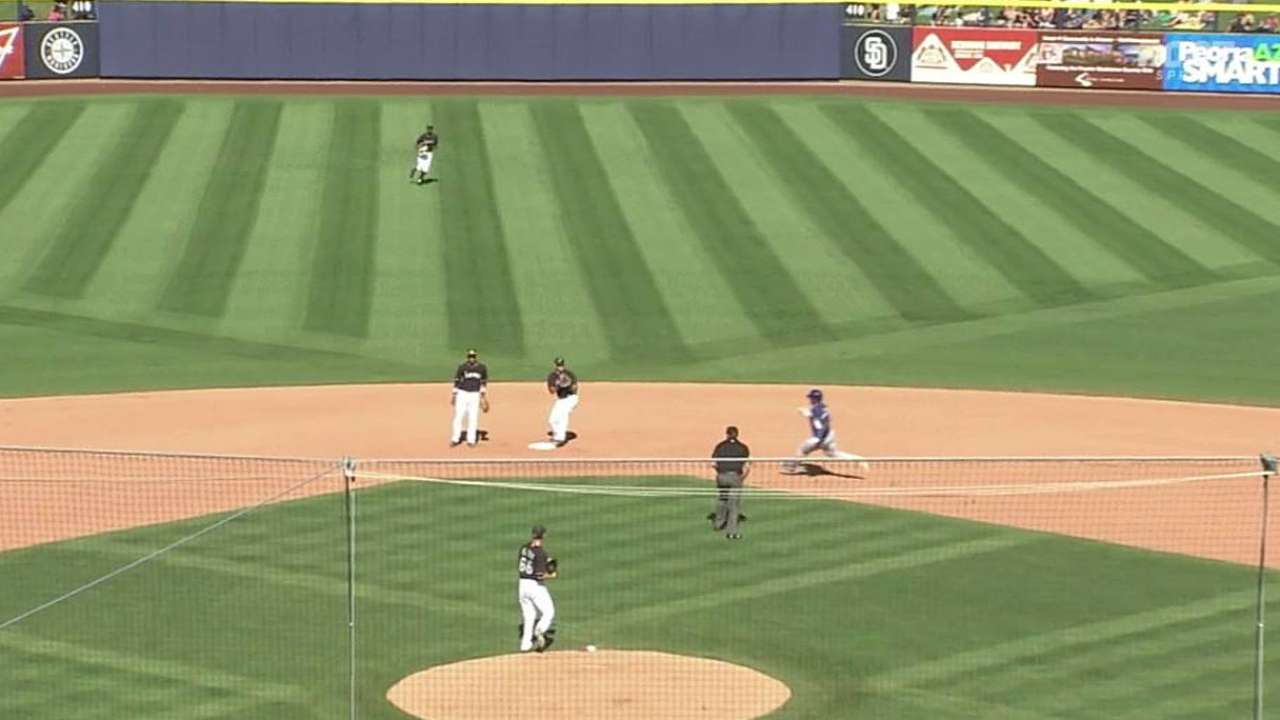 Breakout candidates
Right-hander Daniel Missaki was the youngest player (16) at the 2013 World Baseball Classic, where he retired the only batter he faced for Brazil. Signed that May for $150,000, he led the Rookie-level Appalachian League with six wins and 9.5 strikeouts per nine innings last summer. Now Missaki is ready for his first taste of full-season ball.
"He throws a good two-seamer and he has a very good curveball, but his best attribute at 18 might be his command," Gwynn said. "I love watching him pitch because he pitches. The leap in strength he has made from September to now is impressive."
Another international youngster who excites the Mariners is 17-year-old Brazilian outfielder Brayan Hernandez. Signed last summer for $1.85 million, he's a switch-hitter who could have solid or better tools across the board.
"He's an impressive talent," Allison said. "When he signed, he came to Safeco and we stuck him in the big league hitting group, and he hit a ball off the wall left-handed. He's impressive. He'd go in the upper half of the first round of the Draft if he lived in the States."
Three questions with Alex Jackson
Jackson was the consensus top all-around hitter available in the 2014 Draft, so Seattle was thrilled when he got to its No. 6 overall pick. Moved from catcher to the outfield after signing for $4.2 million, he hit .280/.344/.476 in the Rookie-level Arizona League. Jackson missed a month after a line drive hit him in the face while he was playing right field, though he returned at season's end.
MLBPipeline.com: Do you miss catching? How did your sinus fracture affect your transition to the outfield?
Jackson: There are times when I do miss catching, like throwing out runners, but I enjoy playing the outfield. I just lost the ball in the lights, and unfortunately it hit me in the face. It was more of a shocking feeling than being nervous or scared. It was just an unfortunate thing, but it happens. I learned from it.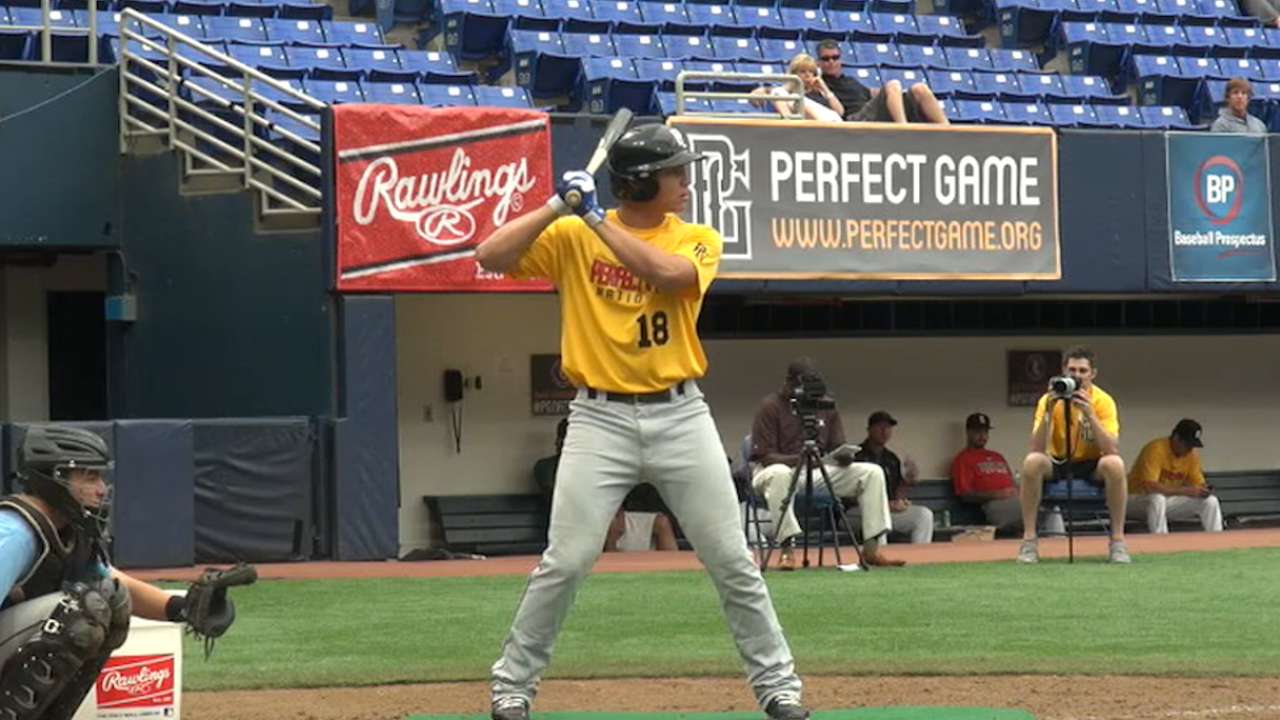 MLBPipeline.com: What are you trying to work on heading into your first full pro season?
Jackson: Just my overall consistency. I'm trying to get all of my tools to the same level. I'm not working on any one thing more than another. If I can get them all to the same level, good things will come from that.
MLBPipeline.com: You've seen some action in big league camp and even homered off the Rangers' Shawn Tolleson in your second game. What was that like?
Jackson: It was an awesome experience. It was my fourth at-bat, I put good contact on the ball and hit it to the opposite field. It tied the game and I was happy to get the job done.
Jim Callis is a reporter for MLB.com and writes a blog, Callis' Corner. Follow @jimcallisMLB on Twitter. This story was not subject to the approval of Major League Baseball or its clubs.