Teheran earns Opening Day assignment for Braves
April 6 start vs. Marlins will be second consecutive nod for right-hander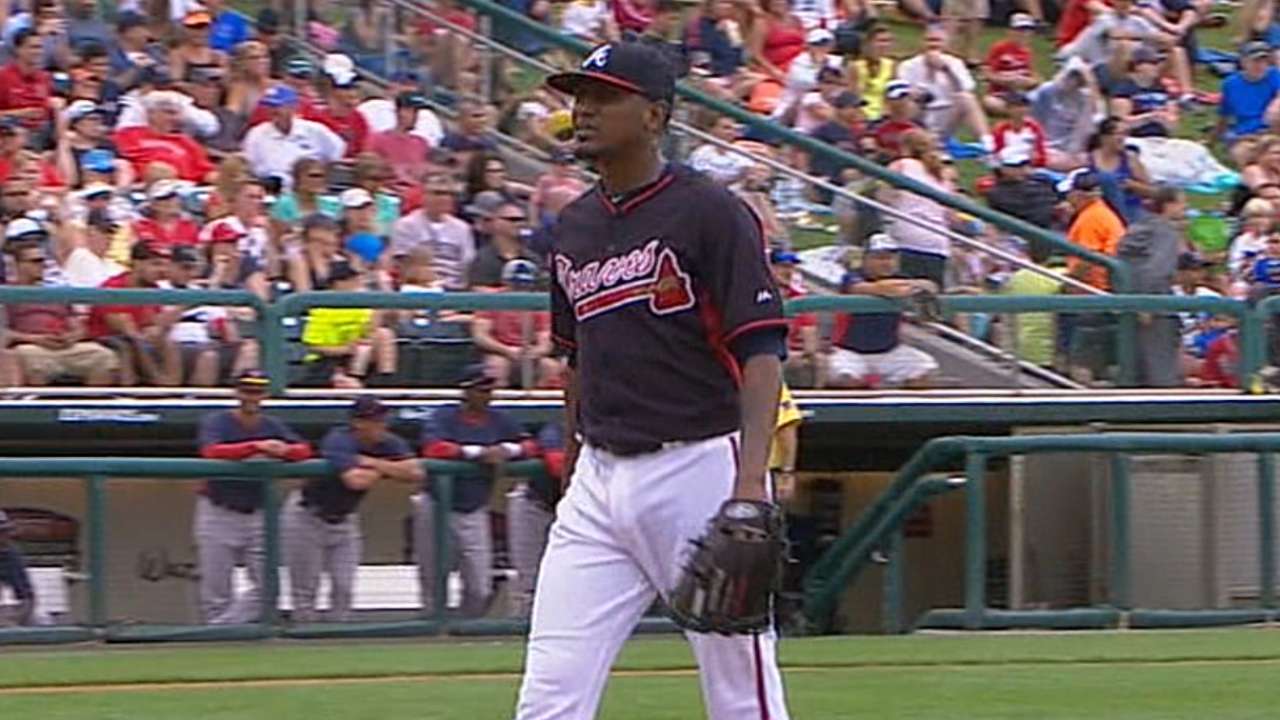 LAKE BUENA VISTA, Fla. -- Braves manager Fredi Gonzalez has been among the many who have long assumed Julio Teheran will make his second consecutive Opening Day start for Atlanta this year. But Gonzalez did not make it official until he shared a brief casual exchange with his young right-hander after Friday's rain-shortened win over the Red Sox.
Teheran responded with a smile and then prepared to speak to the group of reporters who were standing nearby waiting to ask him about being given the chance to start the April 6 season opener in Miami.
"It's something I've been working for and it's paid off," Teheran said. "That is a place you want to be and you don't want anybody to take it from you…That's the place I want to be the rest of my career."
While Alex Wood and Shelby Miller have the potential to provide some competition over the next few years, there was never much reason to doubt that this assignment would once again go to Teheran, who has posted a 3.03 ERA through his first two full seasons in Atlanta's rotation. This ERA ranks sixth among all National League pitchers who have made at least 60 starts since the start of the 2013 season.
If these past two seasons were an indication of what might transpire over the course of his career, Teheran will likely be in position to make many more Opening Day starts. His first experience with this honor transpired last year as he surrendered two earned runs over six innings during a season-opening loss in Milwaukee.
"It was a great honor last year and you like to be there for the second time," Teheran said. "I hope this time we will win the game."
Teheran, who celebrated his 24th birthday in January, is set to join Pat Jarvis, Phil Niekro, Rick Mahler, Greg Maddux and Derek Lowe as the only pitchers in Braves history to make consecutive Opening Day starts. Jarvis was the only other member of this group to draw this honor before his 30th birthday.
After gaining a six-year, $32.4 million extension that provides a chance for him to remain in Atlanta through at least the 2019 season, Teheran earned his first All-Star selection and produced a 2.89 ERA over 33 starts.
"We locked [Teheran] up for a long time last year," Gonzalez said. " He's a guy that could get that [Opening Day start] a lot of times. I wish he was starting at home, but it's always an honor to be starting on Opening Day."
Teheran made his last true regular-season tuneup as he threw 100 pitches over 5 2/3 innings against the Red Sox on Friday afternoon. When he makes his final exhibition season start against the Phillies on Wednesday, he will likely be slated to complete just three innings.
Mark Bowman is a reporter for MLB.com This story was not subject to the approval of Major League Baseball or its clubs.