Myers sees old Phils friends, talks country music
Former pitcher, in town with son's baseball team, working on album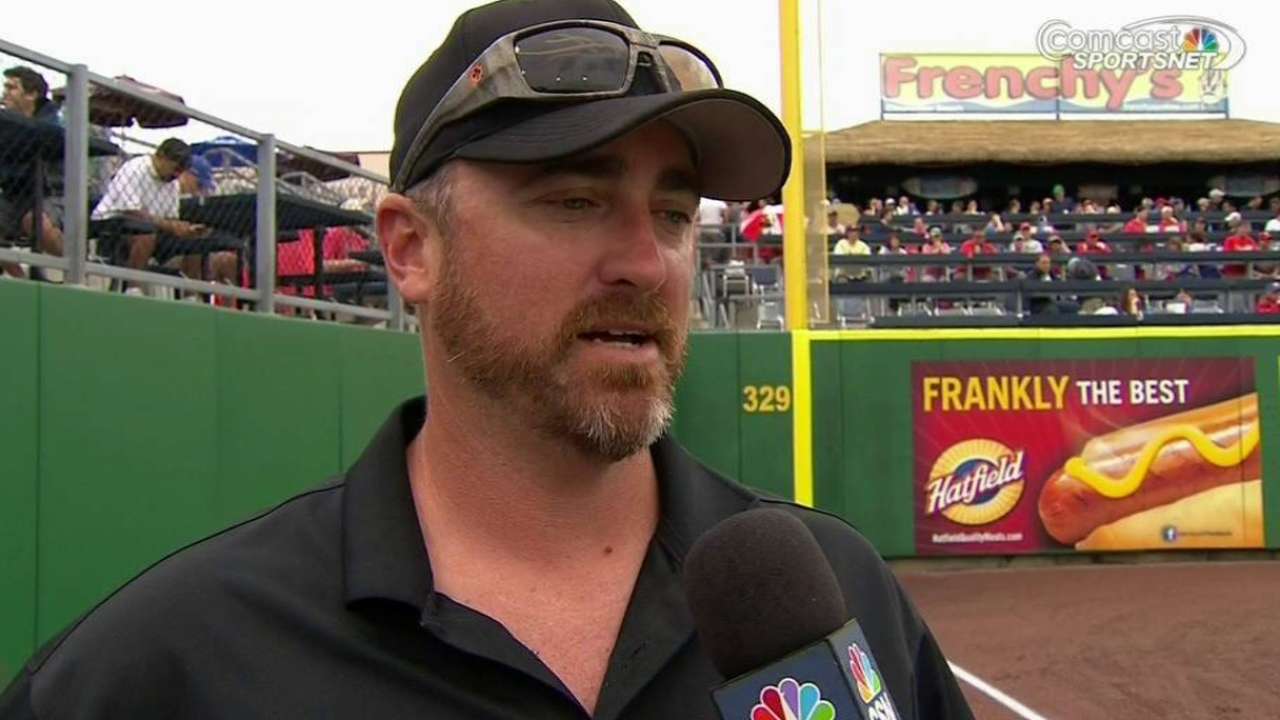 CLEARWATER, Fla. -- Brett Myers brought himself, his son Kolt and his World Series championship ring to Bright House Field on Friday.
Myers helped the Phillies win the 2008 World Series, but since his baseball career ended following the 2013 season, he has spent most of his time coaching his son's travel baseball team and, most recently, putting together a country music album.
"It's good to be back," said Myers, who was in town because his son's team is playing in Tampa. "It's awesome."
There are a handful of holdovers from the 2008 championship team. There is Charlie Manuel, who is in camp as a guest instructor. There is Chase Utley, Ryan Howard, Cole Hamels and Carlos Ruiz.
That's it.
Myers made the rounds with his former teammates, but afterward, he talked a bit about the country music he is writing and producing. His first five songs are available on iTunes. There are six more on the way.
"It's just funny stuff that I think people can relate to," he said. "I'm tired of the pop-country stuff, you know? It's got that pop aspect. Hey, I'm not hating the music, but it's kind of run its course for me."
Myers, who said he started playing guitar with Phillies manager of video coaching services Kevin Camiscioli in 2002, wrote the lyrics to such songs as "Black Creek" and "Kegerator."
He records his songs at a studio owned by his friend Damien Starkey in Jacksonville, Fla., where Myers lives. Starkey has been in a few bands, including Puddle of Mudd.
"I've always loved music, and I've always tried to write my own stuff," Myers said.
Todd Zolecki is a reporter for MLB.com. Read his Phillies blog The Zo Zone. Follow him on Twitter. This story was not subject to the approval of Major League Baseball or its clubs.