View's different, but Bryant looks like natural in left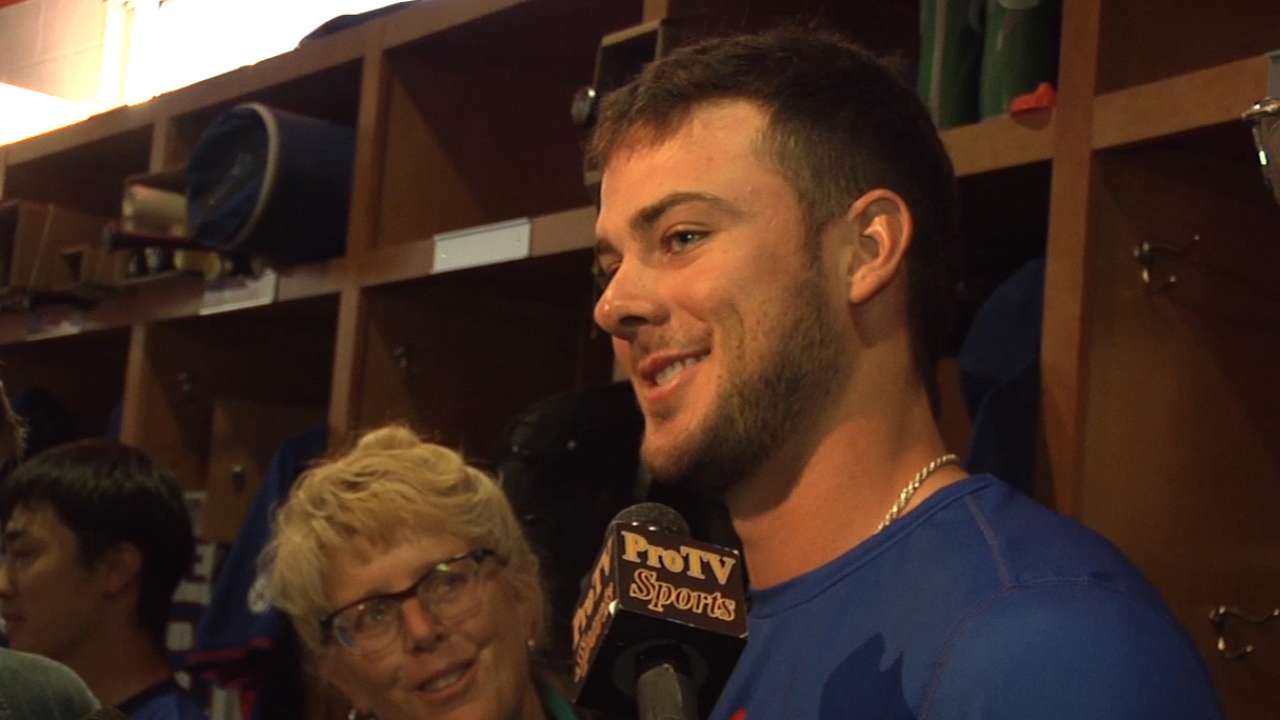 MESA, Ariz. -- If Kris Bryant could pick one outfield spot to play, it'd be center, which prompted a playful exchange with his locker mate, Dexter Fowler, who doesn't want to lose his job to the Cubs' top prospect.
"Center's fun," Bryant said on Friday after his outfield debut in left Thursday night. "You don't have to deal with the hooks and slices of the ball, they're more true, they're more back-spun out to center."
"You got to be careful, guy," said Fowler, who is the Cubs' starting center fielder.
Bryant isn't trying to take Fowler's job; he's just hoping to land a spot on the Opening Day roster.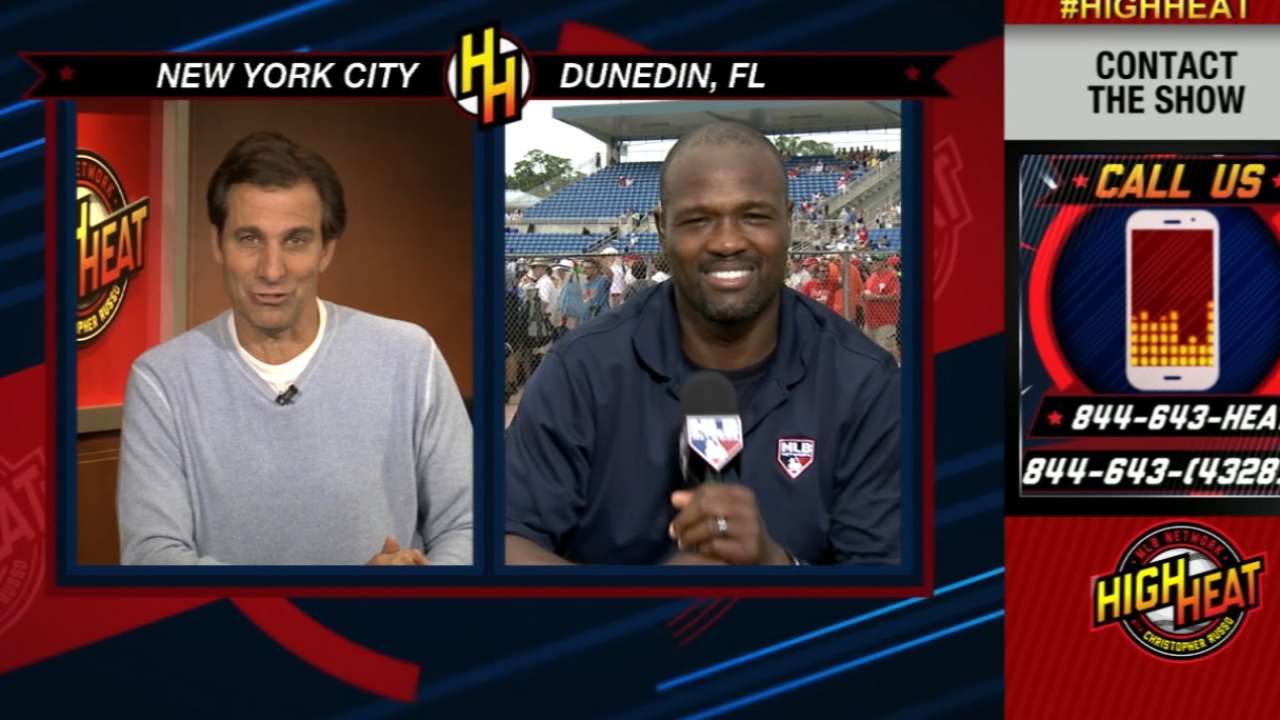 "Not to take anything away from the position," Bryant said, laughing. "I like center, but Dexter has that."
Will the move help Bryant make the final 25-man roster? Cubs president of baseball operations Theo Epstein has never had a rookie start on Opening Day.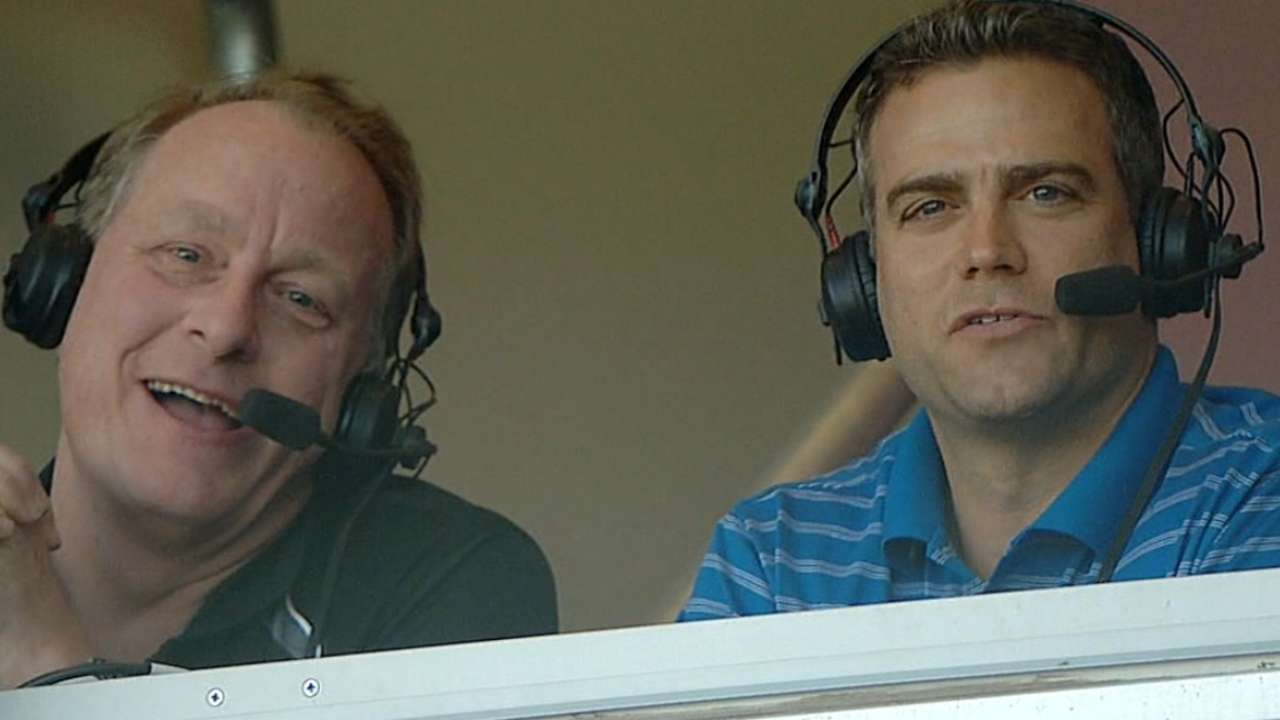 "I look at it as, 'Why not me?'" Bryant said. "I think I'm the type of guy who can go out there and do it. I've made it a point of mine to show them that I can."
Bryant leads the Major Leagues this spring with nine home runs -- and hit a 10th in a "B" game, as well -- and he's batting .406 with 11 strikeouts, including three looking on Thursday.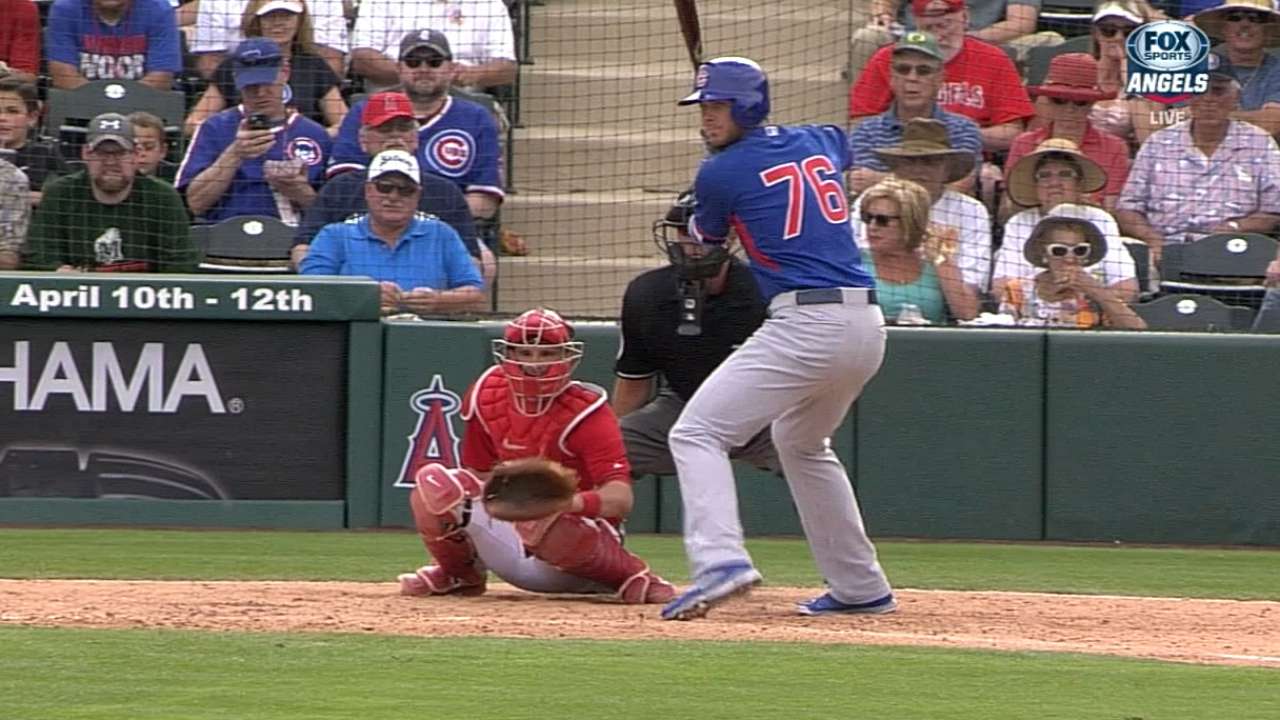 "Yesterday was good for me to go out there and face a pitcher like Jered Weaver, who has incredible stuff," Bryant said of the Angels' ace. "He's a different type of pitcher, and it was really good for me to go out there and struggle a little bit, see what he's going to throw me and learn from it. I took it as a learning experience."
So was playing the outfield. Manager Joe Maddon had asked Bryant if he was willing to play there, and the only condition was that Bryant had to take it easy on his throwing. Bryant was limited to designated-hitter duties earlier this month because of fatigue in his right shoulder.
Bryant did fine Thursday against the Angels, showing his baseball acumen when he backed up a play at third, and he also turned a double play in the sixth, getting his first outfield assist since he was 13. He played center and right field his junior year at the University of San Diego.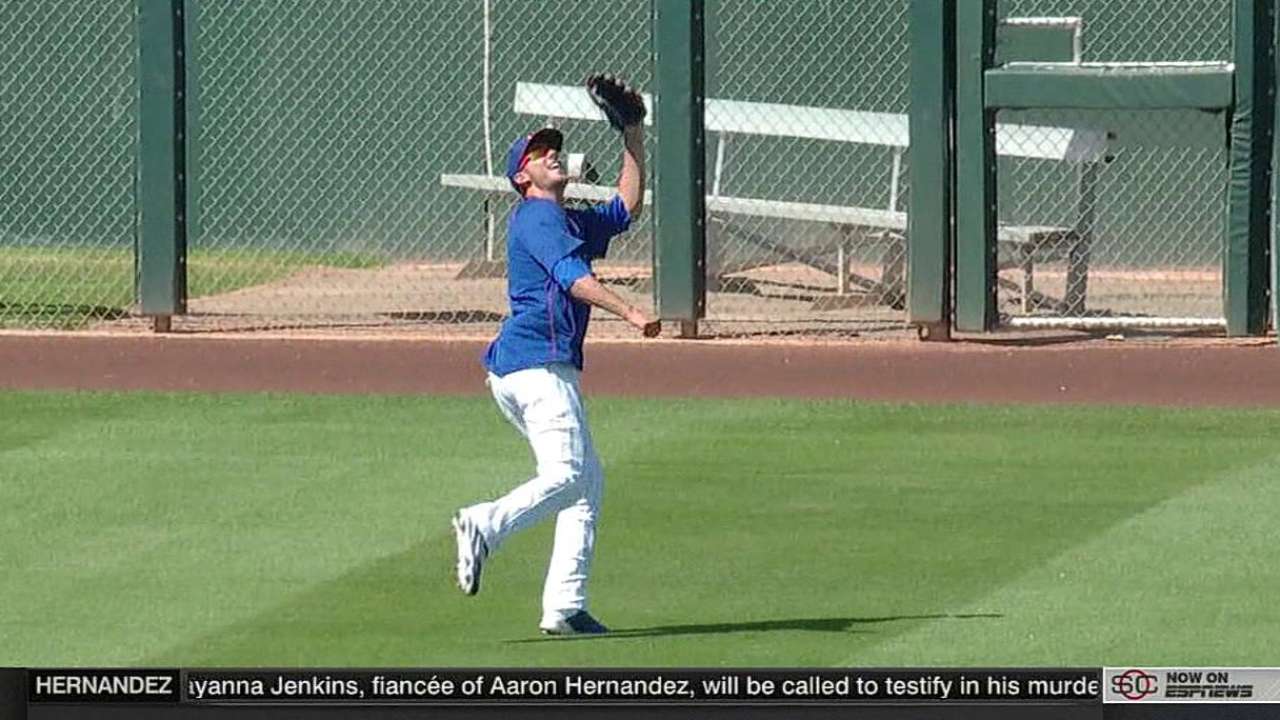 "It was a little different," Bryant said. "I heard some chatter out there [from the fans], but I couldn't make out what they were saying. You see grass in front of you instead of dirt. It's a little different, but I enjoyed it."
Even though he was in the outfield, Bryant still did the infielder swipe with his foot on the grass, which many do to smooth the dirt. It's a reflexive thing.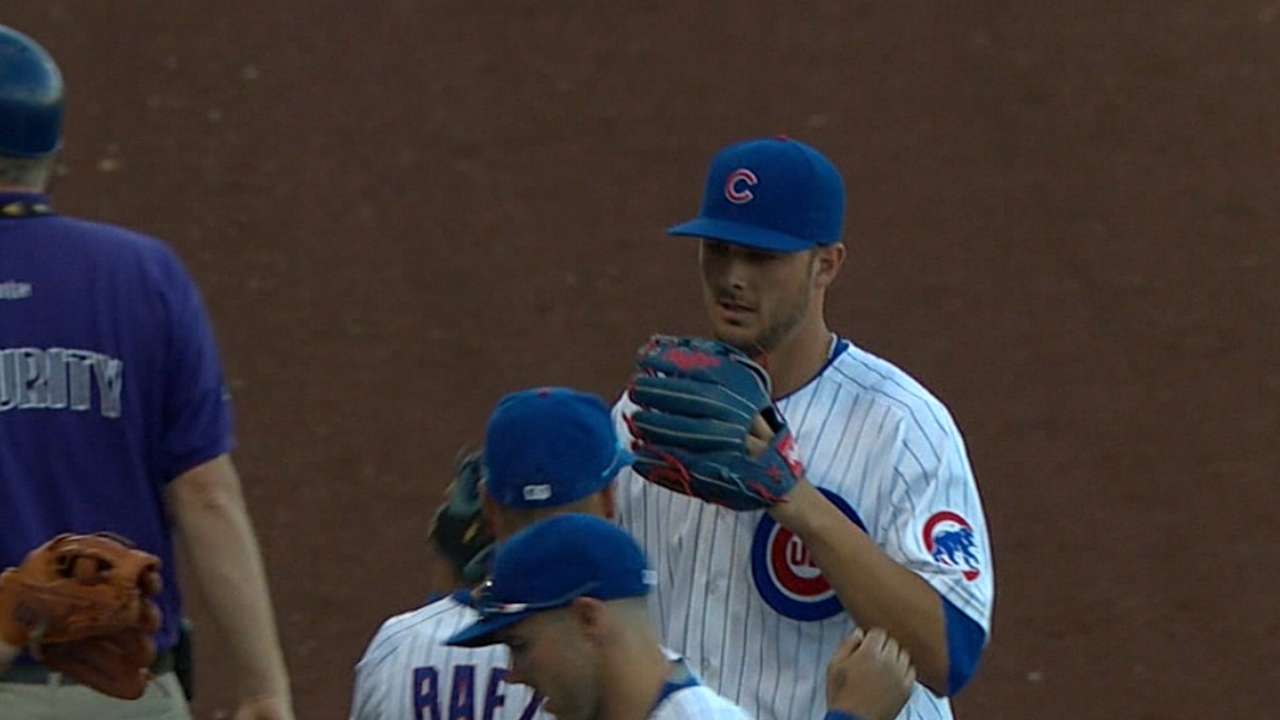 Does he have a preference?
"Whatever helps the team win," Bryant said. "Obviously, I'm a natural third baseman, but there's some good guys in this clubhouse who can play everywhere, and I'm willing to do what they want me to do."
Carrie Muskat is a reporter for MLB.com. She writes a blog, Muskat Ramblings, and you can follow her on Twitter @CarrieMuskat. This story was not subject to the approval of Major League Baseball or its clubs.