Solo blasts power Pirates past Twins
Polanco, Sanchez both homer to back Locke's solid start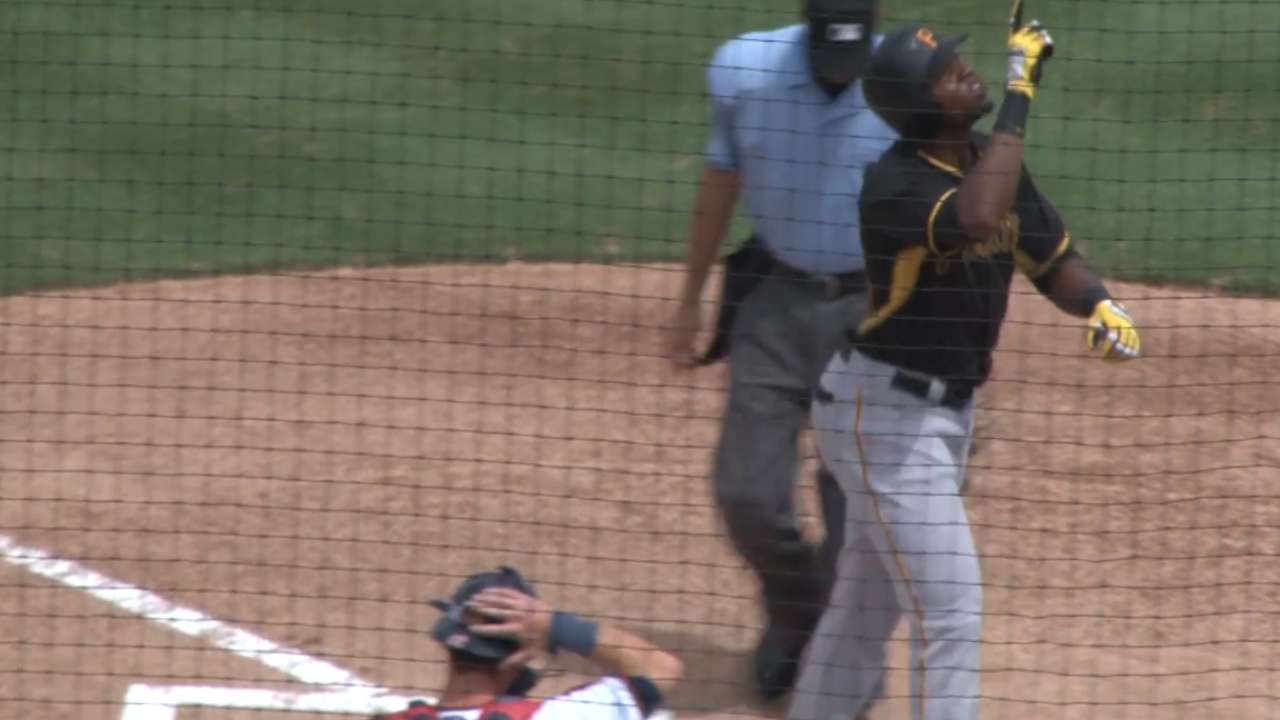 FORT MYERS, Fla. -- Gregory Polanco and Tony Sanchez both homered to help carry the Pirates to a 4-2 win over the Twins on Friday at Hammond Stadium. The game was called in the eighth inning due to rain.
Twins right-hander Trevor May, competing for the fifth spot in the rotation, didn't help his cause by giving up seven extra-base hits in 4 2/3 innings, including the homers to Polanco and Sanchez.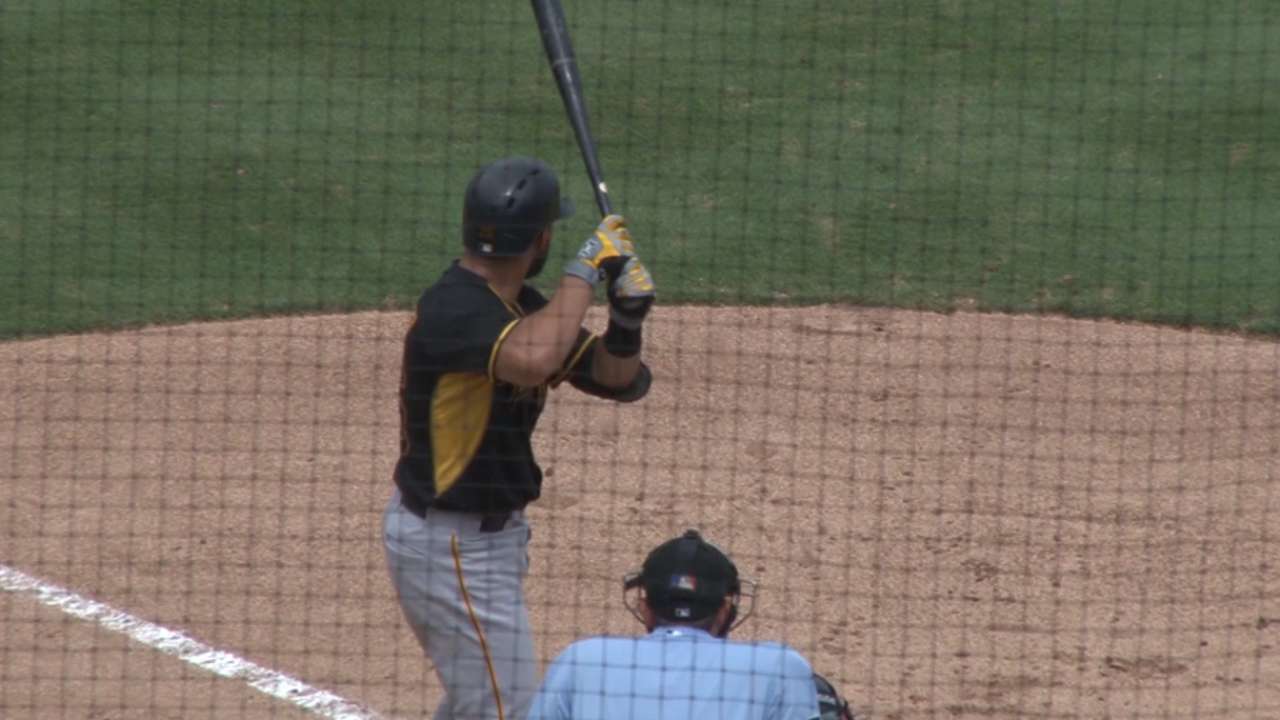 "I needed to command the fastball a little better," May said. "I took the same approach I had all spring and last year, and try just to try to throw every pitch as well as I can and stay present. I felt like I stayed present, and I had a plan behind every pitch, but I didn't execute a few times. And sometimes, I felt like I executed, but they still made me pay for it. That's the way it goes sometimes."
Polanco got the Pirates on the board in a hurry with a one-out blast in the first inning. It was the first homer of the spring for Polanco.
Pittsburgh scored again in the second, when Jung Ho Kang tripled on a ball over the head of center fielder Aaron Hicks and scored on a double from Jaff Decker.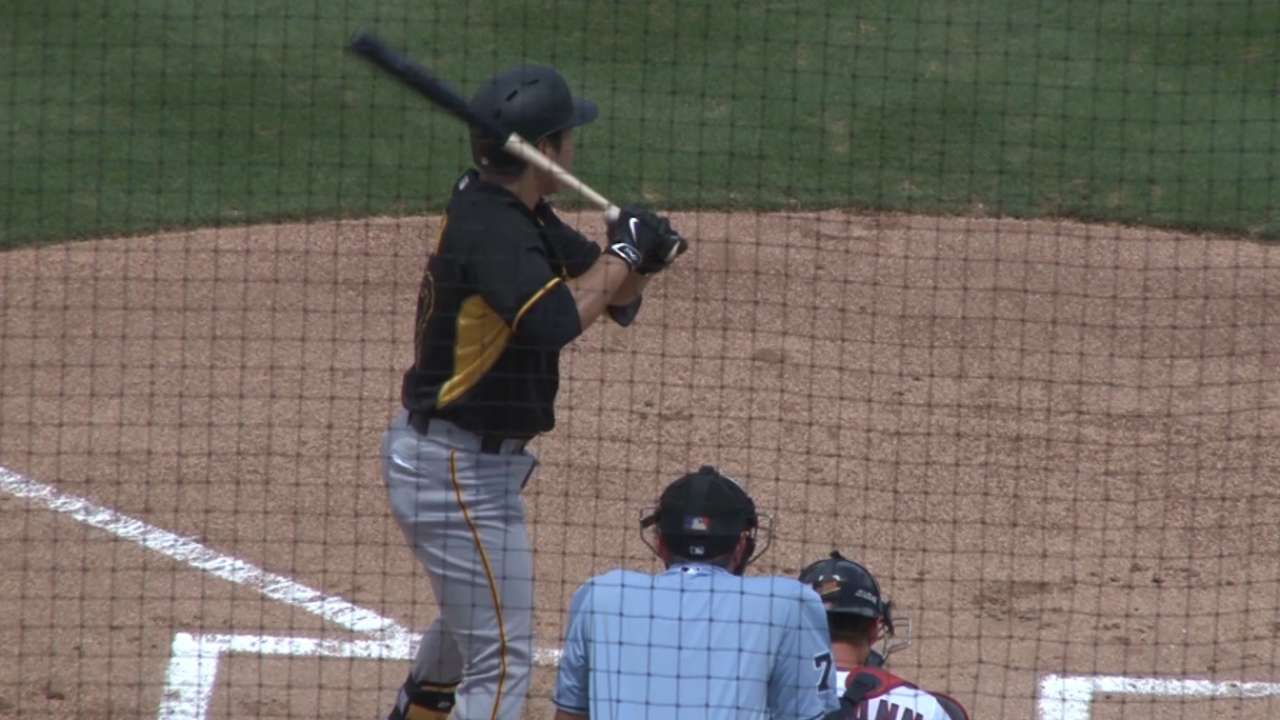 The Twins tied it up with two runs in the third against Pirates left-hander Jeff Locke, who is battling right-hander Vance Worley for the final spot in Pittsburgh's rotation. Danny Santana started the rally with a leadoff single before scoring on a triple from Brian Dozier. Joe Mauer brought home Dozier with an RBI groundout to tie the game.
But it was all Minnesota could do against Locke, who was able to pitch out of several jams. The lefty went 5 2/3 innings, surrendering two runs on eight hits and three walks with two strikeouts.
"I like the way he went out today," Pirates manager Clint Hurdle said. "He was challenged [pitching] out of the stretch in the first inning, but he continued to compete and make pitches and stay away from the big inning."
Pittsburgh retook the lead in the fourth on a solo shot from Sanchez that was aided by the wind in right field. Right fielder Torii Hunter thought he had a chance at the fly ball, but it kept carrying over the fence.
The Pirates added an insurance run in the fifth on back-to-back doubles from Polanco and Starling Marte. May walked Sanchez and was removed in favor of left-hander Brian Duensing, who made his return after being hit on his right quad on a comebacker on Tuesday. Duensing showed no ill effects, as he tossed 1 1/3 scoreless frames.
Up next: Making a start that might influence whether the Bucs opt to leave him behind for extended Spring Training when they break camp, Charlie Morton is due to face the Blue Jays at McKechnie Field on Saturday at 1:05 p.m. ET. Morton was roughed up for nine hits and seven runs in 4 1/3 innings in his last outing, Sunday against Houston. The Pirates will break their Grapefruit League attendance record, being 334 shy of the mark of 93,433 set in 2013, with one more date remaining (Monday versus Philadelphia).
Rhett Bollinger is a reporter for MLB.com. Read his blog, Bollinger Beat, and follow him on Twitter @RhettBollinger. This story was not subject to the approval of Major League Baseball or its clubs.