Yankees tab Tanaka for Opening Day start
Righty 'honored' to have assignment that had been CC's for six straight seasons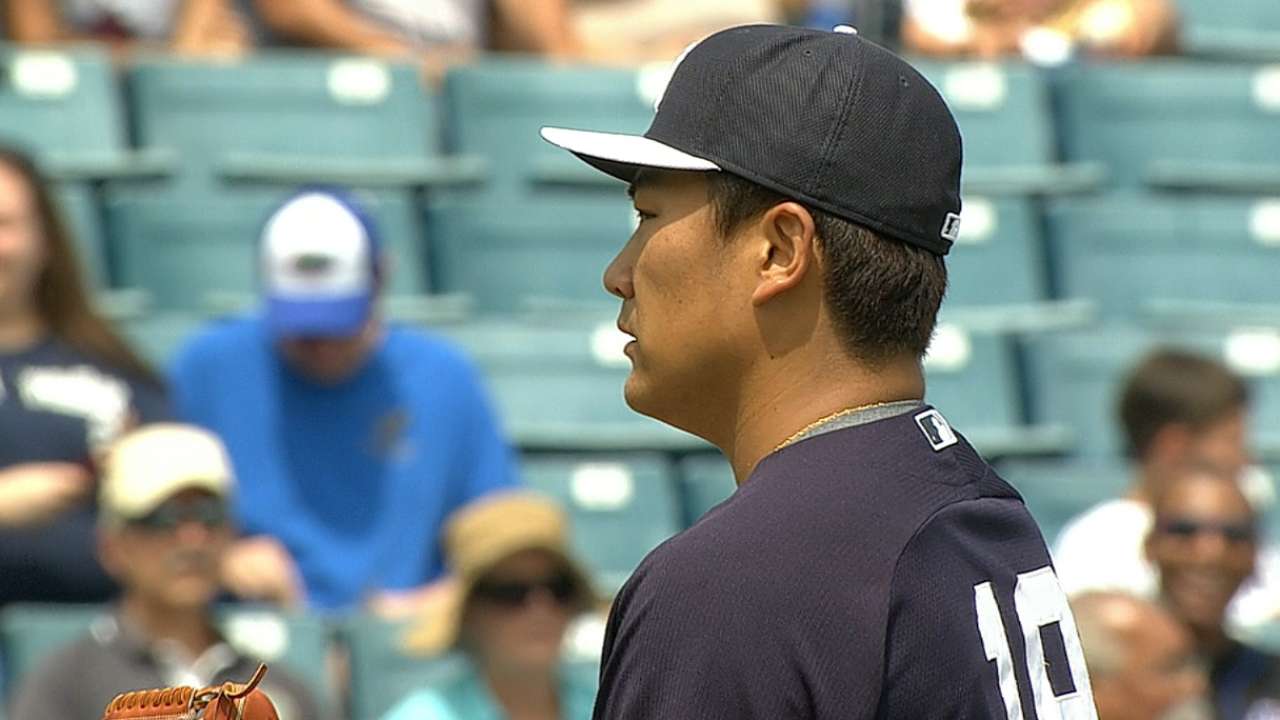 TAMPA, Fla. -- Masahiro Tanaka has been named as the Yankees' Opening Day starter for the April 6 contest against the Blue Jays, accepting an assignment that had been issued to CC Sabathia for the last six seasons.
Yankees manager Joe Girardi announced the club's probable pitchers for the first four games of the season on Friday. Tanaka will be followed by Michael Pineda, Sabathia and Nathan Eovaldi in the rotation, with the fifth starter yet to be announced.
"I'm honored, obviously," Tanaka said through an interpreter. "I spoke with Joe earlier today and he told me officially. Now that I know when I'm pitching for the season, my job is to get ready for that day."
Tanaka's final spring outing is slated to see him toss about 75 pitches on Tuesday against the Twins in Fort Myers, Fla., providing him with five days of rest before the Yankees open the regular season in The Bronx. Tanaka will likely be capped close to 90 pitches on Opening Day.
"We feel that's the way it works the best," Girardi said. "You feel that gives everyone a chance to be pretty ready. Tanaka will be on a little bit of a pitch count the first time; not so much the second and third time. We think it's an opportune time for him. It's a spot where you go on six days [rest] a little bit more, that sort of thing."
Sabathia has made 11 career Opening Day starts, but because he is coming off right knee surgery, he has said that his focus is to be ready for the regular season. He is the fifth pitcher in Yankees history to make at least six Opening Day starts for the club, joining Whitey Ford (seven), Ron Guidry (seven), Mel Stottlemyre (seven) and Lefty Gomez (six).
"If CC wouldn't have had the problem and pitched all 30 starts, it probably would have been a non-issue who was going to go No. 1, but it didn't happen that way," Girardi said. "We had to make sure people were ready. I know it's a big deal, and it might be somewhat of a deal to them, but when CC looks back, he's going to worry about Octobers."
Tanaka has said that he has started on Opening Day only once previously, in 2012 for the Tohoku Rakuten Golden Eagles. He did not start his team's opener in '13, because he was participating in the World Baseball Classic.
His Major League debut also came against the Blue Jays, but that outing was at Rogers Centre in Toronto. In that outing, Tanaka earned the win, holding the Jays to three runs (two earned) and six hits over seven innings, walking none and striking out eight.
"I think the biggest difference is that I'll be pitching at home this season," Tanaka said. "Actually, I'm really happy about that. Last year obviously was over in Toronto and away, being away from home. Definitely, being able to pitch at home this season, I'm really happy about that."
Tanaka was reminded that the first batter he faced in that game, Melky Cabrera -- now with the White Sox -- homered off him. Tanaka laughed and said that he will hope for a different opening act to his campaign this year.
"He's gone, so I wouldn't have that sort of negative image from last year," Tanaka said. "Yes, obviously I'd like to have a different outcome for the first batter this season."
Bryan Hoch is a reporter for MLB.com. Follow him on Twitter @bryanhoch and read his MLBlog, Bombers Beat. This story was not subject to the approval of Major League Baseball or its clubs.