Backup search still on as Braves option E. Perez
Outfielder among three sent to Triple-A; club considering how to handle center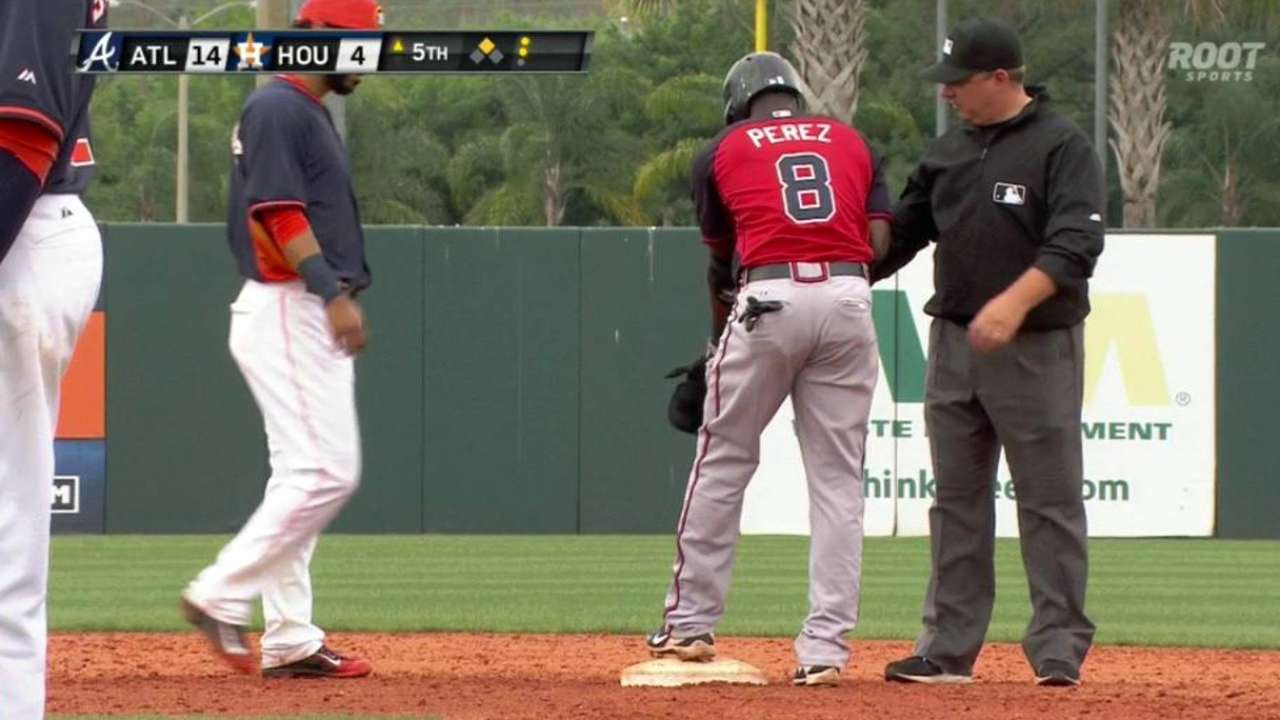 LAKE BUENA VISTA, Fla. -- The Braves are still looking both internally and externally for a backup outfielder who can handle the center-field position. But Eury Perez is no longer in that mix.
Before Friday's game against the Red Sox, the Braves optioned Perez, left-handed pitcher Manny Banuelos and right-handed pitcher Williams Perez to Triple-A Gwinnett.
Eury Perez's demotion strengthens the roster candidacy of Todd Cunningham, who stands as the only internal candidate who has significant experience in center. But because Cunningham has not overwhelmed the club during Spring Training, Atlanta is evaluating potential trades for an outfielder who could occasionally spell Eric Young Jr., who is slated to serve as the primary center fielder while Melvin Upton Jr. is sidelined until at least May with a left foot injury.
The Braves are also attempting to expand their internal options. Utility man Phil Gosselin got a surprise starting assignment in center field for Friday's game against the Red Sox. Gosselin has never played the position during his professional career. His outfield experience has been limited to 34 games, 16 of which were in left field at Double-A Mississippi in 2013.
Because he has more experience than Young in center field, Eury Perez entered the Grapefruit League season as a strong candidate to begin the regular season in Atlanta's starting lineup. The 24-year-old non-roster invitee batted .268 (11-for-41) in 14 Grapefruit League games.
As the Braves have seen many of their bullpen candidates falter over the past couple weeks, there was a question whether they would use Banuelos as a reliever for the first couple months of the season and then allow him to begin stretching out as a starter for the final couple months, either with Atlanta or Triple-A Gwinnett.
But the Braves determined it was best to allow the promising pitching prospect a chance to get regular work throughout the season. Banuelos totaled just 76 1/3 innings while coming back from Tommy John surgery last year in the Yankees' Minor League system, so he will be targeted to pitch between 120-130 innings this year. Thus, he will likely work less than five innings during many of his early-season appearances, then steadily increase his workload.
Williams Perez allowed nine earned runs over 6 1/3 innings in three Grapefruit League appearances. The 23-year-old right-hander could begin the season in Gwinnett's rotation, but there is a chance he might eventually develop into a reliever.
Mark Bowman is a reporter for MLB.com. This story was not subject to the approval of Major League Baseball or its clubs.