MLB.com Columnist
Jim Callis
MLB Pipeline checks in from Padres camp
Top-ranked Renfroe, Hedges holdovers in system, with lower-level talent on the rise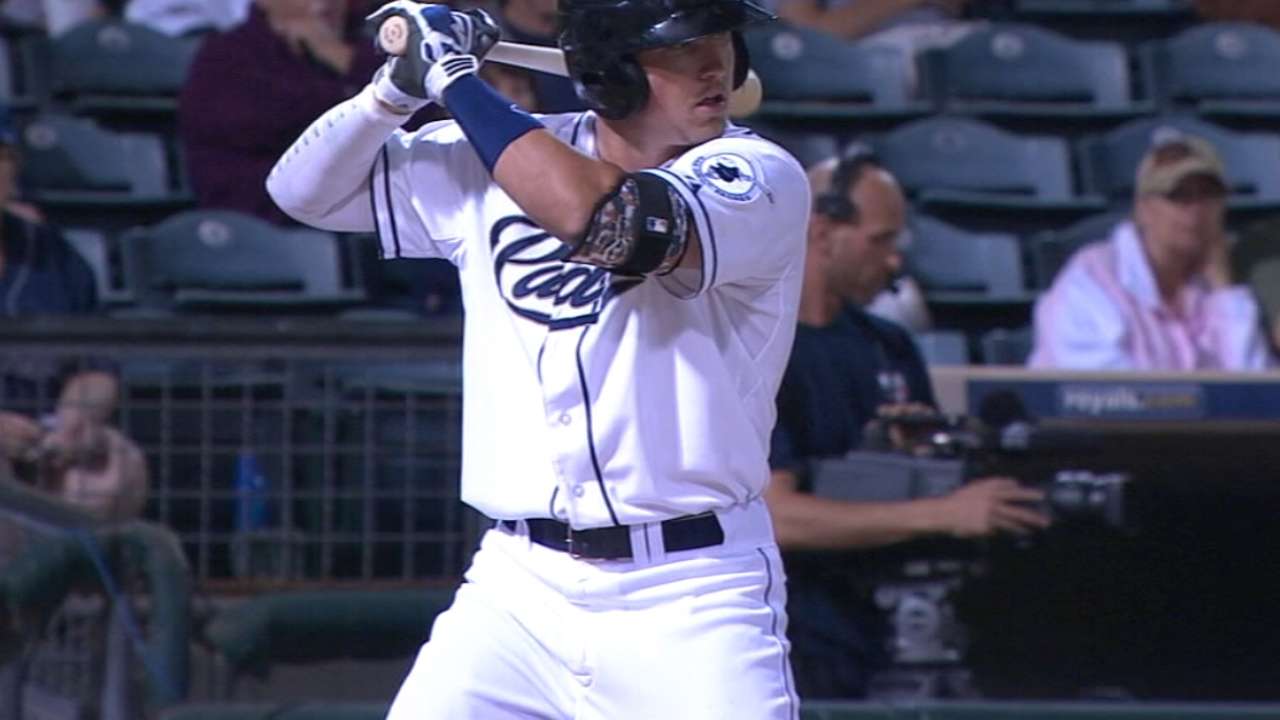 Every Spring Training, prospects get a chance to show what they can do as they prepare for the season ahead. Some are competing for jobs in big league camp, others are prepping for the season as they vie for spots at Minor League affiliates up and down a team's system. MLBPipeline.com will be visiting all 30 camps this spring. Today, we check in on the San Diego Padres.
PEORIA, Ariz. -- The Padres' farm system has taken on a dramatically different look since the club hired A.J. Preller as general manager last August. In a series of trades to acquire the likes of Matt Kemp, Wil Myers, Derek Norris and Justin Upton, Preller gave up 10 players on the organization's Top 20 Prospects list from a year ago at this time.
Nevertheless, San Diego still has talent down on the farm. Preller upgraded his big league club without giving up the Padres' two best prospects, outfielder Hunter Renfroe and catcher Austin Hedges, or nearly ready right-hander Matt Wisler. San Diego is expected to surrender shortstop Trea Turner, its 2014 first-round pick, as the player to be named in the Myers trade once he becomes eligible to switch organizations in June.
MLB Pipeline Spring Training Reports
Padres director of player development Sam Geaney, who joined the organization in October after coordinating international scouting for the Athletics, said several lower-level prospects have caught his eye.
"One of the things we're most excited about is our younger group of outfielders: Michael Gettys, Nick Torres, Yale Rosen, Jordan Paroubeck and Edwin Moreno," Geaney said. "We also like our young group of arms. Dinelson Lamet, Jose Castillo and Jean Garcia have looked good this spring."
Camp standouts
Hedges is the best defensive catching prospect in baseball, but there are questions about his bat after he finished with the lowest on-base percentage (.268) and third-lowest slugging percentage (.321) in the Double-A Texas League last year. While he went just 2-for-13 in big league camp this spring, the Padres are pleased with the offensive adjustments he has made.
"It was a great offseason for Hedges," Geaney said. "He's in tremendous shape and he came down to San Diego multiple times a week to work with [Major League hitting coach] Mark Kotsay and [catching coordinator] Ryley Westman. He likes where his swing's at. He's more into his legs, has more rhythm, and the ball is really coming off his bat."
Fernando Perez's 2014 season was the opposite of Hedges'. Healthy after dealing with thumb and wrist injuries in his first two pro seasons, Perez batted .284/.322/.454 with 18 homers and a Class A Midwest League-best 95 RBIs. His defensive future is more uncertain, as he made 16 errors in 35 games at third base and has below-average speed that may not fit at second base.
"The focus is to try to have him play second base on an everyday basis, and he has the makeup to do it," Geaney said. "He has a very strong vision of the player he wants to be. He'll have to work on turning the double play, but after bouncing between second base and third base and first base last year, he looks good. There's bounce, there's energy and he's out here doing extra work."
Breakout candidates
Paroubeck was the best athlete in San Diego's 2013 Draft class, but a high school shoulder injury has limited him to 34 pro games so far. Fully healthy again, he's a switch-hitter with solid tools across the board. Paroubeck has benefited from hitting lessons from family friend Barry Bonds, who played high school baseball with his father.
"He's in a good place physically," Geaney said. "There's physicality and bat speed, and he's a switch-hitter. He just needs to get at-bats and stay healthy. He does a good job of managing two swings."
The last player signed from the Padres' 2013-14 international crop, Lamet agreed to a $100,000 bonus last June. At nearly 22, he signed much later than most Dominicans, and his pro experience consists of just four innings in the Rookie-level Dominican Summer League. Lamet may not have a long résumé, but the 6-foot-4, 187-pound right-hander has been a revelation this spring.
"He's flirting with the mid-90s and has a good breaking ball," Geaney said. "He's super athletic and it comes out good. And he's around the plate, too."
Three questions with Gettys
The consensus among scouts was that Gettys had the best all-around tools in the 2014 Draft, but concerns about his ability to make hard contact against quality pitching dropped him to the second round. Signed for $1.3 million, he hit .310/.353/.437 in the Rookie-level Arizona League, but he also struck out 66 times in 52 games.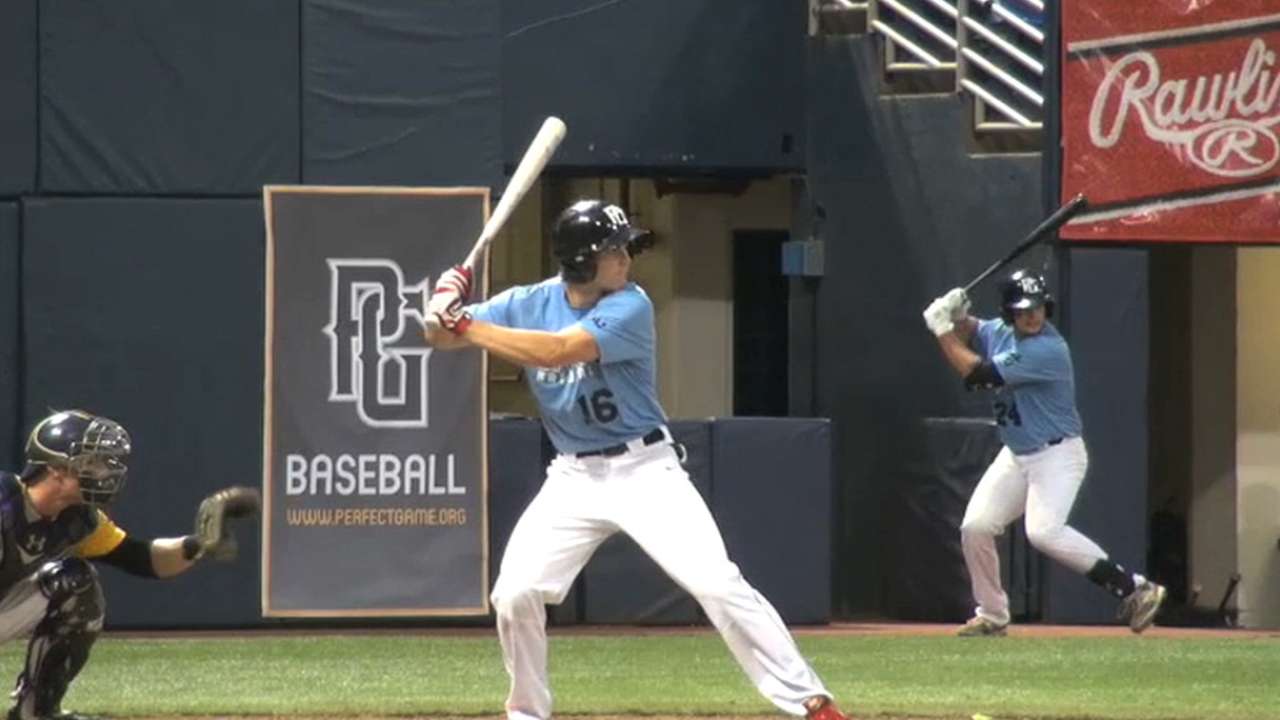 MLBPipeline.com: What is it like hearing scouts rave about your tools but question your bat?
Gettys: It kind of got to me in high school. Now that I'm out here, it doesn't faze me at all. In high school, I felt the pressure more and it bothered me a little bit. Now I know I can hit, it doesn't bother me. Anyone who says I can't is wrong. I think I can be a great hitter. Maybe I got down on myself in high school, but not now.
MLBPipeline.com: What helped you gain more confidence at the plate?
Gettys: I became a lot better hitter when I just relaxed and let the game come to me. I stayed through the ball more. When I started getting in a routine in the Arizona League, I felt sometimes it was easier than in high school. I slowed down the game a little bit. I think I play better against better competition.
MLBPipeline.com: What are you trying to work on to get ready for your first full pro season?
Gettys: I'm working on becoming a better hitter and a true center fielder so I can stay there. Just getting in a routine and doing the same thing every day. You have to make adjustments. I'm trying to take a more consistent approach -- more consistent with my work, more consistent with my routine, more consistent with my at-bats.
Jim Callis is a reporter for MLB.com and writes a blog, Callis' Corner. Follow @jimcallisMLB on Twitter. This story was not subject to the approval of Major League Baseball or its clubs.