Cuban Baldoquin brings plenty of promise to Angels
Shortstop prospect has impressed with work ethic, attitude since defecting last year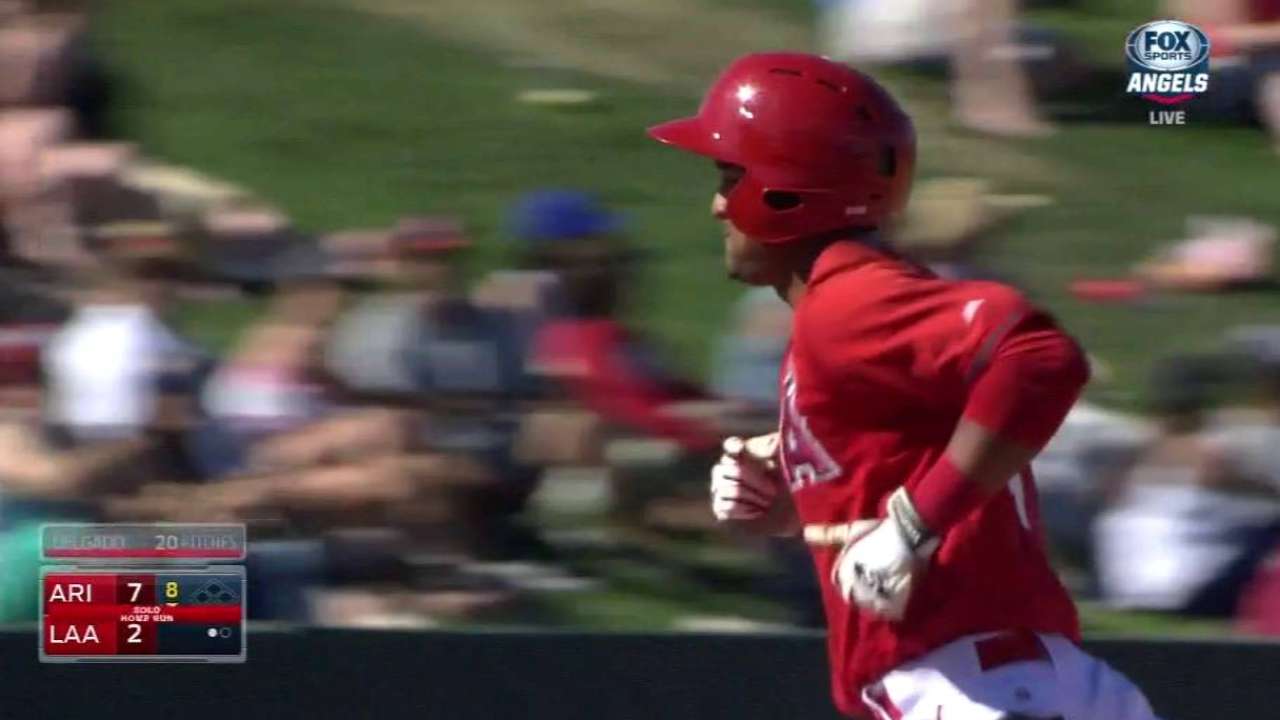 TEMPE, Ariz. -- Maybe one day, when enough time has passed and the wound isn't so fresh, Roberto Baldoquin will share his escape story, because every Cuban defector has one. Thursday just wasn't that day. He was still settling in, to life as an Angels prospect, to baseball in the United States and to the logistics that come with it all.
Baldoquin was still trying to create some distance.
"I feel like those are things that have to stay in the past," Baldoquin said in Spanish. "It was really hard. I had to leave my family, my friends, the country where I grew up. I miss Cuba a lot, I miss my friends a lot. I miss all the afternoon games that we used to have. I miss it all."
Baldoquin, 20, established residency in Haiti in March 2014, then he showcased his talents for teams in the Dominican Republic over the next eight months and agreed on an $8 million signing bonus in Novermber to become the Angels' shortstop of the future.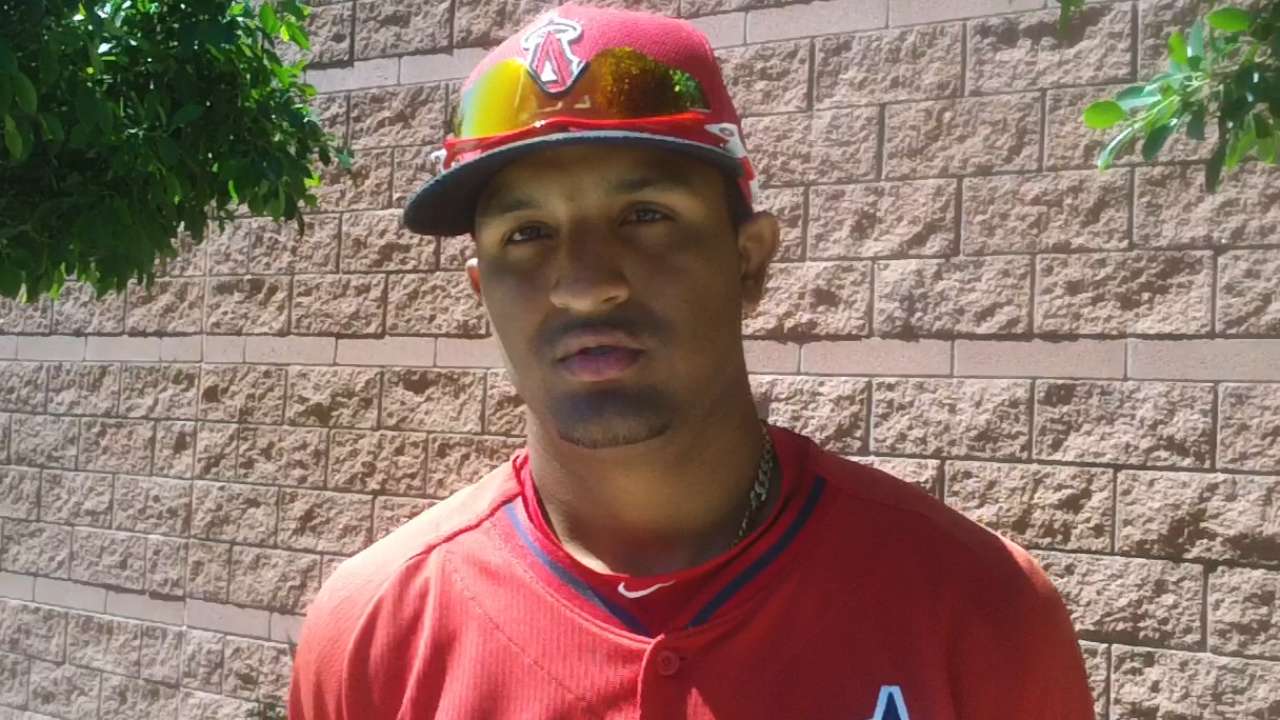 The Angels gradually fell in love with Baldoquin, because his hands are quick, his bat stays through the zone a long time and his head is in the right place.
"We love the look in his eye," said Angels general manager Jerry Dipoto, who watched Baldoquin hit a pinch-hit homer in the eighth inning of Friday's game, during his first at-bat in Major League Spring Training.
"He has an incredible confidence," added Michael Noboa, the Angels' coordinator of Latin American operations. "He isn't scared, he doesn't feel pressure."
Baldoquin grew up in Colombia, the smallest municipality in the province of Las Tunas, on the eastern side of Cuba. His father was a nurse, his mother was a teacher, and Baldoquin began playing organized baseball at the age of 6.
"My goal was always to play baseball, basically since I was in the womb," Baldoquin said. "Thankfully, here we are."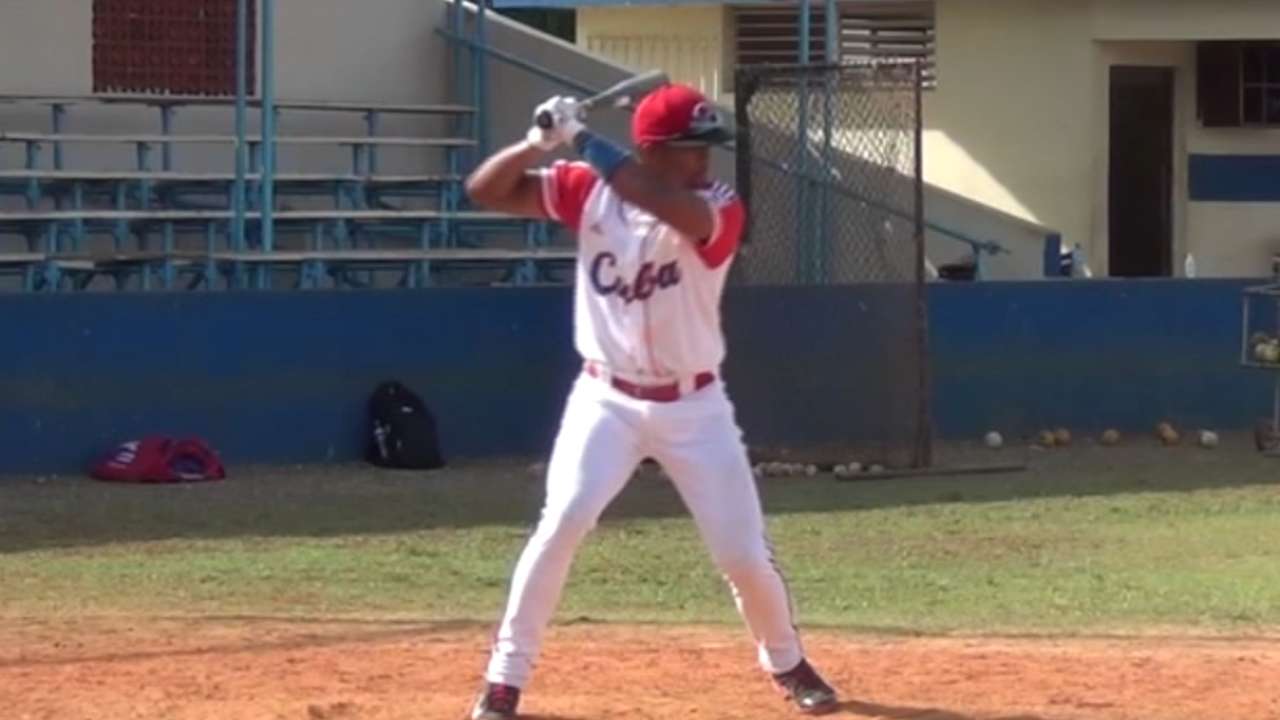 "Here" is the Angels' Minor League complex, below a big white tent where Baldoquin is joining the rest of his teammates for lunch, just before hopping on the bus that will take him to Scottsdale Stadium for another Spring Training game.
Baldoquin greets all the Americans with "nice to meet you," no matter how many times they've shaken hands, because he heard it's polite. He discovered tortilla chips a couple of weeks ago, doesn't like anything besides Cuban food and is still trying to get his head around how ATMs work.
A big chunk of his signing bonus -- a record for an international prospect when he received it, but since broken twice -- has been sent back to Cuba to help the family he has left there.
"My parents have shown me to stay humble no matter what," Baldoquin said. "It can't change who you are as a person. Money comes and goes. Friendships and family never do."
Baldoquin's parents and 10-year-old brother joined him in the Dominican Republic and are now in Haiti, waiting for the opportunity to join Baldoquin in the U.S. The Angels basically discovered him by accident. International scouting director Carlos Gomez joined the entire industry in scouting Yasmany Tomas, but he grew increasingly fond of the smaller shortstop training alongside him and eventually became Baldoquin's guardian.
The first thing that jumped out to Gomez was the stability of Baldoquin's family.
"Legit," Gomez said, nodding his head. "That is just like a rock."
The second was Baldoquin's encyclopedic knowledge of baseball in Cuba.
"Some of the stuff he's told me has made its way onto our reports," Gomez said. "I trust him. I trust his judgment."
Baldoquin played about 10 intrasquad games at the Angels' Dominican academy in February, then flew back to Haiti to obtain his visa and wound up sequestered in his hotel room from March 4-11 because the local government went on strike.
Baldoquin arrived at the Angels' facility two days later and wowed front-office members with how quickly he regained his timing. During pregame workouts last week, he took ground balls alongside Erick Aybar, the player he's expected to replace by 2017. During the annual prospect game on Wednesday, Baldoquin took an inside fastball from Sean Newcomb -- the 15th overall pick in last year's Draft -- into left field for a double.
"He's 20, we're going to take our time with him -- but he has some things that you just can't teach," Dipoto said of Baldoquin, who will start the season at one of the Class A levels. "He has soft, quick hands, he has great feet, and he has a wonderful internal clock on the field."
Baldoquin, who will turn 21 on May 14, is a right-handed hitter with a slender 5-foot-11 frame. He's four years younger than Tomas, so the two didn't really know each other until they began working out under the same trainer, Javier Rodriguez, in the Dominican.
"I learned a lot from him," said Tomas, who attained free-agent status and signed a six-year, $68.5 million deal with the D-backs. "He has a tremendous future. I've seen very few shortstops with his skills on defense. On top of that, he's got good power."
When Rodriguez told them to take a day off from their intense training regimen, Baldoquin complained. When the Angels told Baldoquin to take a break after fielding hundreds of grounders during a private workout in October, he wagged his finger and jogged back to shortstop.
Tomas quickly realized how tireless Baldoquin is. He also sensed an unwavering confidence and a lack of fear, which is why he doesn't worry -- even though Baldoquin is a long way from home.
"He's going to be just fine," Tomas said.
"I've met some good teammates who have helped me, good trainers who are always there for me," Baldoquin said. "You always need family. But this is the route we chose to keep moving forward, and you have to adjust."
Alden Gonzalez is a reporter for MLB.com. Read his blog, Gonzo and "The Show", and follow him on Twitter @Alden_Gonzalez. This story was not subject to the approval of Major League Baseball or its clubs.