MLB.com Columnist
Terence Moore
All-Star voting is great, no matter what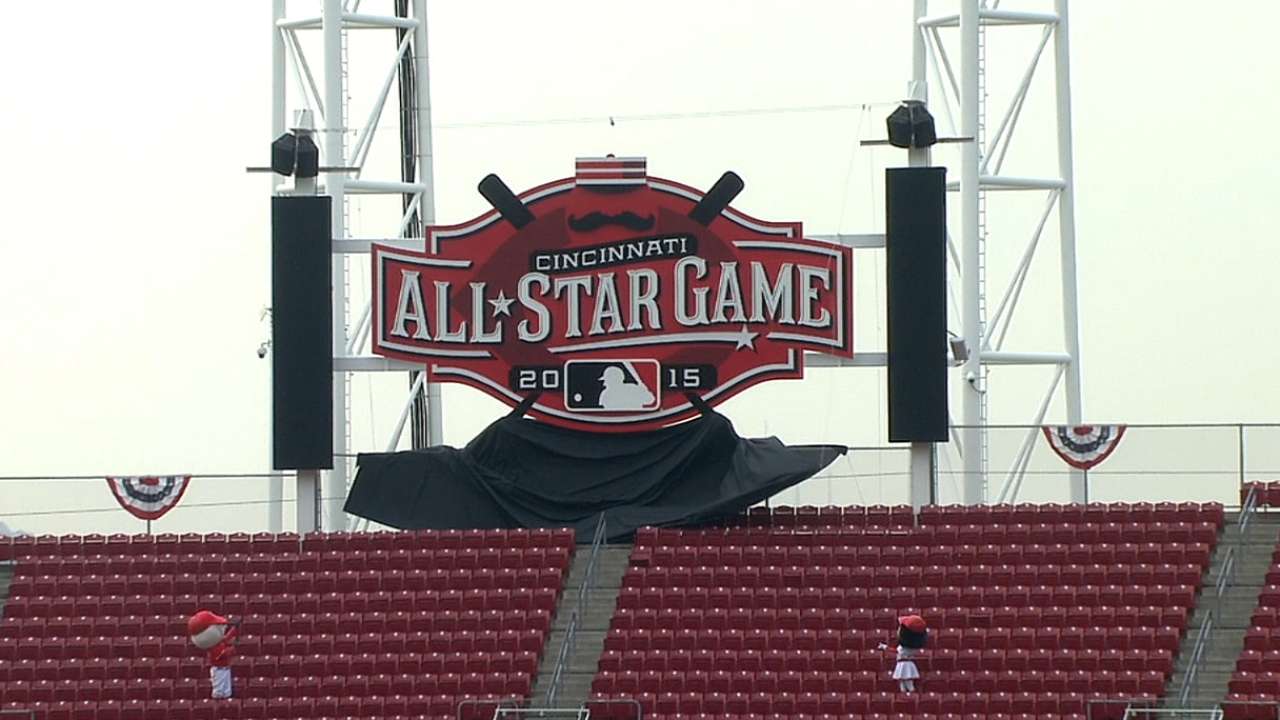 No more paper ballots. Instead, fans will vote for Major League Baseball All-Stars this season exclusively online, and this is huge news. Not the paper ballot thing, or the online thing, but the fan voting thing.
To translate, democracy still lives for our national pastime.
That's not necessarily the case for baseball's counterparts, where the system for selecting All-Stars in their sports involves mostly the elite. Either that, or those sports are easing in that direction.
Which brings me to this: Everybody reading what I just typed should stand and applaud baseball's decision makers for remembering the All-Star Game begins and ends with the fans. Why? Well, because that's exactly what Arch Ward wanted eight decades ago as sports editor of the Chicago Tribune. He brought All-Star games to professional and collegiate sports. It started with the one for baseball that was part of Chicago's 1933 World Fair. He urged fans back then to pick the players they wished to see the most, not only for that Midsummer Classic, but for the ones of future generations.
Including this generation.
So paper ballots or exclusively online, UPS or Fed Ex, the US Postal Service, the reincarnation of the Pony Express or delivery by drones. None of those things matter in the big picture regarding how fans are required to vote these days for Major League All-Stars.
This does matter: Fans are voting, period. Not only that, baseball continues to make that happen by evolving with the times. That's why Major League Baseball opted this year to satisfy environmentalists by going green, while realizing it is operating in an age when Twitter, Instagram and other internet things trump the alternatives in the minds of younger fans.
That said, there still are some of us slightly older than Bryce Harper who will mourn the loss of punch cards for All-Star voting. They were the rage for 45 years through last season. They allowed you to make your picks with either the push of a pencil or the edge of your fingernail.
I miss those days already.
In fact, I remember the thrill of the 1970 season, when Commissioner Bowie Kuhn brought fan voting back to the game for the second time. The first time lasted from 1947 through Reds fans stuffing the ballot box to fill the 1957 starting National League team with all Cincinnati players except first base. Then Commissioner Ford Frick was not amused. He stripped fans from voting, and he gave the privilege to the managers, the coaches and the players before Kuhn did the right thing by reversing Frick's decision.
Let's return to that 1970 season, when I sat among a different era of Reds fans at Crosley Field on a summer afternoon in Cincinnati. Between studying whatever was happening between the lines with Johnny Bench or Bobby Tolan, I watched an usher at the end of the aisle wave his hand, and then send a stack of punch cards down the row. They were awesome, especially since they featured the names of many guys on our Big Red Machine. The usher told everybody, "Take as many ballots as you like," and I'm sure visions of 1957 danced in the heads of more than a few of those to my left and right.
There I was as teenager, and I felt as if I had so much power, especially when I pushed one of those paper tabs. Sort of like the buzz this generation gets with the click of a mouse.
Whatever works.
What works best for Major League Baseball is to ignore what their peers are doing regarding fans and their All-Star Games.
Take the NFL, for instance. Yes, fans of that league are involved with the selection of players for its Pro Bowl, but only to a point. They share the voting with NFL coaches and players. The voting of each group is worth a third of the overall total, which isn't what Ward had in mind.
Ward also wouldn't support the voting system for the NHL All-Star Game, and that's an understatement. Just like NFL fans, NHL fans are involved on a limited basis. Extremely limited. So limited the NHL allows fans to select just a goaltender, two defensemen and three forwards. That's for both teams combined. The other 36 players in the NHL All-Star Game are picked by league officials.
The NBA joins Major League Baseball in allowing fans to vote for the starters of its All-Star Game. It's just that powerful Dallas Mavericks owner Mark Cuban wants that to change sooner rather than later. Three weeks before this year's NBA All-Star Game in February, Cuban blasted fan voting. He suggested his league use only general manager and coaches to pick the two teams. He told the Associated Press that the NBA's voting system was "broken, absolutely, positively broken," because of fan apathy. He added it was "embarrassing" Stephen Curry of the Golden State Warriors led all voters with just 1.5 million.
In contrast, with Major League Baseball fans using both the Internet and punch cards to decide All-Stars last season, Jose Bautista led all players with 5.9 million votes. Troy Tulowitzki and Trout also got more than 5 million votes, which means baseball hasn't a problem with fan voting.
No matter how it's done.
Terence Moore is a columnist for MLB.com. This story was not subject to the approval of Major League Baseball or its clubs.