Chavez shows ability to work out of jams
A's righty struggles to put away Giants but is happy with where he's at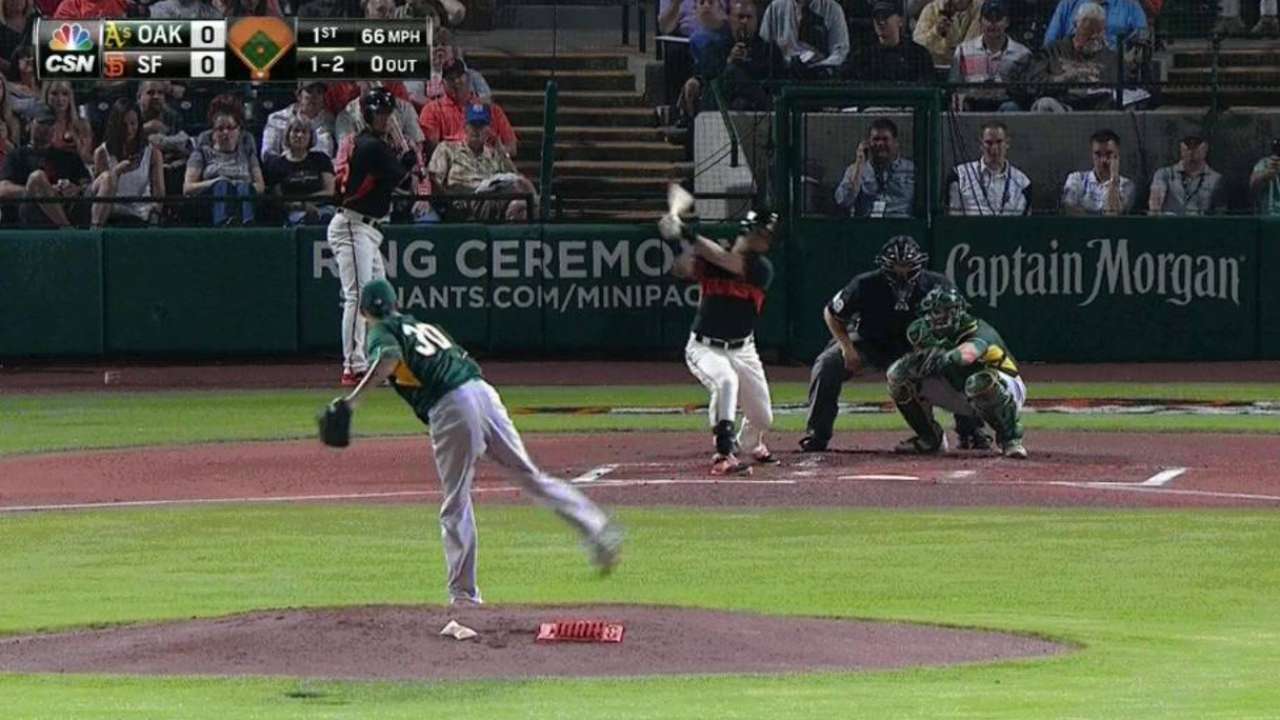 SCOTTSDALE, Ariz. -- Back on the bump against the Giants on Thursday night after vacating camp for a day to welcome his third daughter, Dannie Rae, into the world, right-hander Jesse Chavez was thrown right into traffic, weaving his way in and out of several jams.
"That's what we're looking for right now, too," said A's manager Bob Melvin. "We talk about how guys respond when guys are on base. He did reasonably well with that."
Chavez stranded three runners in his first three innings, allowing one run along the way, but it also took a toll on his pitch count, forcing him out of the game with two outs in the fourth. Three runs scored in the fourth inning, though just one of them was earned.
"Getting ahead isn't the problem, it's finishing them," said Chavez. "Being able to elevate, that's the biggest problem for me right now. I try to throw it up, and it's either going to be down or on the same spot I want it to be, just not enough to change their eyes. That's the biggest thing right now, and it's not allowing me to go deep in the ballgame. Those pitches I'm trying to elevate become foul balls, which knocks the pitch count up.
"That's the only difference right now, being able to put the ball where I want it."
After four spring outings, Chavez has a 4.50 ERA. He remains in a battle with lefty Drew Pomeranz for the fifth spot in the A's rotation -- assuming Jesse Hahn and Kendall Graveman will join Sonny Gray and Scott Kazmir -- but could very well begin the season as a long-relief option in the bullpen. Both have one more start to sway the decision-makers.
"I feel great," said Chavez. "Not very many solid contacts, but I need to change eye levels, and that's a big key for me, because I'm always in the zone.
"I'm happy with where I'm at. The ball feels good, and I'm throwing strikes."
Jane Lee is a reporter for MLB.com. This story was not subject to the approval of Major League Baseball or its clubs.