R.B.I. Baseball 15 now available on next-generation consoles
Cubs All-Star first baseman Rizzo is first cover athlete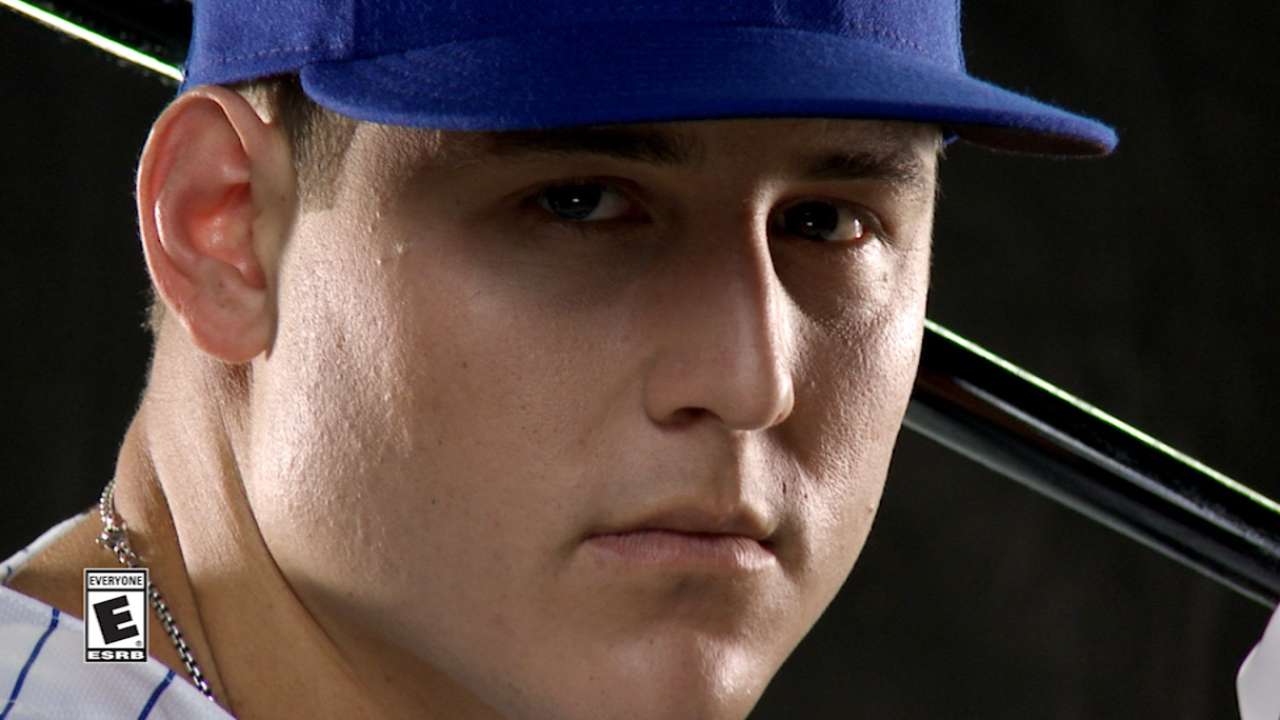 Major League Baseball Advanced Media announced that R.B.I. Baseball 15, with Cubs All-Star first baseman Anthony Rizzo as its first cover athlete, is now available on next-generation consoles. These editions of the iconic and easy-to-play game also are available via GameStop.
R.B.I. Baseball is developed by MLBAM and officially licensed by MLB and the MLB Players Association. This year's game arrives with a host of all-new features ranging from stat tracking to online multiplayer mode to newly crafted authentic MLB ballpark designs for each club, so here are some questions and answers about what to expect:
Where can I get it?
It is available as a digital download for Microsoft's Xbox One and the PlayStation 4 computer entertainment system. New this year, R.B.I. Baseball 15 will be available for personal computers (PC, MAC) via the Steam platform. Both the mobile, accessible on iPhone, iPad and supported Android smartphones and tablets, and the personal computer versions of the game are expected to debut shortly after Opening Day.
You can order now through GameStop for Xbox One and PS4.The Steam platform also currently has R.B.I. Baseball 15 available for order.
What will younger fans say?
"I love it. Take me to a baseball game."
Can it predict the best Fantasy baseball players?
Indeed. R.B.I. Baseball 15 will utilize the hundreds of millions of statistical data points collected and analyzed by MLBAM to formulate the on-field attributes for each of its more than 1,000 active players into how the players perform. Using those statistical data to power dozens of 2015 full-season simulations in R.B.I. Baseball 15 resulted in the fantasy baseball listing below, a position-by-position prediction of which players might comprise this year's best fantasy selections. The simulated average predictions are below.
C -- Devin Mesoraco, Reds, .261, 68 R, 21 HR, 102 RBI
1B -- Edwin Encarnacion, Blue Jays, .285, 107 R, 46 HR, 142 RBI
2B -- Dee Gordon, Marlins, .261, 110 R, 12 HR, 67 RBI, 60 SB
3B -- Todd Frazier, Reds, .263, 88 R, 24 HR, 91 RBI, 15 SB
SS -- Troy Tulowitzki, Rockies, .282, 107 R, 46 HR, 136 RBI
OF -- Nelson Cruz, Mariners, .269, 80 R, 28 HR, 109 RBI
OF -- George Springer, Astros, .265, 108 R, 41 HR, 122 RBI
OF -- Mike Trout, Angels, .307, 110 R, 33 HR, 92 RBI
DH -- David Ortiz, Red Sox, .308, 118 R, 38 HR, 112 RBI
SP -- Zack Greinke, Dodgers, 16 W, 2.63 ERA, 226 SO, 0.98 WHIP
SP -- Garrett Richards, Angels, 19 W, 3.31 ERA, 212 SO, 1.13 WHIP
SP -- David Price, Tigers, 15 W, 3.07 ERA, 220 K, 1.26 WHIP
SP -- Gio Gonzalez, Nationals, 17 W, 3.20 ERA, 190 K, 1.26 WHIP
SP -- Henderson Alvarez, Marlins, 17 W, 2.43 ERA, 208 SO, 1.02 WHIP
RP -- Trevor Rosenthal, Cardinals, 2.40 ERA, 64 SO, 1.13 WHIP, 57 SV
RP -- Zach Britton, Orioles, 2.47 ERA, 53 SO, 1.08 WHIP, 55 SV
Who says it can get even better?
Rizzo and Pedro Martinez. They are stars of today and yesterday, a symbolic strength of this video game for all ages. R.B.I. Baseball 15 will mark the introduction of two prominent players as featured athletes, whose contributions on and off the field symbolize the importance of sportsmanship and giving back through charitable organizations, children's hospitals and local communities.
"Being on the cover of R.B.I. Baseball 15 is so awesome," said Rizzo, who becomes the first Cubs player featured as a cover athlete on any baseball video game in more than a decade. "You think about all these things as a kid -- the cover of a game, the cover of a magazine, the cover of a newspaper. It's surreal."
Can I keep stats?
Yes, stat tracking is a key addition that gamers wanted. Track batting and pitching statistics in season mode for the first time. You'll get viewable team, player and season league leaderboards.
What do the ballparks look like?
Look for completely redesigned and authentic ballparks for all 30 franchises, each crafted with detailed design characteristics such as Boston's Green Monster, Chase Field's swimming pool, Citi Field's Home Run Apple, California Spectacular in Anaheim, the ivy at Wrigley Field, Monument Park at Yankee Stadium, guest-room windows at Rogers Centre, Tal's Hill in Houston and the fountains at Kauffman Stadium. Just think how much has changed since the heyday of the original R.B.I. Baseball, as almost every park has been replaced.
The old-school 16-man rosters were a nice nostalgic touch in 2014, but will there be an option to go with today's 25-man roster size?
Those Classic R.B.I. 16-man rosters will be back, but you also will have the ability for the first time to set an active 25-man roster from each franchise's 40-man roster. Modify your batting order or pitching rotation at any point. Beginning in April, roster updates will be available throughout the season.
Can I play against others?
You can choose to play in online multiplayer mode in friendly and ranked games via consoles.
There was one gameplay setting last year. Same or more?
More. Pick your competition level: Easy, Medium or Hard.
The core essence of R.B.I. Baseball is that pitcher-batter chess match. Will it still have that same feel as you balance the nostalgia with modern gaming design?
R.B.I. Baseball 15 will include the many features added in its offseason while remaining fast-paced and fun to play with the genre's classic two-button controls. You can master the art of hitting and fielding easily with the retro controls, and you can manually manage the movement and location of every pitch from release to crossing the plate.
Mark Newman is enterprise editor of MLB.com. Read and join other baseball fans on his MLB.com community blog. This story was not subject to the approval of Major League Baseball or its clubs.