MLB.com Columnist
Jesse Sanchez
MLB's International Prospect team flashing power, talent
Heredia, Ortiz set to lead talented group against North Carolina high school teams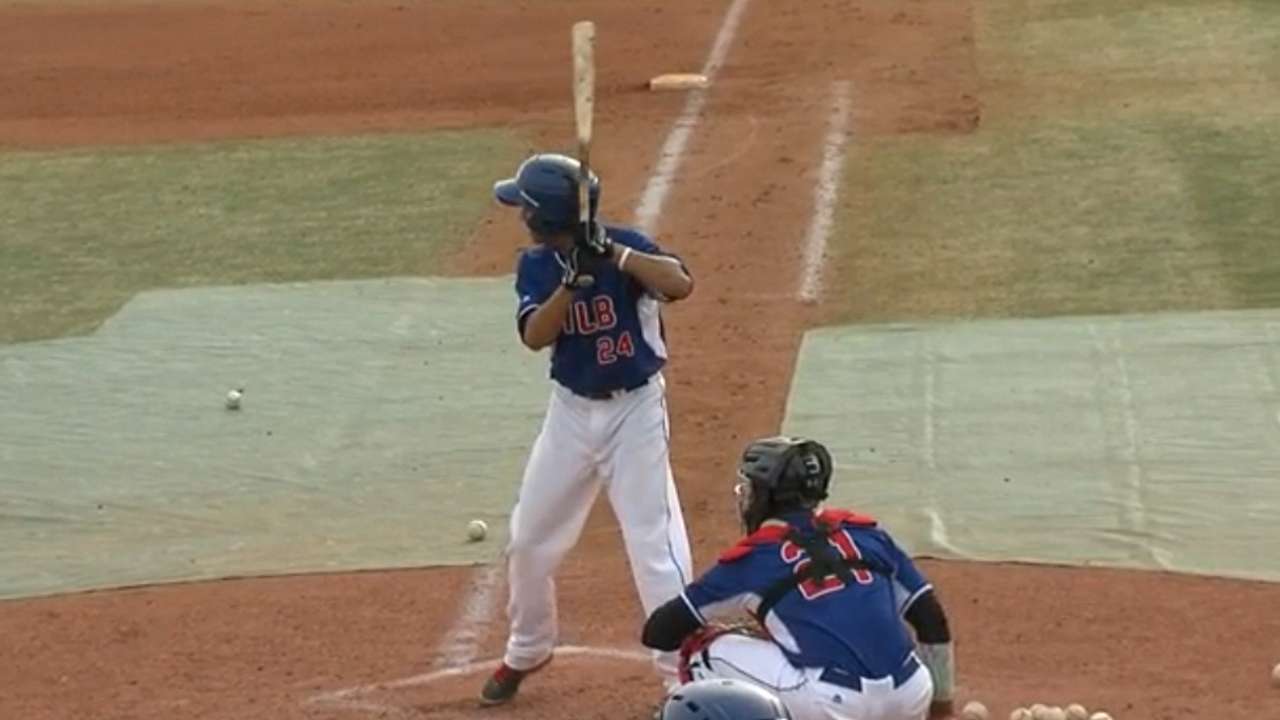 The thunderous cracking noise coming off of Starling Heredia's bat every time he connected on a pitch during batting practice and deposited the ball over the left-field fence was unlike anything heard at the USA Baseball National Training Complex on Thursday afternoon.
The sound a wood bat makes when it is in the hands of Heredia or slugger Jhailyn Ortiz, his teammate in the first annual International Prospect Series, is unique. It was noticeably distinct, especially when you consider the players competing in the National High School Invitational tournament on the adjacent fields were using aluminum bats.
But on this day, the thwacks and the pings in the distance were music to the powerful duo's ears.
"My favorite player is Miguel Cabrera because he has power," Ortiz said. "Power is important and I have a little bit of it."
The teenager was being modest. Just ask the fans who cheered every time he hit a ball out of the ballpark.
On Friday, Heredia, Ortiz and the members of Major League Baseball's International Prospect team will a get a chance to show off their power and skills when they take on North Carolina's South Caldwell High School. On Saturday, the international prospects will play Providence High School, also from North Carolina.
Right-handed pitchers Alvaro Seijas, Jose Quintana, Maximo Castillo and left-handed pitcher Jose Cabrera, who are all from Venezuela, are scheduled to pitch Friday. The game will be streamed live by MLB.com at 4:15 p.m. ET.
"I'm really grateful to be here and I'm thankful for everyone that made it possible," said catcher Enrique Hatma. "I'm here to work hard, show how we play baseball in Curacao and do a good job for this team."
The international team is made up of prospects from the Dominican Republic, Venezuela, Curacao, Brazil, Aruba, and Panama -- all of whom will be eligible to sign with Major League teams when the international signing period begins on July 2.
"That date, July 2 is a big deal for us," Heredia said. "Very few get to realize their dream and I am grateful that I can be in such a fortunate position."
It's already been a busy few days for the players.
The international prospects arrived Tuesday night and worked out as a team for the first time Wednesday morning. They later visited N.C. State for a baseball game and devoured the local cuisine. On Thursday, the players spent a few hours eating and playing arcade games at Dave & Buster's restaurant before returning to the field for a pro-style workout in front of several domestic scouts, international scouts and front office executives.
"For us, being able to get all of these players together from all of these different countries to showcase their talents and compete against all of these domestic players is an opportunity we have never had before in the industry and in the scouting community," said Joel Araujo, manager of Latin American game development for MLB. "When USA Baseball approached us, we saw it as a no-brainer and win-win for everyone. We are excited about the event and we hope it's something we can build on in the future."
Thursday's workout included a series of drills that included a 60-yard dash along with infield, outfield and batting practice. Heredia and Ortiz stole the show during batting practice, but they were not the only stars of the day.
Venezuela outfielders Simon Muzzioti (6.5 seconds) and Alberto Guaimara (6.94) along with Dominican Republic outfielder Gilberto Celestine (6.9) were among the players with notable 60-yard times. Others shined on defense, displaying their nifty glove-work and strong arms.
All of those skills will come into play during the next two games. The memories will last a lifetime.
"This has already been an experience that is unforgettable," Ortiz said. "Not everyone can do this. It feels so good to be here."
Players to watch:
Jhailyn Ortiz, OF, Dominican Republic
Gilberto Celestino, OF, Dominican Republic
Carlos Vargas, SS, Dominican Republic
Anderson Amarista, RHP, Venezuela
Alvaro Seijas, RHP, Venezuela
Miguel Amaya, catcher, Panama
Gillian Wernet, RHP, Aruba
Enrique Hatma, catcher, Curacao
Miguel Hernandez, SS, Venezuela
Starling Heredia, OF, Dominican Republic
Jesse Sanchez is a national reporter for MLB.com. Follow him on Twitter @JesseSanchezMLB. This story was not subject to the approval of Major League Baseball or its clubs.