MLB.com Columnist
Richard Justice
Marquis keeps living big league dream
At 36, right-hander has come back from Tommy John surgery to earn spot in Reds' rotation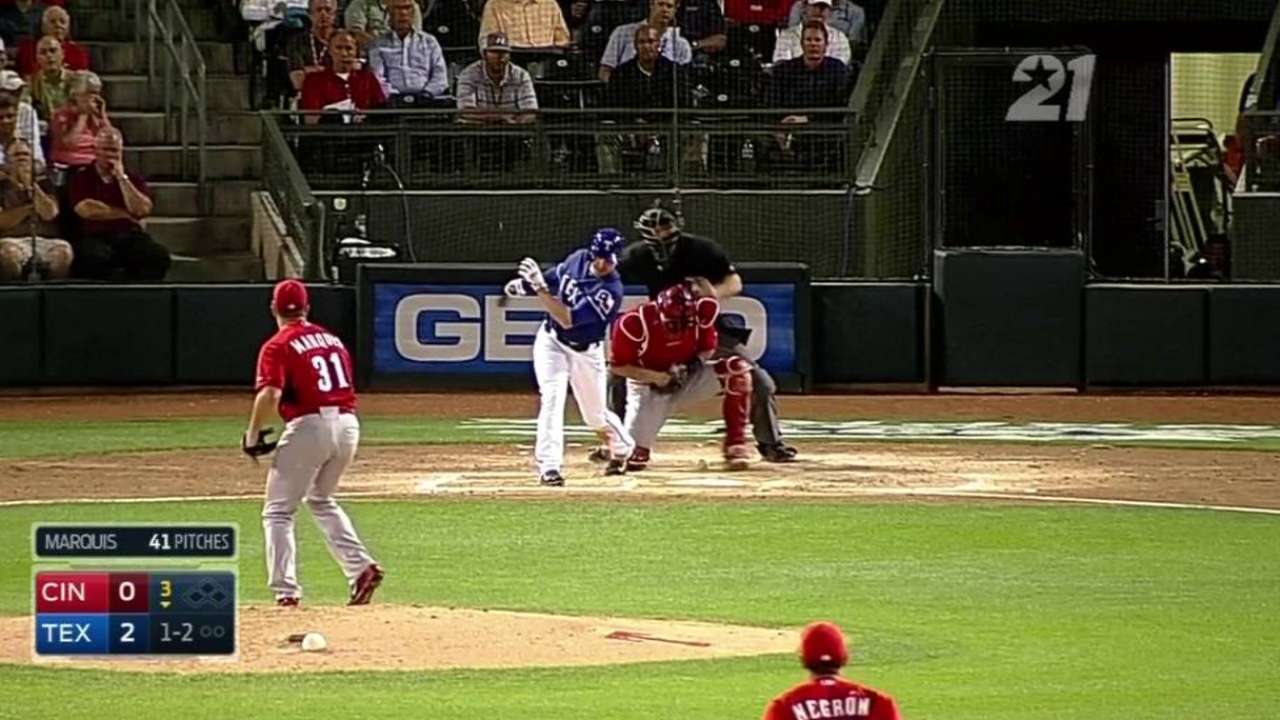 GOODYEAR, Ariz. -- If he'd reached the end of the line, he wanted his family there to savor the moment.
"I had to be prepared for that possibility," Jason Marquis said.
Marquis had pitched the previous three seasons with a torn ligament in his right elbow. Now, though, the pain had become unbearable.
So on July 19, 2013, Marquis summoned his family to St. Louis to watch his 368th -- and possibly last -- game in the big leagues.
You never know, right? Marquis was 34 years old and a member of the San Diego Padres, his eighth organization. He'd had a great run.
Along the way, Marquis had made a ton of friends, gained the respect of almost everyone who knew him. His reputation was that of a tough, relentless competitor. Even as his velocity faded, he had the grit to figure out how to keep going.
Growing up on Staten Island, Marquis never could have dreamed this journey. He'd seen enough guys come and go that he understood it eventually does end. So he was prepared.
There would be no regrets no matter how it turned out.
"There was no certainty I'd ever pitch again in the big leagues," Marquis said. "I knew it would be my last game of that year, and you never know in your career. Surgery isn't 100-percent foolproof."
Marquis will tell you that when he underwent Tommy John surgery a few weeks after that last game in 2013, his first priority was to do things other than play in the Major Leagues.
"I wanted to be able to play catch with my son," he said. "I wanted to throw him batting practice."
In the back of Marquis' mind, though, he had another thought. If the surgery was successful, if he was diligent about his rehab, he might have one last rodeo left in him.
As sweet stories go, there aren't many better than the one sitting across from outfielder Jay Bruce in the back corner of the Cincinnati Reds' spring clubhouse.
At 36, Marquis is headed back to the big leagues as a member of the Reds' rotation. Relying on the sinker-slider combination that has helped him win 121 big league games, he has a 3.15 ERA in five spring starts.
"The ball is coming out of my hand in a way it hasn't the last five years," Marquis said. "I've gotten some velocity back, but that's not the big thing. There's just more life on the ball.
"I'm throwing the ball instead of pushing it, guiding it. I think maybe I developed bad habits over those years to protect the elbow so I can pitch. More than anything, that's what I'm happiest with."
Marquis spent last season in the Minor Leagues for the Phillies, strengthening his arm and preparing for a shot at returning to the Majors. He signed with Cincinnati because it was a team that needed pitching and because Reds physician Tim Kremchek had performed his surgery. Also, Marquis had a long history with -- and trust in -- general manager Walt Jocketty.
When Jocketty told Marquis that he would get a real opportunity to win a spot in the rotation and wouldn't simply be stashed at Triple-A for depth, he was sold.
"If it didn't work out, I was fine with not playing baseball," Marquis said. "It was just a good fit. I didn't approach the competition in a defensive mode. I felt like they had to beat me. Whether that's how the Reds were thinking, I can't say that."
The Reds said that after the trades of Mat Latos and Alfredo Simon, they were going to have an open mind about the candidates for the openings in their rotation.
"I really didn't expect to see the arm strength, the crispness of his breaking ball and the command," manager Bryan Price said. "I think he's just a savvy, experienced, successful big league pitcher."
Marquis is not surprised. He makes that clear. He always believed if he could get his elbow sound again, he'd have a chance.
And this is where Marquis' attitude, his fight, could have an impact. The Reds believe if they can keep their main guys -- Joey Votto, Bruce, Homer Bailey, Brandon Phillips -- healthy, they'll have a chance to compete.
Maybe a guy like Marquis will help with his attitude and his fight, with the fact that he's meticulous in his preparation and appreciative to have another chance.
"I always believed in myself," Marquis said. "I've come into every season prepared to win a job, whether I had a guaranteed contract or not. You've got to find that competitiveness inside you, because there are other guys battling you.
"I've tried to take that mentality my whole career. Don't take anything for granted. Appreciate every opportunity. I love the game. I love competing. I also know it doesn't last forever, and you can get humbled real quick.
"You just prepare for each day. It goes so fast. You look back and think, 'What happened?' I've been blessed to be around some great teams, some great organizations. I've had a lot of opportunity to succeed."
Richard Justice is a columnist for MLB.com. Read his blog, Justice4U. This story was not subject to the approval of Major League Baseball or its clubs.