Concussions behind him, Sanchez working hard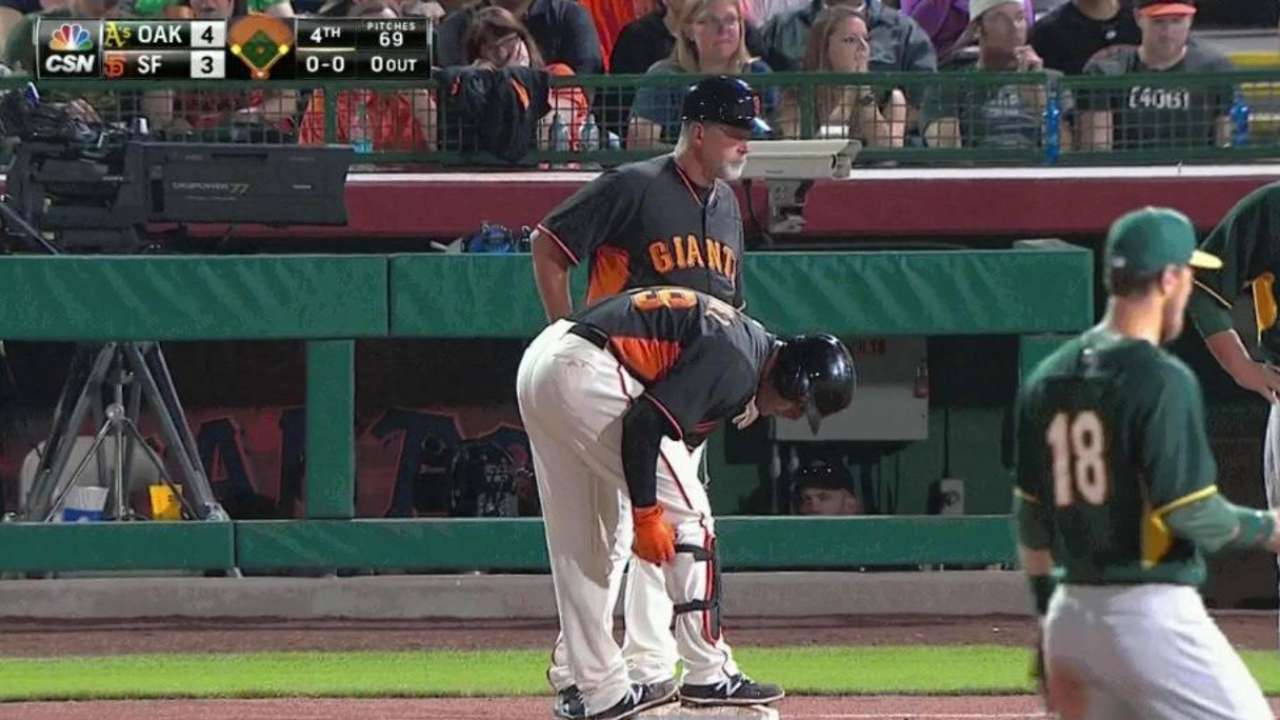 SCOTTSDALE, Ariz. -- Giants catcher Hector Sanchez has gone from feeling awful to a feel-good story.
Last year, Sanchez wasn't completely sure he'd play baseball again. The lingering effects of two concussions, which he sustained in a span of less than a month, brought the robust 25-year-old to his knees. When he kneels these days, it's to say grateful prayers.
"I have been enjoying every moment, doing what I like to do," Sanchez said before the Giants' Cactus League game Thursday night against the A's. "I thank God every day for giving me the opportunity to get back to the field, and I hope He can keep me on the field for a lot of years."
After entering Spring Training as a perceived underdog for the backup catcher's role that Andrew Susac capably handled during last season's final two months, Sanchez appears to have reaffirmed his presence. Significantly, Sanchez started behind the plate Thursday with Tim Lincecum on the mound, renewing the collaboration that manager Bruce Bochy has used in 44 regular-season games since 2011.
Sanchez's evening was at once promising and ominous. He drove in a pair of runs with a second-inning sacrifice fly and a fourth-inning single. But a seventh-inning foul tip somehow caromed off his throat and forced him to leave the game. The injury wasn't considered serious, though it caused Sanchez considerable discomfort.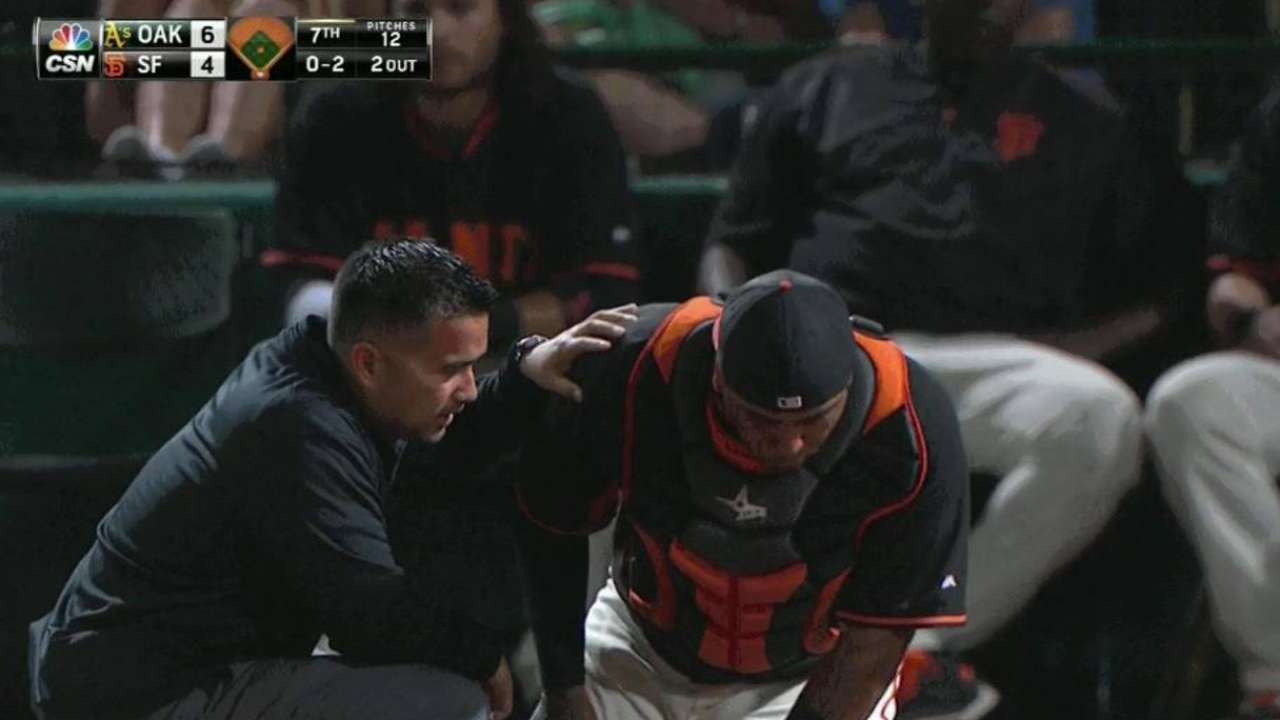 Neither the threat of physical harm nor the challenge of trying to win a job intimidated Sanchez.
"For me, every day's a competition," he said, suggesting that pursuing the backup job alongside Susac ultimately will make both players better and benefit the team. "It's all about the Giants. The good relationship we have, that's more important than anything else."
Such is Sanchez's genial nature. But he found it impossible to feel optimistic about anything last season after foul tips that struck his catcher's mask caused concussions on July 25 and Aug. 16. The latter incident ultimately ended his season.
"I was feeling nausea and headaches and I couldn't sleep," Sanchez said. "You know how bad it is to spend a month and a half with headaches and nausea? That was tough."
Sanchez occasionally entertained disturbing thoughts as he lay awake.
"It went through my mind that I couldn't play anymore because of the concussion," said Sanchez, leading him to dwell on Cardinals manager Mike Matheny, whose playing career ended after a foul tip crashed into his mask as a member of the Giants in 2006. "I didn't want that to happen to me. I still have a long way to go. Every single day when I was feeling bad, I thought that could be possible."
Recovering at home in Venezuela, Sanchez felt torn as he stared at telecasts of the Giants marching through October toward their championship.
"It was hard for me to see my teammates in the postseason and the World Series," he said. "In one part, I felt like part of the team. At the same time, I didn't feel that way, because I was in a different place and I wanted to be on the field with my team. That was really sad to me. I have to say that I felt proud of my teammates. That was amazing. I supported them 800 percent."
Shortly after the World Series, Sanchez began an 18-game stint with Tiburones de La Guaira, the Venezuelan Winter League team he typically joins. Performing as a designated hitter, he batted .250.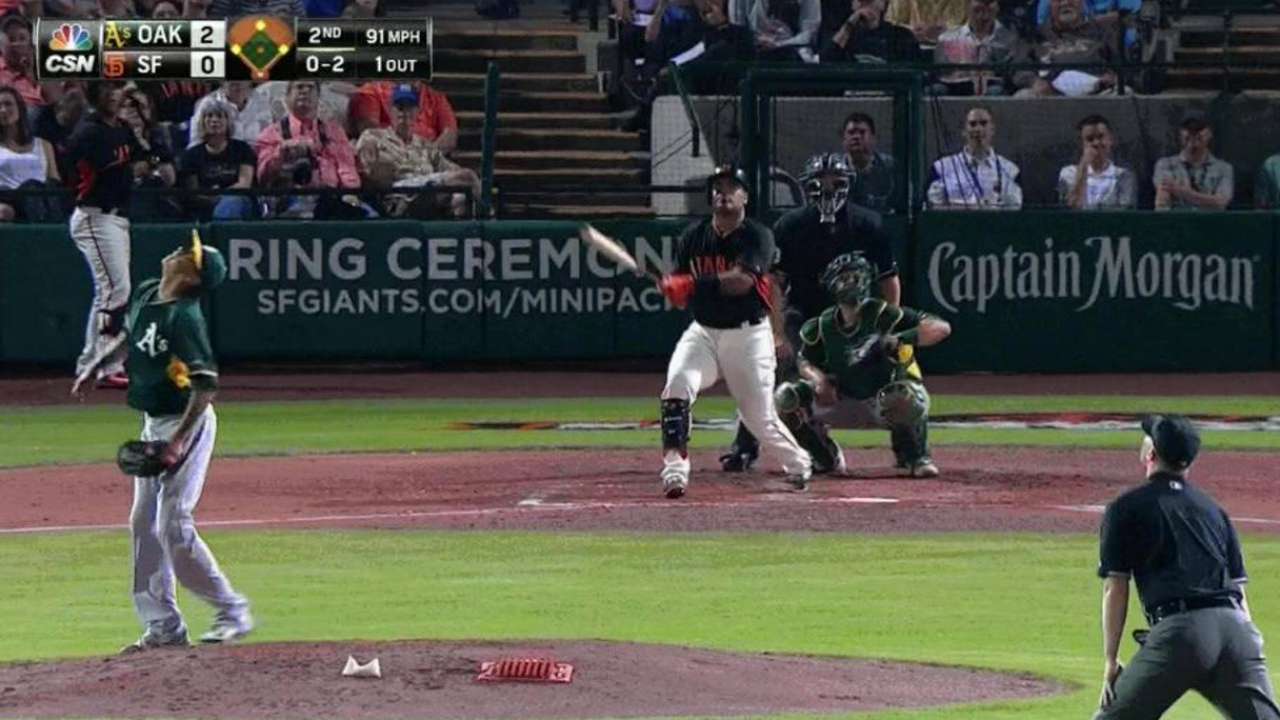 That experience gave Sanchez some much-needed at-bats without exposing him to the potential dangers of more foul tips. Meanwhile, he rested his right shoulder, which troubled him in recent years. Giants right-hander Ryan Vogelsong has noticed a difference.
"The biggest thing I've seen is that his arm's feeling a lot better," Vogelsong said. "He's throwing the ball well."
Sanchez has avoided skull-rattling foul tips so far, though Thursday's mishap provided a painful reminder of the potential danger he confronts. He hopes that a new mask he's wearing, which includes extra padding for his chin and forehead, prevents further concussions. He said that this mask feels slightly heavier, probably due to the padding. Sanchez doesn't mind the difference.
"I feel amazing," Sanchez said. "My shoulder's really good and my head is really good. All I have to do right now is keep working hard."
Chris Haft is a reporter for MLB.com. Read his blog, Haft-Baked Ideas, and follow him on Twitter at @sfgiantsbeat. This story was not subject to the approval of Major League Baseball or its clubs.