Q&A: Scioscia set for another run in 16th year with Halos
Baseball's longest-tenured skipper eyes challenge of managing in 'toughest division in baseball'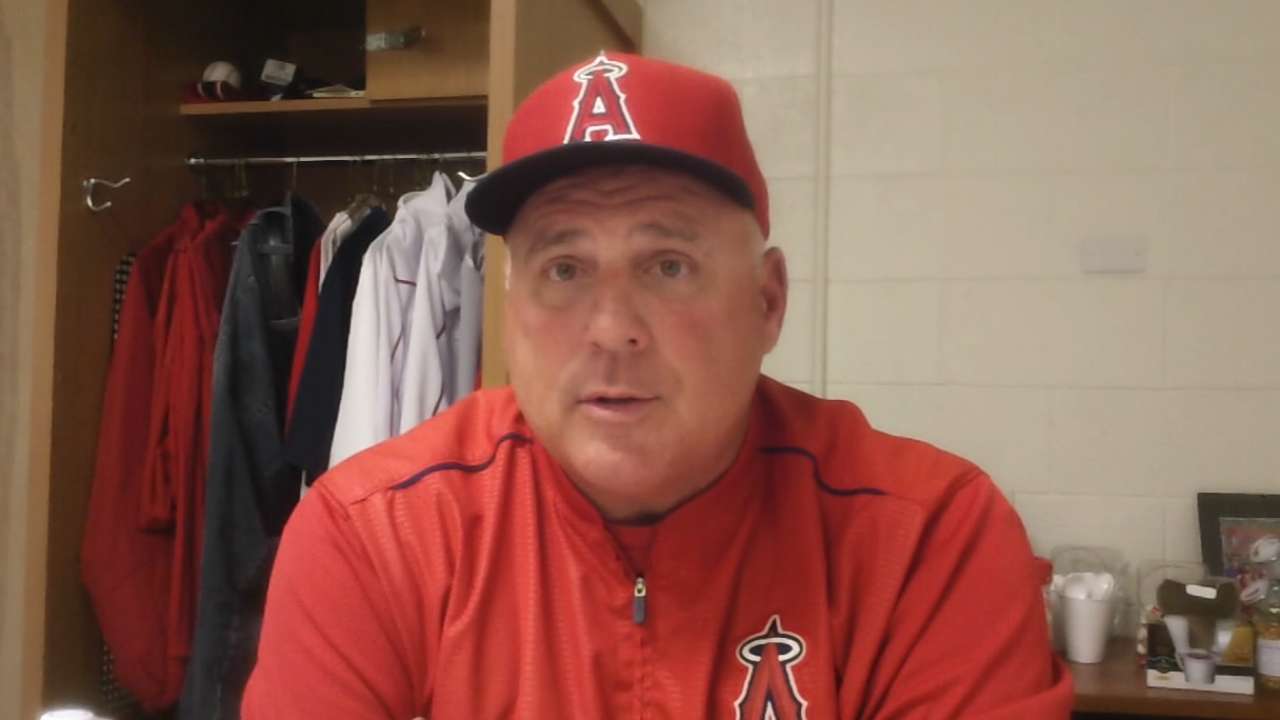 Since Mike Scioscia joined the Angels back in 2000, 20 teams have gone through at least five different managers. The Marlins, Nationals, Cubs, Reds, D-backs, Astros and Mariners have had at least eight.
Scioscia enters the 2015 season tied with Hall of Famer and Tigers legend Sparky Anderson for 12th all-time in wins with one team. He's the 11th manager to guide the same franchise for at least 16 consecutive seasons, the fifth to do it since 1975 and the first since Tony La Russa with the Cardinals in 2011.
Uncertainty surrounded Scioscia like never before at this time last year. The Angels were coming off their fourth consecutive playoff absence, and the pressure was on Scioscia to turn it around, regardless of the fact his contract had five years left on it. Then the Angels won a Major League-leading 98 games, capturing their sixth American League West title under Scioscia before getting swept by the Royals in the AL Division Series.
Before the challenge starts again, baseball's longest-tenured manager sat down with MLB.com to address his latest team.
How do you view the AL West and your team's place in it this year?
I think our division is the toughest division in baseball. The depth of pitching in our division is incredible. But I don't think it serves much of a purpose to rate yourself with other teams in your division. Every game is tough. We know the teams in our division are tough, and we know what we have to do to reach our goals. This season is not easy, whether you're playing in your division or out of it. There's a tough game every night.
What concerns, if any, do you have about the offense, and do you feel like this lineup will lean a little less toward batter's box offense than it did the last couple of years?
I think we're tooled to be able to not totally depend on batter's box offense. But you have to have that foundation, you have to have that basic lineup that in the batter's box these guys are having good at-bats, they drive the ball, the situational hitting -- all the things that are important to scoring runs, combined with some of the baserunning things that I know these guys do well. The depth of our lineup is something we pay a lot of attention to.
How do you approach Josh Hamilton's situation and where he fits in; how do you even plan for whatever it is you're going to get out of him this year?
You have to be very realistic about where you are and what's happening. We're putting lineups together right now with the exclusion of Josh, and some of the lineups with the inclusion of Josh. I think you have to look at it both ways and just see, if he's going to be with you, what the approximate time frame is, when he's going to join your club. We know we won't have him for Opening Day, so we've looked at both. You have to be prepared to go either way.
How would you compare where you sit with your starting rotation now compared to 12 months ago?
I think we're deeper now, certainly through the organization. If you look at where we are from one through nine or 10, we're deeper now than we've been probably in 10 years.
You won 98 games last year, so it's hard to nitpick, but is there one specific area you'd like to see your team improve this year?
Well, we're a different team than we were last year. I think last year, our bullpen came together, particularly when Joe Smith went into the closer's spot to replace Ernie Frieri. And also when we acquired Huston Street. Our bullpen was magnificent. I think that held leads that we've had for the last couple years that we weren't able to turn into wins. Last year, we were able to do that and got to 98 wins. I think some of those dynamics are still in place if you look at where we are in our bullpen. On the offensive side, we're maybe not quite as dynamic as we were last year, so it's a little different team, a little different setup. But I feel good about starting the season because I think our bullpen, right now, if you look at the names and look at what guys can do, is probably as good as it's been in the last seven, eight years.
It can be so difficult to have as good a regular season as you had and then have it end so quickly in the playoffs. In camp, what have you seen from the guys in terms of their focus level for this season and potentially playing deeper into October?
I think when you perform well in the Major Leagues and it gets you to a championship, whether it be a division championship or you win a World Series, you carry confidence with you. I think these guys carry confidence of a terrific regular season that is tempered a little bit with not playing as well as you could in the playoffs. But these guys are ready. They've turned the page. We're ready for this year; we know some things are different and we're going to get after it.
Alden Gonzalez is a reporter for MLB.com. Read his blog, Gonzo and "The Show", and follow him on Twitter @Alden_Gonzalez. This story was not subject to the approval of Major League Baseball or its clubs.