Bean brings his message of inclusion to A's
Often confused with Oakland GM Beane, the duo played together at Triple-A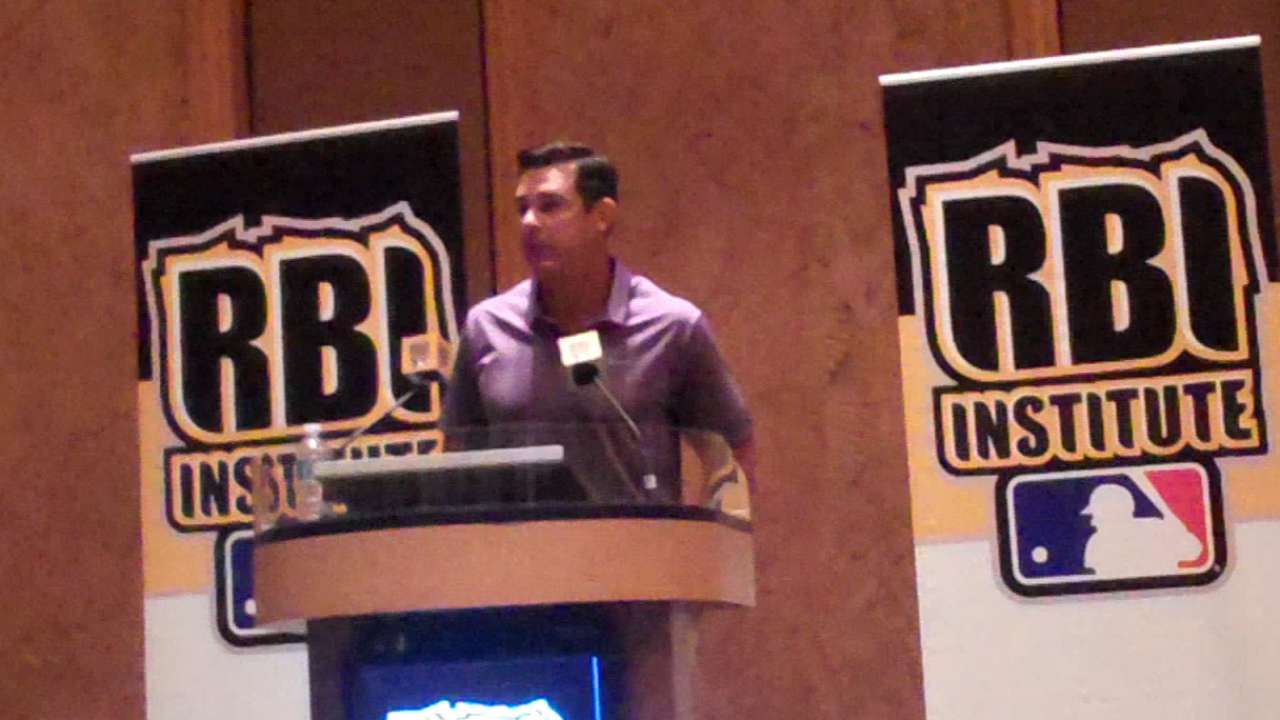 SCOTTSDALE, Ariz. -- Often mistaken for one another, Billy Beane and Billy Bean found themselves in the same clubhouse Thursday, just as they did 27 years ago when playing in the outfield together for Triple-A Toledo.
"We also had a guy named Pete Rice playing in the outfield, so we had a 'Rice and Beans' outfield," said a smiling Bean.
This time, Beane, now Oakland's general manager, was introducing Bean in the A's clubhouse. Bean, bringing a message of inclusion for gay players in baseball, is on a speaking tour visiting only clubs that invite him.
"I feel like they've gone tremendously well," said Bean. "Billy wanted them to know that the big picture is not about me or my career. My job is to try to create a culture of acceptance and let these guys know that that's part of the responsibility that goes with this awesome sport.
"Obviously, the community of Oakland will be interested in the message that I'm trying to share, and I'm happy for the great support the A's have in the LBGT community. But that's just part of the diversity spectrum, and I'm going to defend everyone's right to be treated fairly, because I think it's the right thing and I think baseball totally gets that responsibility. Maybe where I can make that contribution is to try to be one of the first that's able to communicate that in real time to the players."
Bean played in the Major Leagues for parts of six seasons from 1987-89 and 1993-95. He came out to the public in 1999 and, in his new role as MLB's Ambassador for Inclusion, wants to work actively to dispel the stereotypes that follow people of diversity.
"Players need to see consistent images of people like me that will take away those stereotypes that are just so easy to hang on to, and are perpetuated when guys get together," he said. "Until we talk about it, how are they supposed to know it's not OK anymore?
"Baseball is moving along with the rest of the universe. We need to make sure players understand that. I'm protective of them. I want them to know there's a resource now, where there wasn't before."
That he was able to reunite with Beane on Thursday was an added bonus to his latest stop.
"It's like no time has passed," Bean said. "He's such a great guy. People have mistaken us for each other for a long time. He's winning that battle now, though, I have to say."
Jane Lee is a reporter for MLB.com. This story was not subject to the approval of Major League Baseball or its clubs.