Last call: Brewers still fighting spread of pinkeye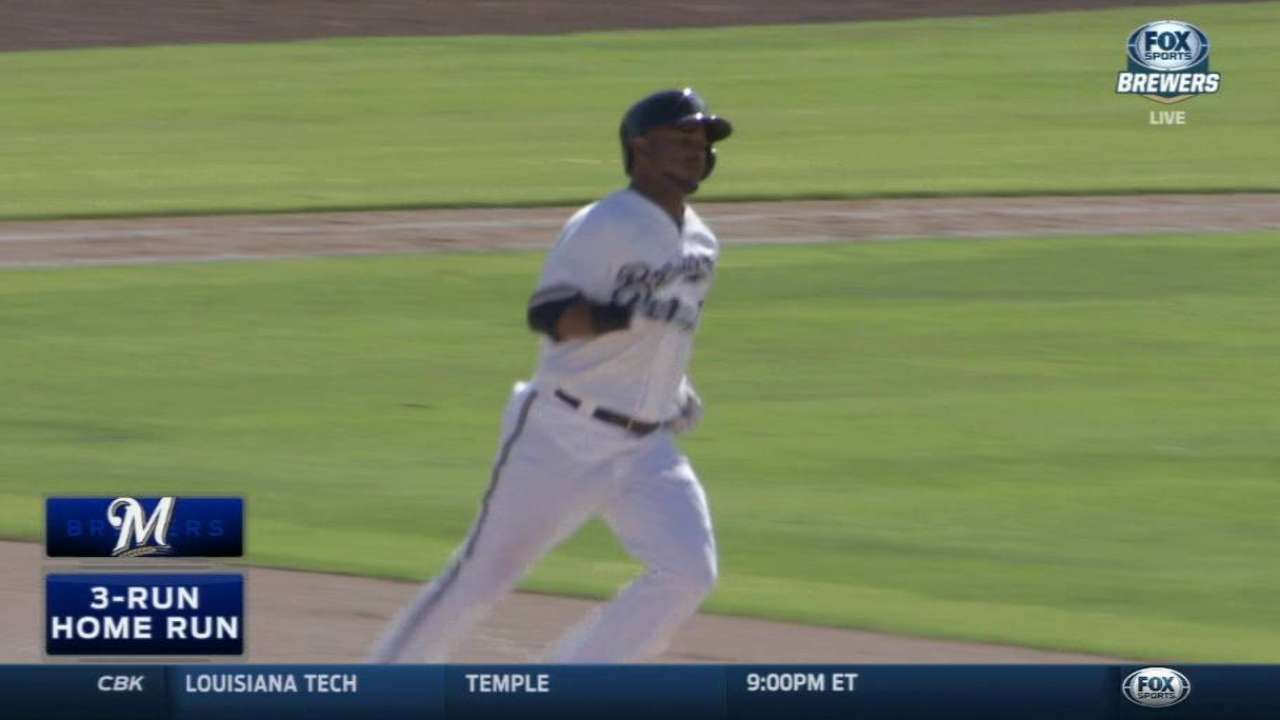 PHOENIX -- Last Call is a spot for all the notes and anecdotes from Brewers camp that didn't find a home elsewhere on the site. Today: Seeing pink.
The "no high-fives" rule was back in effect Thursday after another case of pinkeye appeared in the Brewers' clubhouse. The latest victim was outfielder Shane Peterson, who was optioned to Triple-A Colorado Springs in the morning. He has the infection in both eyes, according to manager Ron Roenicke.
"We can't figure out why it's coming back," Roenicke said. "We'd been over a week without it, and all of a sudden it's back again."
Before anyone suggests the Brewers should disinfect their clubhouse, Roenicke said, "We've already done that. We don't know where it's coming up from. … And the weight room, they've been spraying down the weights. We're doing everything we can. From somewhere outside, somehow we're getting it."
Peterson will stay away from Maryvale Baseball Park for a few days before reporting to Minor League camp.
• Bench candidate Luis Jimenez is getting hot at the right time. After hitting his first Cactus League home run Wednesday and coming within a warning-track shot of another, Jimenez belted a grand slam against the Mariners in the eighth inning Thursday.
"We liked him coming in, so this definitely helps," Roenicke said. "It's him hopefully relaxing and playing the way we know he can."
• With Mike Fiers' return to "A" game action Thursday after missing some time with right shoulder fatigue, Opening Day starter Kyle Lohse moved his own start to Minor League camp. Pitching for Class A Advanced Brevard County, Lohse was charged with two earned runs on seven hits in 4 2/3 innings, with two walks and five strikeouts. A fly ball lost in the sun contributed to some of those crooked numbers, Roenicke said.
Most importantly, Lohse ran his pitch count up to 92.
"Their leadoff guy tried to 'Gomey' me," Lohse joked, referring to Carlos Gomez's first-pitch-swinging mentality at the start of a game.
• Lohse executed some Major League trolling Thursday when he retweeted a photo of a new billboard in downtown Milwaukee featuring 14-year veteran Lohse, top-10 MVP finishers Ryan Braun, Gomez and Jonathan Lucroy -- and Scooter Gennett, who is entering his second full season.
"Nice photobomb," Lohse said in a tongue-in-cheek message directed at Gennett.
"@Brewers: #SeeUApril6 pic.twitter.com/TkPuX7l70f" Nice photobomb @Sgennett2 !!!

- Kyle Lohse (@KyleLohse26) March 26, 2015
Adam McCalvy is a reporter for MLB.com. Read his blog, Brew Beat, and follow him on Twitter at @AdamMcCalvy. This story was not subject to the approval of Major League Baseball or its clubs.