Gantner, Thomas bring special bond to Brewers camp
Former teammates at Spring Training as instructors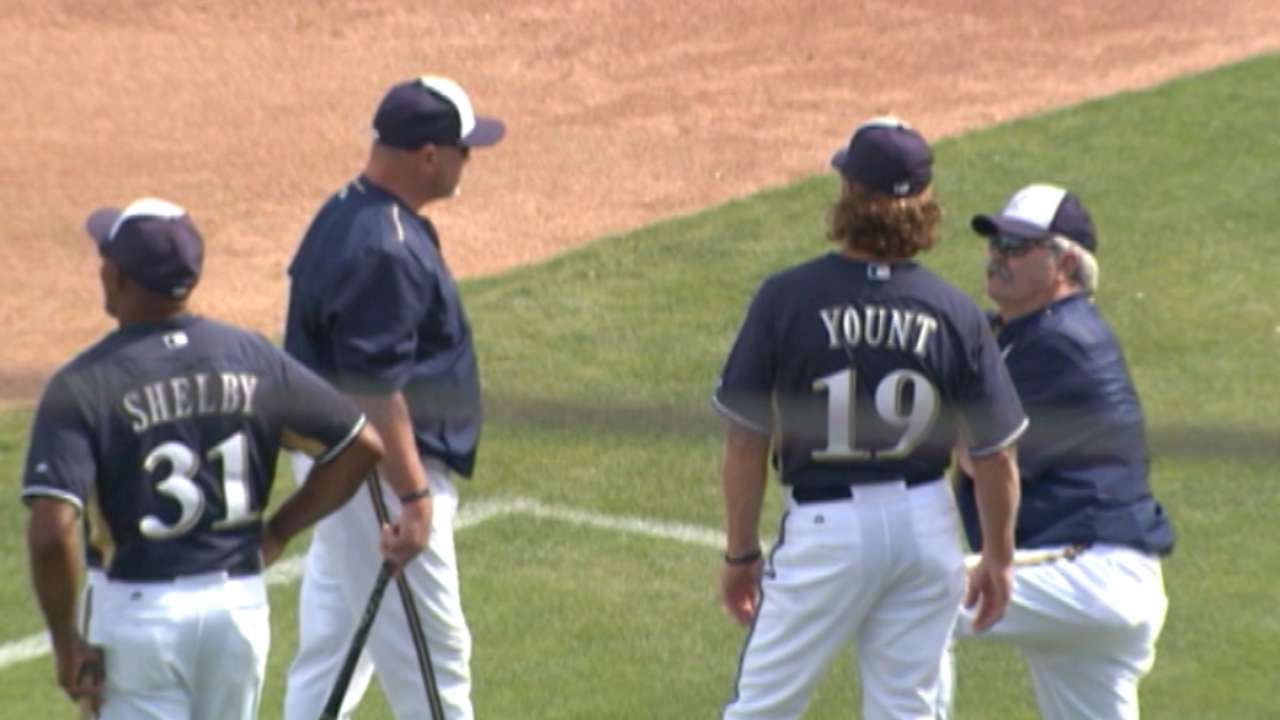 PHOENIX -- The appearance of No. 17 in Brewers camp earlier this week signaled the annual arrival of Jim Gantner, the beloved former second baseman who remains the only man to wear that number since his retirement in 1992. Gantner insists he has nothing to do with the ongoing lobby to have his number formally retired by the franchise.
"It's all Tony," said Gantner, referring to longtime Brewers equipment manager Tony Migliaccio. "You know, 'Rillo [former All-Star infielder Jeff Cirillo] wanted my number once. He offered me two used sweatsuits. ... I'm serious! 'Buddy, you can have them,' he said.
"But I've got nothing to do with it. As long as I've got any uniform on my back, I'm happy."
Gantner and equally gregarious former outfielder Gorman Thomas are both spending all week in camp as special instructors, joining their former teammate Robin Yount. It's a reunion of three key pieces of the Brewers' glory years, when only Jim Palmer's Orioles won more games over a five-year span from 1978-82.
"A couple of the younger guys on the roster see how we interact and a few of them come up and say, 'That's really neat how you mix together, you hang together and talk about old times and talk about the game that's going on right now,'" Thomas said. "For Jimmy and Robin and myself, it's like we never skipped a beat. It will always be that way. We've been friends for the better part of 40 years."
Their stories of the old days are legendary, though not fit for print. Many center around Gantner, the feisty, not-so-smooth-talking former second baseman.
"If we would have had YouTube back then or mobile video capabilities, we would have had our own site and we would have had 400 million hits a day," Thomas said.
Gantner, a Wisconsin native drafted in 1974, and Thomas, an adopted son inherited by the Brewers from the Seattle Pilots, both live in the Milwaukee area year-round and are frequent summer visitors at Miller Park.
"I like being in uniform and around the players," Gantner said. "You feel like you're part of the team. And hey, you don't mind getting out of the zero-degree temperatures, either."
Adam McCalvy is a reporter for MLB.com. Read his blog, Brew Beat, and follow him on Twitter at @AdamMcCalvy. This story was not subject to the approval of Major League Baseball or its clubs.