Nationals entertaining plenty of bench options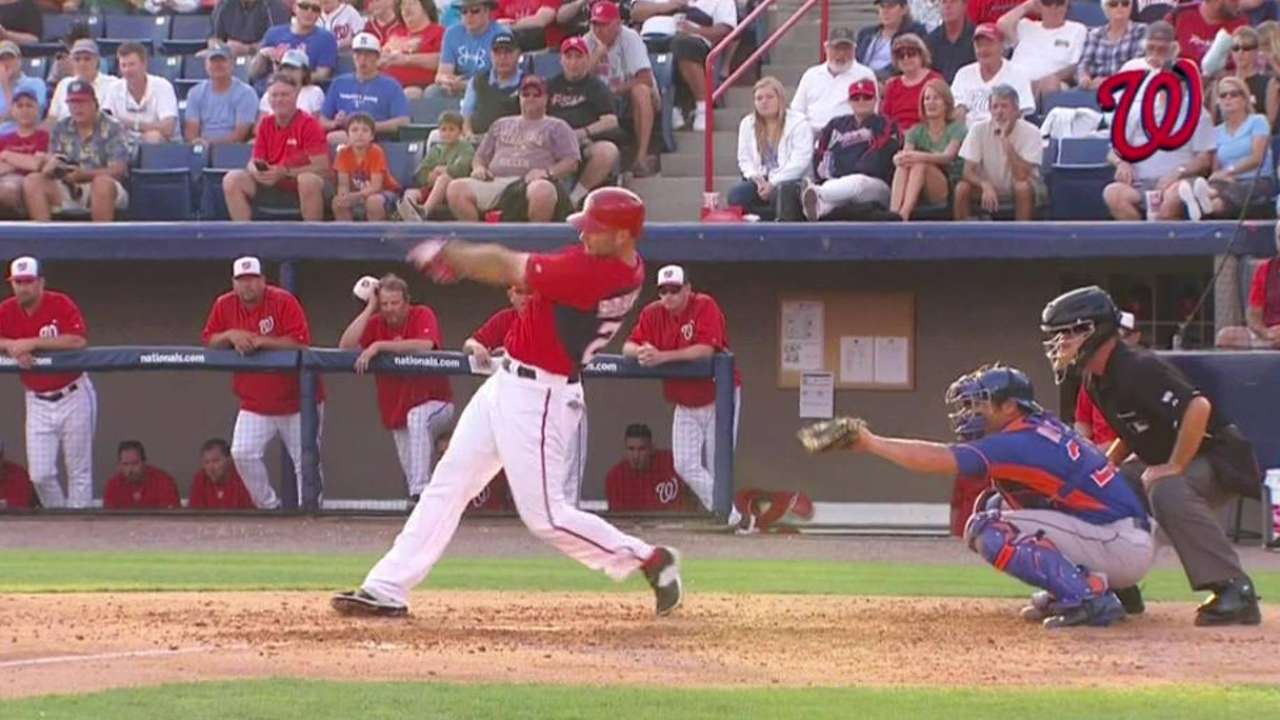 VIERA, Fla. -- As the Grapefruit League begins to wind down, the Nationals are starting to focus on who will fill out the final spots on their bench.
They have multiple players in camp who play similar roles at first base and in the outfield in Tyler Moore, Clint Robinson, Kila Ka'aihue and Matt Carp.
"They've all done really well," manager Matt Williams said on Thursday. "They've all had a lot of at-bats compared to what they would normally get. It's been good for them to get in rhythm and timing, and be able to do that. I've been impressed with all of them."
After playing winter ball during the offseason, Moore has been locked in at the plate this spring. He is 14-for-42 (.333) with seven doubles, a triple, a homer and eight RBIs. Moore has experience off the bench, but he is out of Minor League options, so he will either make the Nationals' Opening Day roster or they will have to release him.
Besides Moore, Robinson has been the club's hottest hitter. He added an RBI double in Thursday's 8-3 loss to the Mets and is 13-for-38 (.342) with two homers and seven RBIs. Robinson, 30, has only played 13 games this spring.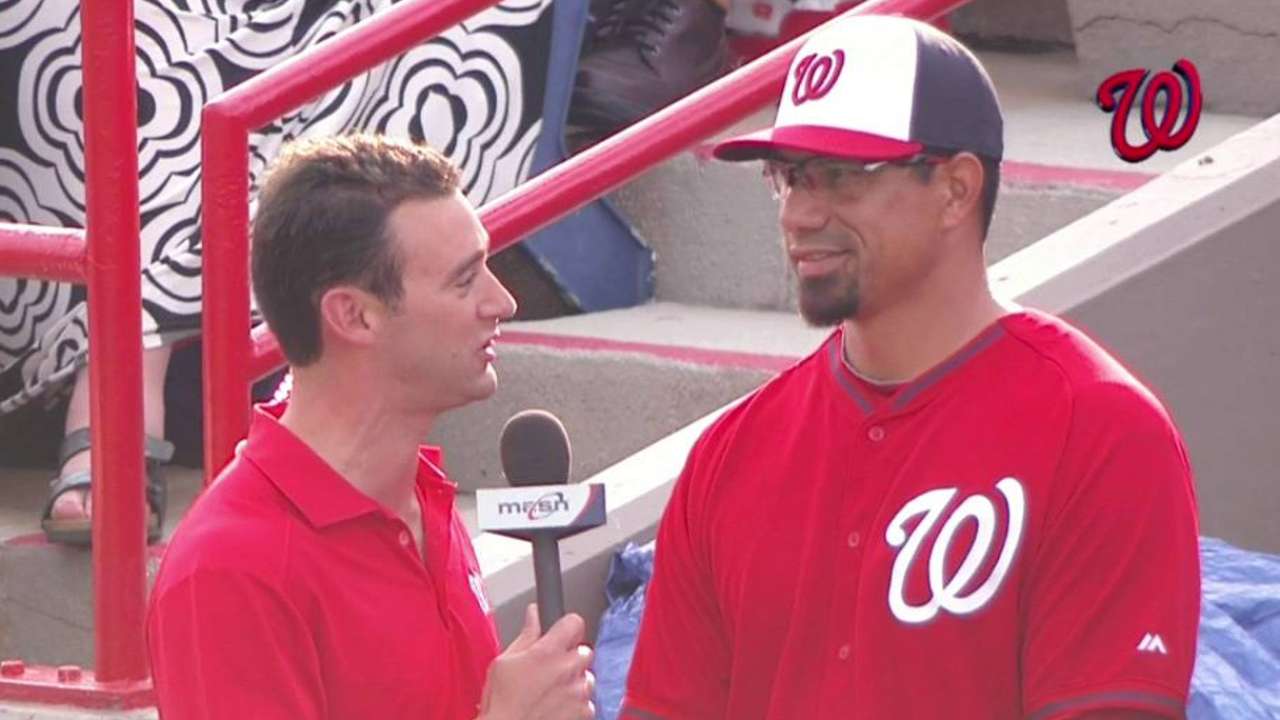 Ka'aihue spent the last few years in Japan and he has received playing time at both first base and the outfield. He is 7-for-28 (.250) on the spring and is tied for the team lead with three homers.
And Carp could provide the Nationals with some valuable playoff experience. He was a contributor to the Red Sox's World Series championship run in 2013, but he is just 7-for-31 (.226) this spring.
One player who did get a rave review from Williams was infielder Danny Espinosa, who is making the transition to become a strictly right-handed hitter. His versatility on defense is a huge addition to the Nationals and is one of the reasons his spot on the team's bench is solidified.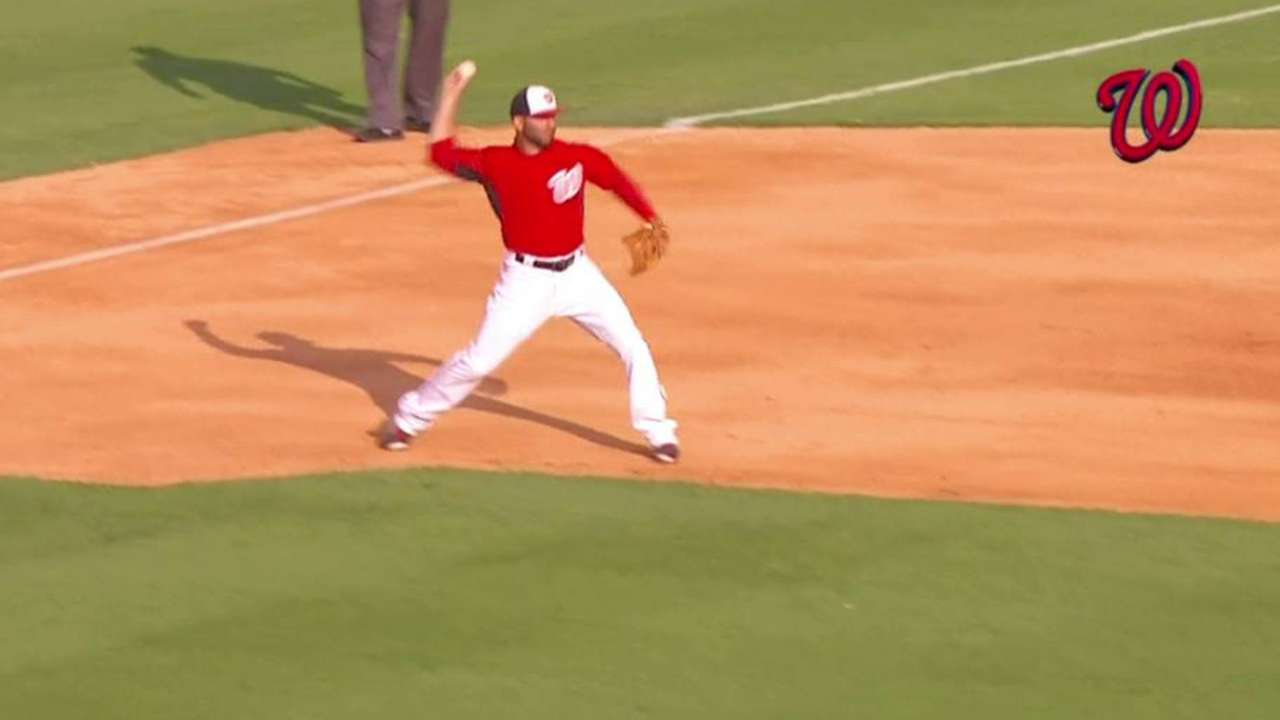 On Thursday, Espinosa received just his third career start at third base and Williams said he would not hesitate to play Espinosa there during the regular season.
"There is no concern with Danny Espinosa. There's no concern," Williams said. "He loves to play. He will play. Anybody that's seen him play understands that he is fierce and loves to be out there.
"Whether he's at third or anywhere else or whether he's hitting right-handed or left-handed regardless, there's no concern with Danny. He is ready to go."
Jamal Collier is a reporter for MLB.com. Follow him on Twitter at @jamalcollier. This story was not subject to the approval of Major League Baseball or its clubs.