Flores shakes off sore left foot against Nats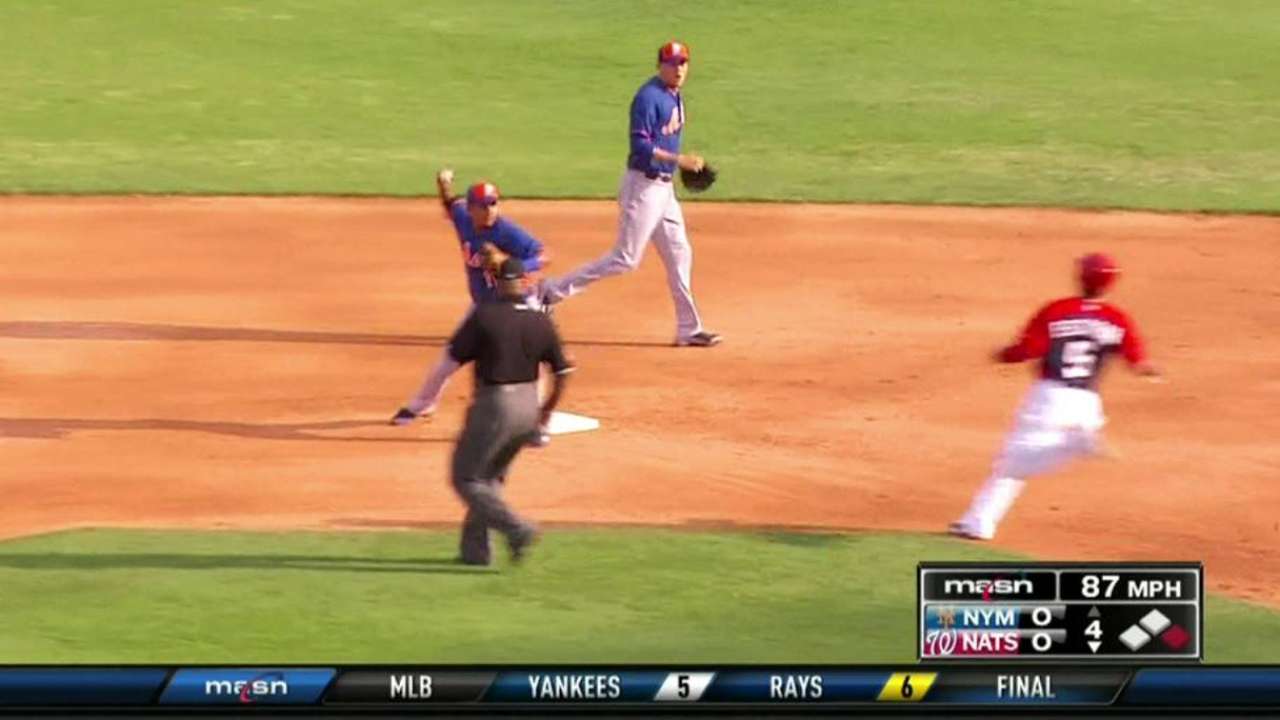 VIERA, Fla. -- Wilmer Flores' return from a bruised left foot proved relatively uneventful -- 1-for-3 with a walk in the Mets' 8-3 win over the Nationals on Thursday, plus seven innings at shortstop with two defensive chances. All of which was just fine for Flores, who endured some soreness after missing three games with an injury that could have been much worse.
"I feel it a little bit, but I've just got to go through it," Flores said. "It's going to be sore after, but I feel great."
Sporting a plastic guard on his left ankle to protect the foot while batting, Flores did not otherwise wrap the injured area. Though he was in severe pain after fouling a ball off his foot in Sunday's win over the Yankees, wearing a walking boot later that night, Flores ceased most of his worrying after an X-ray revealed nothing broken.
"I thought it was [broken] because I was feeling pretty bad," Flores said. "Thank God it wasn't."
Other injury updates from camp:
• Working his way back from a strained right hamstring, second baseman Daniel Murphy on Thursday added a running workout to his routine. Still unsure whether Murphy will have enough time to be ready for Opening Day, the Mets will avoid playing him in Grapefruit League games until they are certain.
• Reliever Vic Black threw off flat ground for the second straight day on Thursday, with plans to return to a mound this weekend. Black has not pitched since Mets doctors diagnosed him with right shoulder tendinitis on March 14, but he hopes to be ready for Opening Day.
Anthony DiComo is a reporter for MLB.com. Follow him on Twitter @AnthonyDicomo. This story was not subject to the approval of Major League Baseball or its clubs.