MLB.com Columnist
Lyle Spencer
The best at helping themselves
Greinke, Leake, Wood top list of most proficient hitting pitchers
Yovani Gallardo, new to the Rangers and the American League this spring after eight seasons with the Brewers, shrugged when it was pointed out that he is losing one of his best weapons having to play in the designated-hitter league: his bat.
"I like to hit," he said, grinning. "But I'm paid to pitch. That's what I'm here to do, pitch like I can."
Fortunately, with the notable exception of Gallardo, the elite hitters among pitchers remain in the National League, where they can help their own causes with a timely blow on occasion.
With a tip of a Cubs cap to Carlos Zambrano, king of recent vintage slugging pitchers with 24 homers and 69 RBIs in his career, here are the current best of the lot, using the past three seasons as a measuring stick:
Zack Greinke, Dodgers
Greinke believes he could have made it to the Major Leagues as an infielder, and his numbers swinging the lumber every fifth day lend support to his claim. Over the past three seasons he leads all pitchers with his .253 batting average and .680 OPS (on-base plus slugging). He has gone deep twice (four times in his career) and is second in slugging at .373 since 2012. After eight seasons with a DH in Kansas City, he struggled to find his stroke in the NL with the 2011 Brewers, hitting just .143. But he has been a tough out lately.
Mike Leake, Reds
Since breaking in with Cincinnati in 2010, Leake's .598 OPS is the best among all pitchers, followed by Greinke's .593. Fellow Arizona State alums Barry Bonds and Reggie Jackson combined for 1,325 homers, but Leake, more like Greinke in style, is a line-drive hitter. He has left the yard four times in the past three seasons and five times overall. His .351 slugging percentage the past three seasons trails only the Cubs' Travis Wood and Greinke.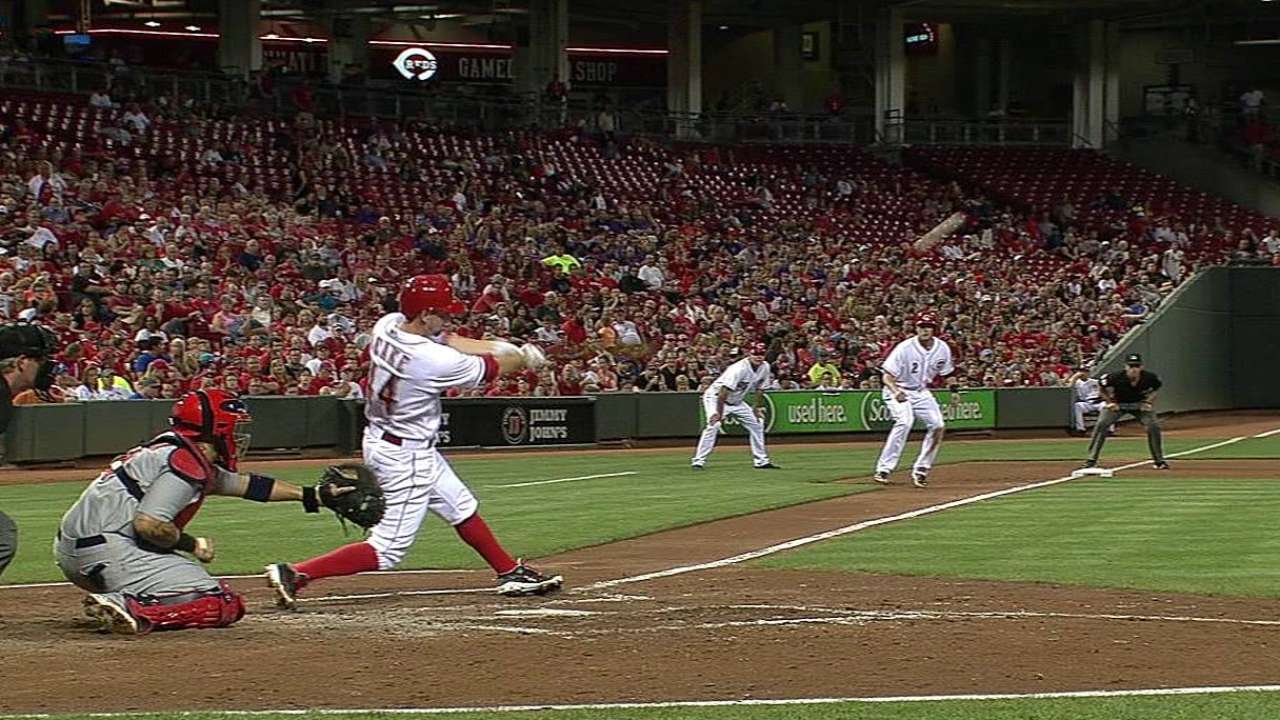 Travis Wood, Cubs
Here's a guy with the right name. Wood makes contact and generates serious power. His seven homers over the past three seasons lead Major League pitchers, and he's second with 21 RBIs. A complete hitter, Wood is third in average (.218) and second in OPS (.621). His nine career homers put him behind only Gallardo, who has 12, among active pitchers. His .560 career OPS is third among active pitchers behind Greinke (.605) and Leake (.587).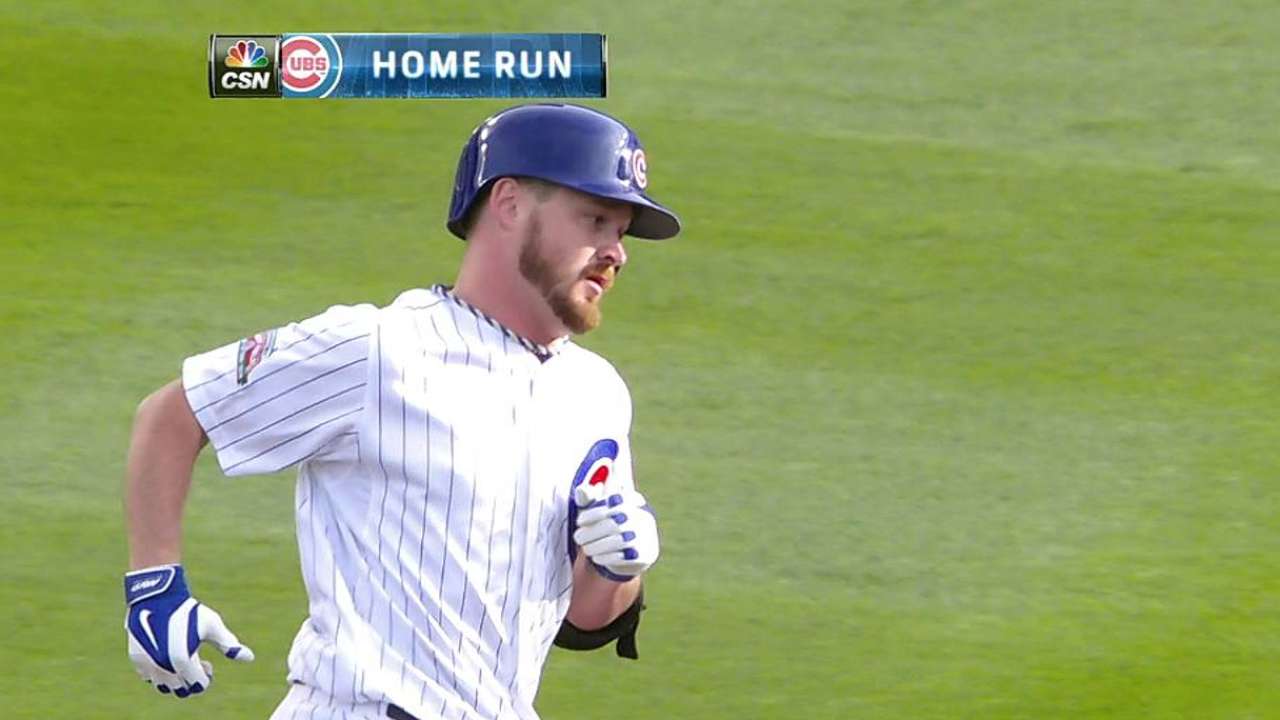 Madison Bumgarner, Giants
MadBum was the bomb in 2014. He stayed loose in preparation for his mastery in October by bashing baseballs all season, leading pitchers with his four homers, 15 RBIs and .477 slugging percentage. The big man finally showed in games the brand of prodigious power he had been displaying in batting practice. Like Wood, who now has a serious rival for the title of premier slugging pitcher, Bumgarner is a lefty who swings from the right side.
Adam Wainwright, Cardinals
A big man who swings a loud bat, Wainwright has six homers and 39 RBIs while hitting .202 in his career. He ranks fourth, one spot ahead of Jason Marquis, among active pitchers in career OPS at .520. Wainwright has 25 doubles to go with his six bombs.
Dan Haren, Marlins
Haren doesn't drive the ball the way he did in his youth at Pepperdine University, but he is still an effective hitter. He's third among active pitchers with a .546 career OPS and fifth in RBIs with 34, despite spending half of his career in the American League with the A's and Angels. While he has gone deep only twice, Haren owns 25 doubles and 34 RBIs. Only Leake (.264) has a higher OBP than Haren's .238.
Jason Marquis, Reds
Making a bid to join Leake in the Reds rotation, Marquis has a well-earned reputation as a guy who knows what to do in the batter's box. He has produced 56 career RBIs, and his 54 are the most over the past 10 seasons by 13 over runner-up Gallardo. Marquis' .492 career OPS is fifth-best among pitchers.
Clayton Kershaw, Dodgers
The perfectionist in Kershaw apparently took hold after he had three hits in 55 at-bats in 2010 -- all singles -- batting .055. Since then he has hit .197 with a .474 OPS, sixth among all pitchers. Kershaw's first career home run was decisive in a shutout of the Giants on Opening Day in 2013. He has been a more confident and aggressive hitter since launching that blast at Dodger Stadium. There is nothing the guy can't do. He's also a Gold Glove Award defender.
Tim Hudson, Giants
Bumgarner isn't the only pitcher on the three-time champions' staff who can handle the bat. Hudson's numbers took a hit last year when he was only 2-for-53, but he owns 41 RBIs, third among active pitchers behind Marquis and Gallardo. Matt Cain's six career homers have him tied for third among active pitchers with Bumgarner, Wainwright and Bronson Arroyo. Jake Peavy's .440 OPS is the seventh-best over the past 10 years, giving the Giants another pitcher who can run into one every now and then.
Lyle Spencer is a national reporter and columnist for MLB.com. Follow him on Twitter @LyleMSpencer. This story was not subject to the approval of Major League Baseball or its clubs.