Hernandez's strong start 'very pleasing' to Mariners
Seattle ace rebounds from rough Cactus League outing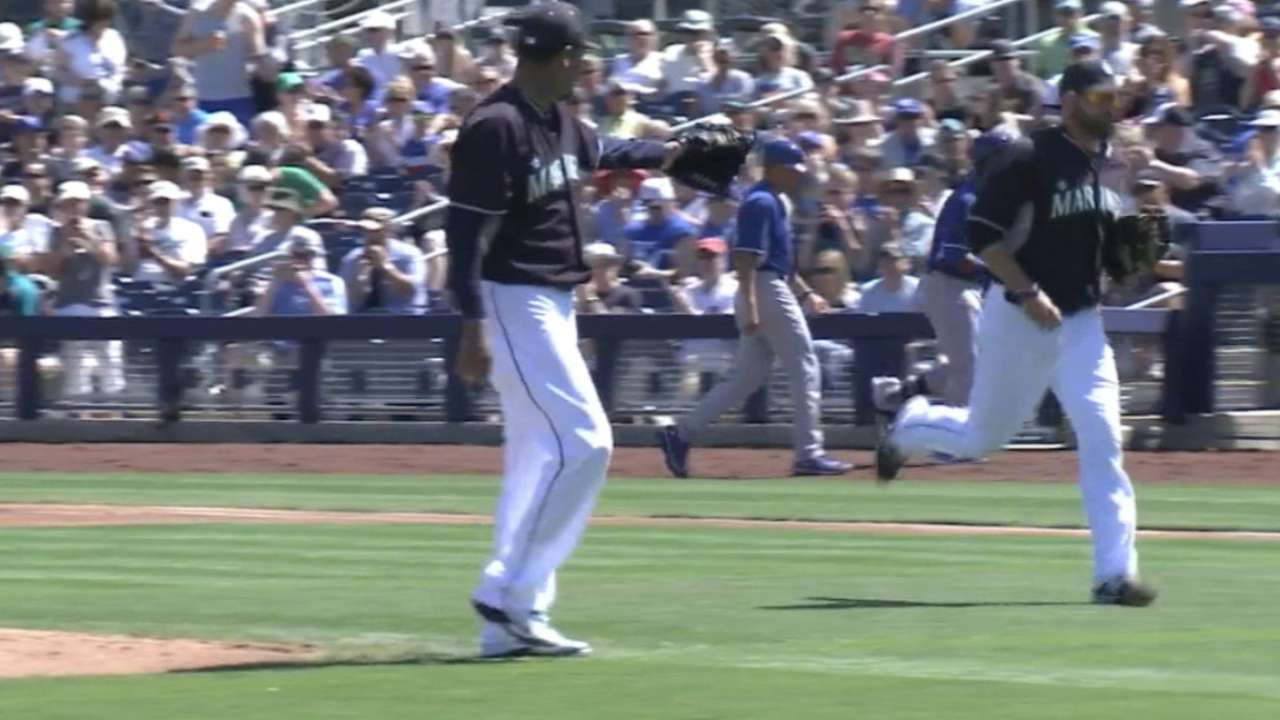 PEORIA, Ariz. -- The Mariners lost to the Royals, 3-0, on Thursday at Peoria Stadium. But really only one thing mattered in this one. Felix Hernandez looked King-ly and thus all was well.
"I feel like I'm where I want to be," Hernandez said after firing six innings of two-hit, one-run ball. "I'll be ready for Opening Day."
Hernandez got rocked for six runs and six hits in his previous outing against the Cubs. And while Hernandez and manager Lloyd McClendon shrugged that performance off as just a meaningless Spring Training warmup at the time, there was an obvious sigh of relief after Seattle's ace rediscovered his deadly changeup and zipped through the Royals for six frames on 65 pitches.
"Felix was outstanding," McClendon said. "It was a very good outing, one that I was anxious to see. It was very pleasing to the eye."
Though Hernandez has one more start next week, McClendon wanted to see the 28-year-old take a solid step forward in his third Cactus League outing. Mission accomplished.
"Sure, it was very important," McClendon said. "Get him built up, get him up and down five or six times, get his pitch count up where it needs to be. He did a great job for us."
Hernandez went to the bullpen and threw another 15 pitches after his outing to raise his count to 80 on a sweltering 90-degree afternoon.
"I'm happy with what I did today," he said. "All my pitches were there. I'm very happy. My changeup was good today. It was down and had real good movement. The sinker was good. And when my fastball is good, that makes everything better."
The Royals touched Hernandez for a run in the third when Christian Colon doubled, moved to third on a wild pitch and crossed the plate on a sacrifice fly by Jarrod Dyson. But Hernandez wound up facing just one batter over the minimum for his six frames and finished with no walks and four strikeouts.
Seattle's offense provided just two hits and no runs in support, but this was a split-squad day following a night game Wednesday and McClendon started a lineup that included several Minor Leaguers and substituted liberally as always in the spring.
With the clock ticking down, Hernandez already has his sights set on April 6 when the action gets real and the Mariners face the Angels in their first Opening Day at Safeco Field since 2008.
"It's going to be fun," Hernandez said. "It's going to be in Seattle. It's been awhile. It's Opening Day, it's the start of a new season, so you've got to be pumped. But I'll be calm."
He'll be a little calmer after proving Thursday that the stuff is ready.
"It felt really good," he said. "My legs, my whole body felt good today."
Which meant the Mariners were feeling good as well, on a day when nothing else much mattered.
Greg Johns is a reporter for MLB.com. Follow him on Twitter @GregJohnsMLB as well as his Mariners Musings blog. This story was not subject to the approval of Major League Baseball or its clubs.