D-backs' Marshall finds success attacking the strike zone
Young reliever keeping ball on the ground in the big leagues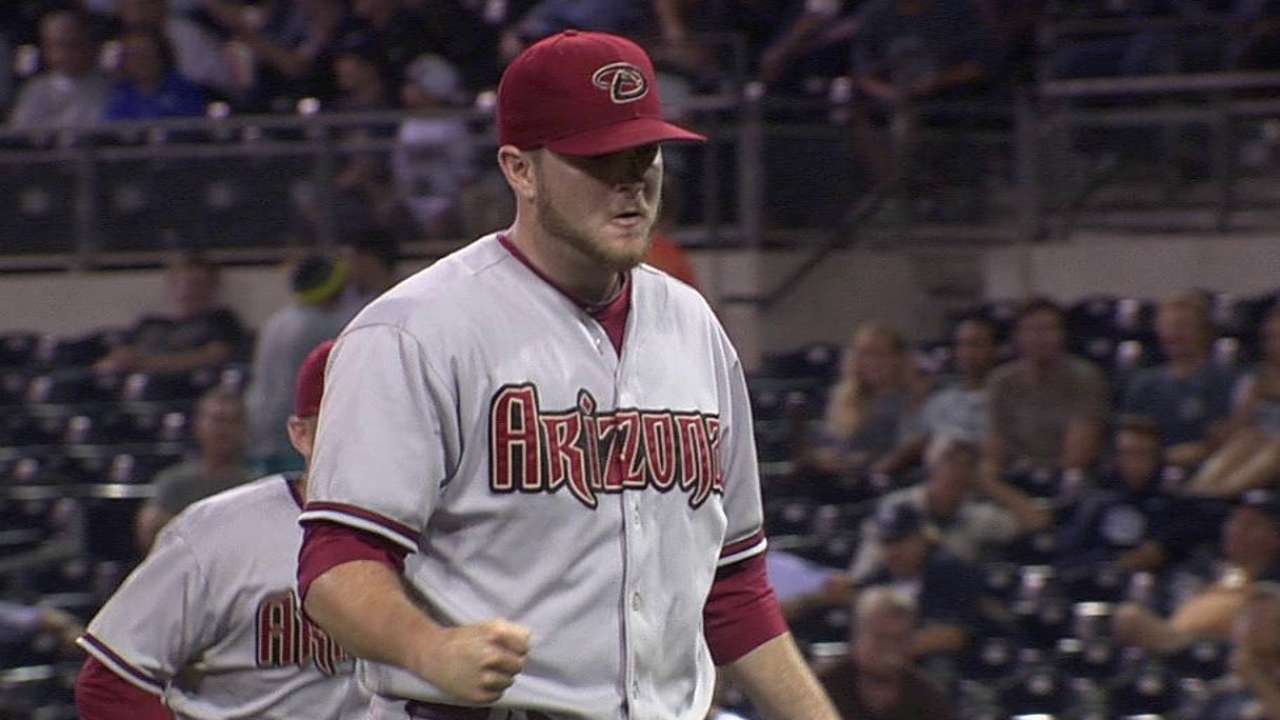 SCOTTSDALE, Ariz. - - When Diamondbacks relief pitcher Evan Marshall was asked how he made such a smooth transition to the big leagues, the 24-year-old surprisingly pointed to his struggles at Triple-A in 2013.
The former fourth-round selection did have some success in Reno that year, striking out 59 batters in 58 innings, but also walked 30 and finished the season with a 4.34 ERA.
"Horrific,'' he called that season. "It taught me what was important.''
Less than two years later, Marshall is not only an integral part of the Diamondbacks bullpen, but a future option to close games as well.
The reason for Marshall's rapid ascent is simple -- he learned to be aggressive in the zone.
"My best [ability] is attacking the strike zone with sink down in the zone," Marshall said. "If that's my key attribute I have to highlight it and use it often."
Marshall learned to keep an aggressive mindset from his idol within the organization, former D-backs closer and current special assistant J.J. Putz. Putz instructed Marshall to focus on his strengths on the mound no matter who was in the box.
"[Young pitchers] kind of tend to look at who is coming up at times and not staying focused on the hitter you're about to face," Putz said. "At the end of the day you got to be you. You got to pitch to your strengths."
The young right-hander Marshall took Putz's advice and started relying on his best asset-- pitching for the groundball.
Marshall said balls naturally have some "run" when he throws, but he was taught in college that getting downward movement would be his quickest ticket to the big leagues. With so many years of practice, it is now second nature for Marshall to throw pitches that dip.
"By using sink it gives you a little more flexibility because you can use more of the zone," Marshall said. "If that's your bread and butter, that's what you're going to use primarily."
Marshall's ability to get groundballs from both left-handed and right-handed batters made him a valuable asset in the D-backs' bullpen last year. Marshall coaxed groundballs from 55 percent of right-handed hitters and an astounding 69 percent from left-handed hitters.
Even though Marshall also struck out plenty of hitters (9.85 strikeouts per nine innings), getting quick outs on the ground was his main goal.
"If you go out there and you throw for strikeouts every single time, you're going to have a bunch of 20-pitch innings," Marshall said. "Then it's just not feasible coming back the next day with a fresh arm. That one-two-three inning with two groundballs is just as good as striking out the side."
Manager Chip Hale said Marshall would be an option to close this season if both Addison Reed and Brad Ziegler were out, but also made clear he would consider a variety of options.
Reed, the D-backs' closer, said a short-term memory is necessary for any closer to have sustained success in the big leagues. Rebounding after tough outings can be a problem for many young pitchers, but Reed said Marshall would have success in the closer's role.
"I think he has the mindset for it," Reed said. "I don't think he would get flustered."
If Marshall were to close games for the Diamondbacks, his new aggressive pitching style would not change.
"When you find something that works, it's better to stay with it and keep tweaking it," Marshall said.
"For closers, a save with three strikeouts looks awesome, but to me a save with three ground balls is just as good."
Ari Kaye is a graduate student in the journalism masters program at Arizona State University. This story is part of a Cactus League partnership between MLB.com and ASU's Walter Cronkite School of Journalism and Mass Communication. This story was not subject to the approval of Major League Baseball or its clubs.