Opening Day 'in jeopardy' for injured Denorfia
Maddon remains cautious, does not want to aggravate outfielder's sore hamstring further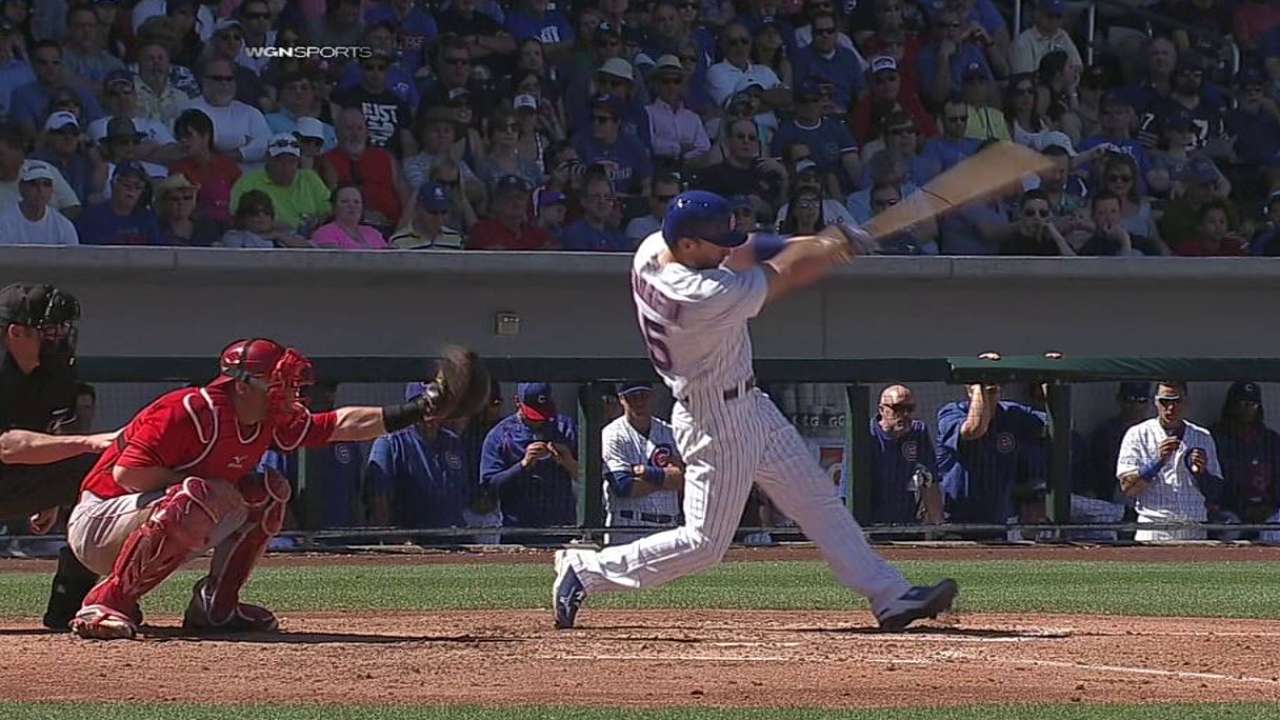 MESA, Ariz. -- Cubs outfielder Chris Denorfia, who has not played since March 17 because of some soreness in his left hamstring, is expected to get at-bats in Minor League games next week, but most likely will not be ready to go by the start of the season.
"Opening Day is probably in jeopardy," Cubs manager Joe Maddon said Thursday.
Denorfia was able to run at about 40 percent on Thursday and has been making progress.
"There's no sense in rushing anything," Maddon said. "When you're talking about [hamstring injuries], and guys try to push 'hammies' too quickly, then you end up with a longer healing process."
Denorfia, who signed a one-year, $2.6 million contract in January, has appeared in seven games, and was 5-for-20 so far.
• Major League Baseball announced rock band Fall Out Boy will headline MLB Opening Night's first-ever live musical performance as part of the pregame festivities at Wrigley Field on April 5. Fall Out Boy will perform three songs live on-field for fans before the Cubs host the Cardinals in the first official game of the 2015 season.
The band's platinum hit, "Centuries," also will be televised live to a national audience on ESPN2 at 6 p.m. CT. Batting practice for both teams will be moved earlier by approximately 30 minutes, and gates to the ballpark open at 4:35 p.m. CT.
•In an expanded deal between Audi, its Chicagoland and northwest Indiana Audi dealers and the Cubs, Audi has become the new naming rights partner for the Audi Club at Wrigley Field.
The Audi Club -- formerly the United Club -- is a pre- and postgame gathering place located on the south side of Wrigley Field, at the corner of Addison Street and Sheffield Avenue. The club is open for Cubs season-ticket holders who have purchased a membership during each home game. A club membership and ticket to the game are required to enter the Audi Club.
Carrie Muskat is a reporter for MLB.com. She writes a blog, Muskat Ramblings, and you can follow her on Twitter @CarrieMuskat. This story was not subject to the approval of Major League Baseball or its clubs.