Miggy, V-Mart show off their power strokes
All-Star duo hit their first home runs in Spring Training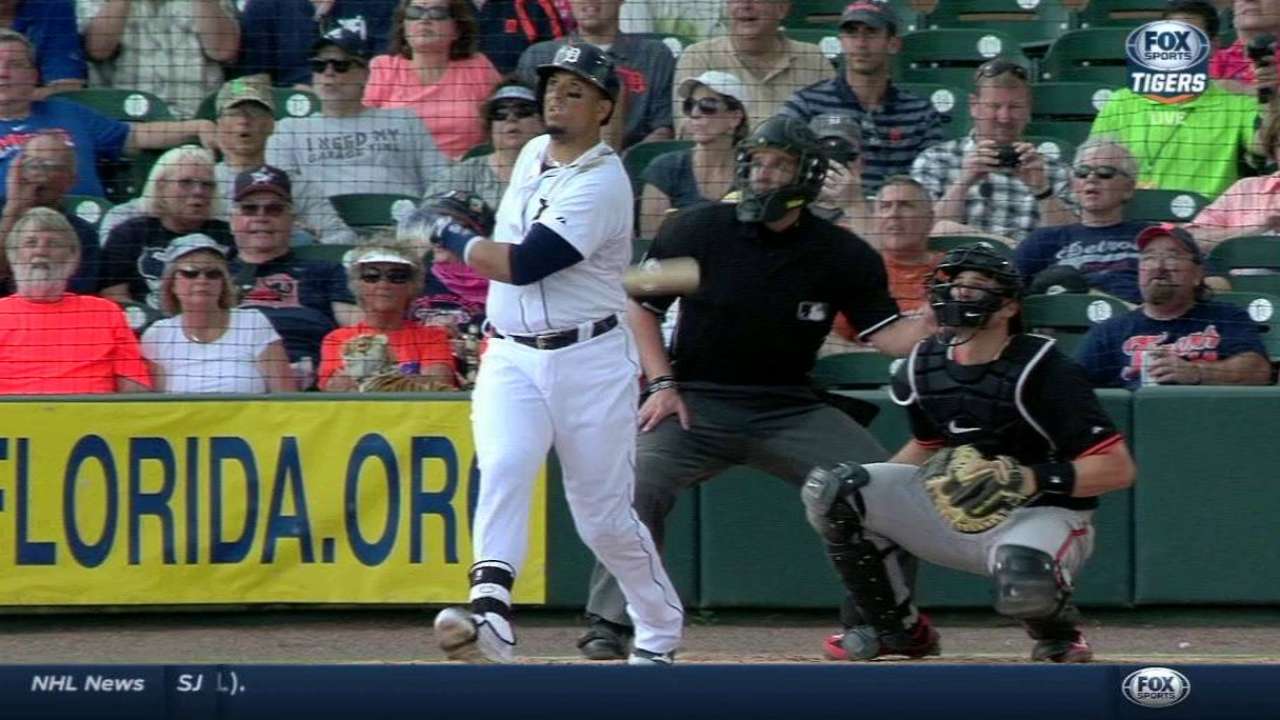 LAKELAND, Fla. -- Miguel Cabrera and Victor Martinez seemingly cleared the health hurdle a few days ago in their comebacks from their respective surgeries. In their battle to get their timing down at the plate in time for Opening Day, they both cleared the fence Thursday.
In the case of Cabrera, his first home run of the spring cleared the left-field fence on a line. In Martinez's case, his first homer in Grapefruit League cleared the right-field fence easily.
"It eliminates the baserunning concern," manager Brad Ausmus said of Martinez's go-ahead drive in the eighth.
Considering both All-Star sluggers underwent surgeries on their legs this past offseason, their power is going to bear watching early in the season. Both generate power with their lower bodies, and both have had to play catch-up to get their bodies in shape for that type of work.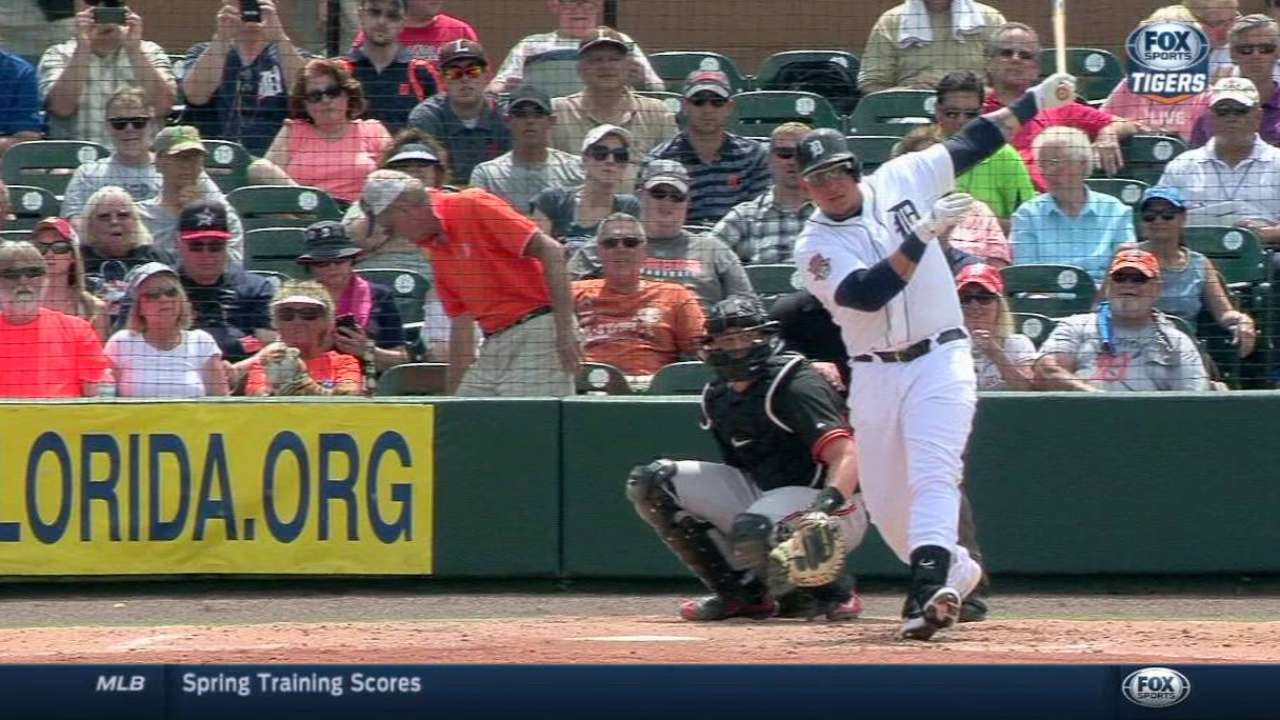 Cabrera's surgery to repair a stress fracture in his right foot left him unable to put much weight on his legs until February. He could do some lower-body workouts, but it was very limited, and generally involved no weight such as anti-gravity treadmill running.
Once Cabrera was cleared for baseball activity, he got back into game shape in a hurry. His timing at the plate has been a work in progress, but Thursday was one of the first signs that the power is there.
Cabrera's first-inning sacrifice fly nearly went out, and probably would have if he hit it to left field instead of right. His RBI bloop single a couple innings later seemingly went further up than it did out, landing in shallow center field.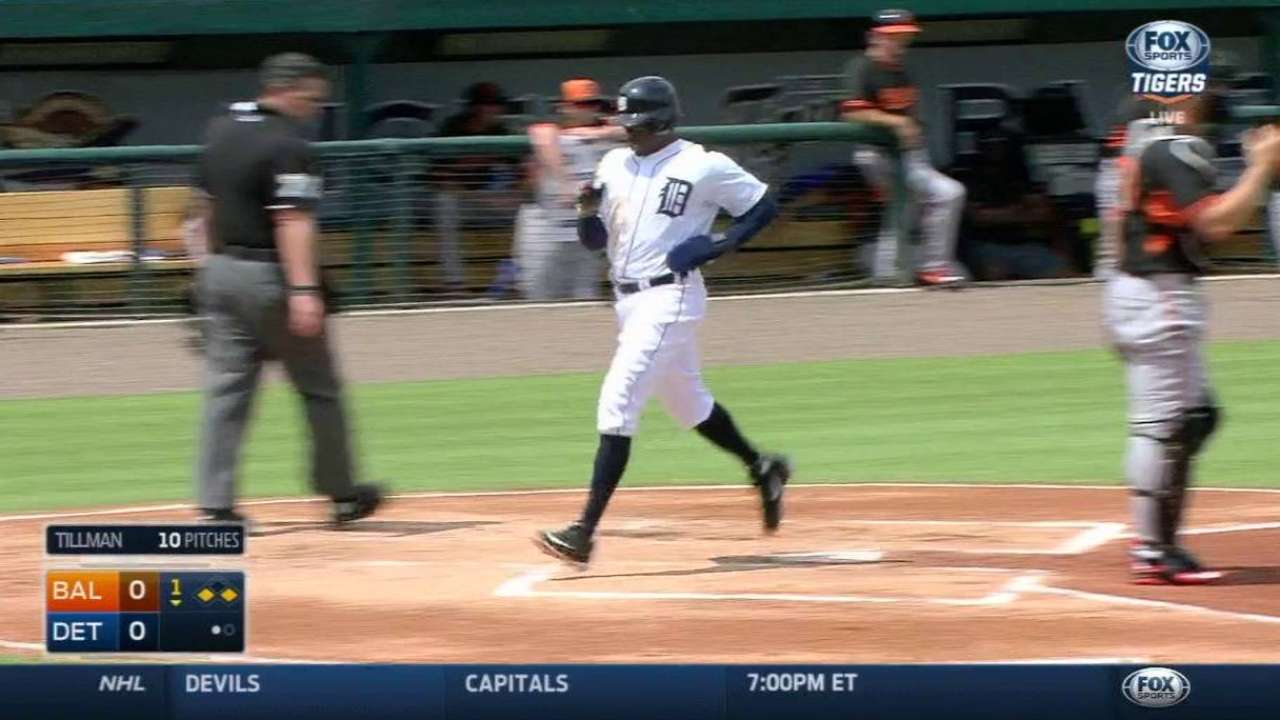 Cabrera's homer came off a familiar face. Orioles reliever Tommy Hunter gave up a go-ahead shot to him last May to one of the deepest parts of Camden Yards. Thursday's shot never had enough altitude to gain much assistance from the wind blowing out to left-center field, but it didn't need it.
It was his first extra-base hit in a 4-for-10 start to the spring. He had shown an ability to hit pitches for line drives, but hadn't done so with authority until Thursday.
Martinez had homered in a minor-league game Sunday, but his at-bats on the Major League side hadn't yielded the same results. He had an early scare earlier Thursday when he had to accelerate suddenly on a ground ball to try to beat it out.
"He said he felt it a little bit," Ausmus said. "But I think it was more that he felt it, not that he was injured."
Martinez was 1-for-9 with two strikeouts when he stepped to the plate in the eighth inning against Kevin Gausman, whom he had hit for an RBI double during the AL Division Series last October. His go-ahead drive went towards the indoor batting cage beyond right field.
Martinez is scheduled to serve as the DH on Friday when the Tigers visit the Blue Jays in Dunedin, Fla. Cabrera is expected to have the day off, Ausmus said.
Jason Beck is a reporter for MLB.com. Read Beck's Blog and follow him on Twitter @beckjason. This story was not subject to the approval of Major League Baseball or its clubs.