J.D. Martinez ready for hurlers' adjustments
Outfielder knows that pitchers will be better prepared to face him this year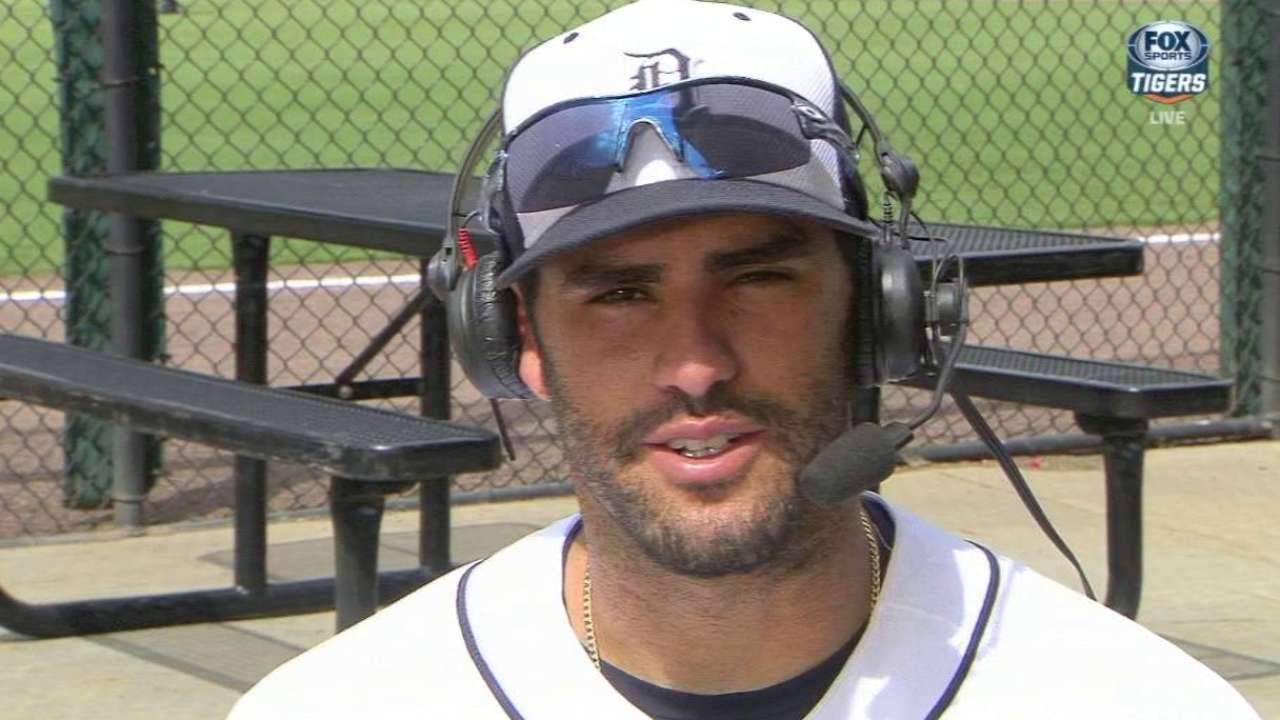 LAKELAND, Fla. -- J.D. Martinez picked up some attention last season for the notebook he carried with him in the dugout to track how pitchers approached him.
Now that he has the league's attention, he's going to have to prepare for the notes other teams have been taking as well.
He has been preparing for a while.
"They weren't last year, how can I put it, just serving them up, just not making adjustments," Martinez said. "This is the new age of baseball, where everything is computers and calculations and sabermetrics. If you have a hole, they're going to find it and they're going to make the adjustments game to game because of that.
"Every game you play in, there's advance scouts watching you and there's computers that are charting you. So when they go sit down, they're looking at a screen with all your percentages of what you hit good, what you hit bad."
That said, manager Brad Ausmus acknowledged, "They definitely have a more in-depth scouting reports compared to a year ago. They're much more aware of him as a power threat, so they'll be more careful with him. That's the nature of baseball."
He pounded fastballs last year, especially when ahead in the count. He obliterated cutters last year for a .355 average and .827 OPS according to STATS. He didn't swing a lot of curveballs, but he hit the ones that he did. And that's just the information that's readily available online, aside from in-person scouting.
As teams went away from fastballs against him, so did Martinez start going with offspeed stuff. He still kept hitting. The difference, he said, was the revamped swing he brought into the season.
In that sense, he learned something about himself.
"I felt like last year that was the biggest thing that I noticed about myself that I was able to do, that I wasn't able to do in the past is adjust," he said. "In the past, I would make the adjustment and it would take me a couple weeks, and by then I would drop 40 points, where I felt like last year I was able to make adjustments a lot quicker."
It's too early to tell how opponents will approach him now. Pitchers have their own worries in Spring Training, and particular pitches they want to work on without regard for who's hitting.
Game plans usually don't go into effect until pitchers are making their final tune-ups. Even then, they might wait until the games count before giving opponents any idea of what to expect.
"I can't sit here and say, 'Oh, they're just going to make a huge adjustment next year,' that they've figured me out, because I don't see it as far as yet," Martinez said. "Last year they tried. Once we start the season is when teams will start making adjustments."
They'll have a lot to look over. After going 1-for-3 with a single Thursday in the Tigers 6-4 win over the Orioles, Martinez is batting .347 (17-for-49) with five home runs and 11 RBIs. He has walked five times and struck out nine. In so doing, he has reinforced his place in the heart of the Tigers order.
Said Ausmus: "I do think he's capable of making adjustments, but it's early."
Jason Beck is a reporter for MLB.com. Read Beck's Blog and follow him on Twitter @beckjason. This story was not subject to the approval of Major League Baseball or its clubs.