MLB.com Columnist
Bernie Pleskoff
Pleskoff: Slugger Canha offers A's power bat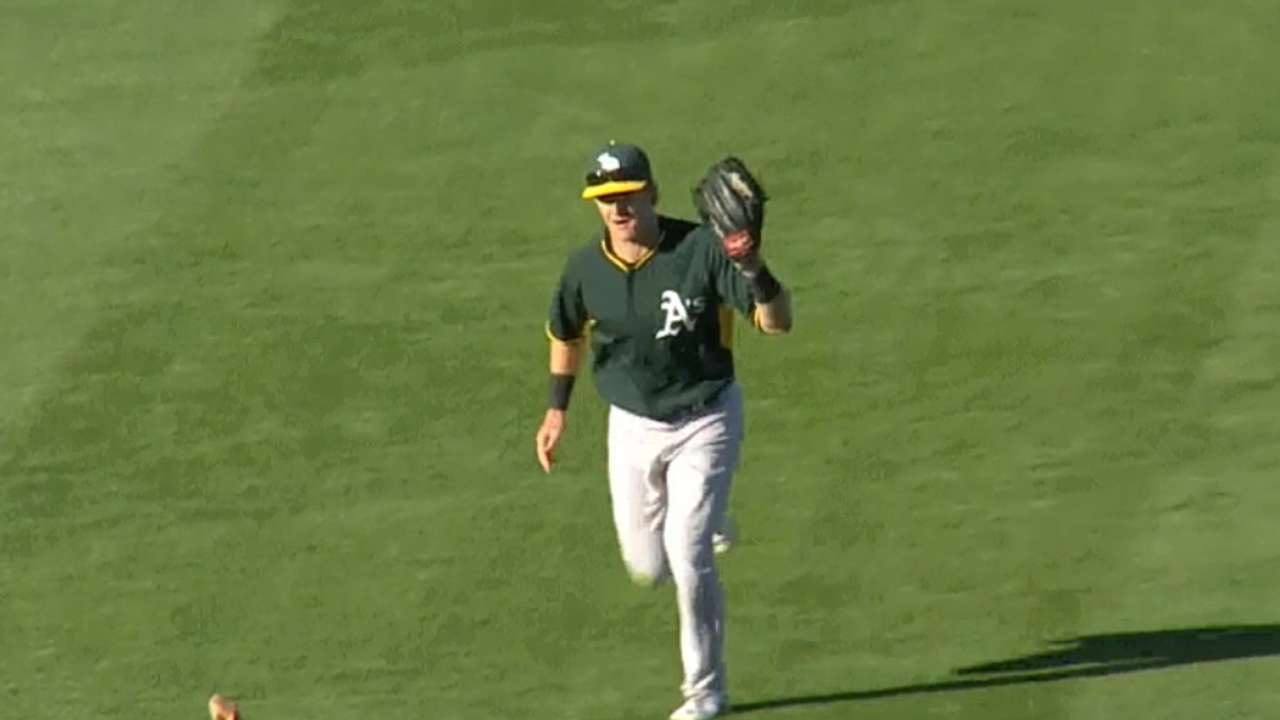 Selecting a player in the December Rule 5 Draft at the end of the Winter Meetings is really a low risk/high reward proposition. The price is $50,000 to obtain a player left unprotected by another team. There is a catch, however. The selected player must remain on his new team's Major League roster the entire season or be offered back to his original team for half the purchase price, $25,000, if he clears waivers.
The Miami Marlins did not protect first baseman Mark Canha this past winter. As a result, the Colorado Rockies selected Canha with the second overall pick in the Rule 5 Draft. With his power potential and the perceived lack of first base depth in the organization, Colorado seemed like a perfect place for Canha to play. His bat would find Coors Field a welcome playground. However, the Rockies traded Canha to the Oakland Athletics in exchange for pitcher Austin House and cash. If Canha makes the big leagues in 2015, it will likely be with Oakland and not Miami or Colorado.
Canha returns home with the Athletics. He attended Bellarmine College Prep where he was named the 2007 West Catholic Athletic League MVP. He hit .440 with 11 home runs as a senior. For his career, he hit .415 with 23 doubles, three triples and 26 home runs. During his tenure, he was clearly the leader of his team.
His high school success took him to University of California, Berkeley to play collegiate baseball. Following his successful collegiate career, the Marlins selected Canha in the seventh round of the 2010 First-Year Player Draft. Now 26, Canha has a chance to stick with a Major League club after having spent parts of five seasons in the Marlins farm system.
Canha has appeared in 496 Minor League games and has 2,054 plate appearances. Of all the Rule 5 selections, Canha may be the most prepared for a promotion to the big leagues. He has a career batting average of .285.
Canha is a right-handed hitter with some serious power at 6-foot-1, 200 pounds. He has upper-body strength and strong forearms and hands. It isn't likely there will be much additional growth to his frame, but he is solid and well proportioned.
Last year at Triple-A New Orleans in the Pacific Coast League, he hit 20 home runs, an increase of seven from his 2013 season at Double-A Jacksonville. He hit .303 for the season, hitting both right-handed and left-handed pitching very well. Canha has advanced one classification each year since his rookie year in 2010.
When I've scouted Canha playing for Oakland this spring, he took an aggressive approach at the plate. He had good pitch recognition, and was selective and appropriately patient. However, it was very evident that his goal was to drive the ball deep to the gaps or over the wall. He was not at the plate to dump the ball over the head of the infielders.
During his time with the Athletics this Spring Training, his strikeout total has been a bit high. While there is some swing and miss in his game, he hasn't had the high strikeout totals one might expect from a power hitter in his Minor League career. Historically, he has made reasonably good contact and has shown enough speed to register a good amount of doubles to the gaps. Last year he even had three triples. However, this spring he is facing Major League-quality pitching on a more regular basis.
It remains to be seen if Canha will stick with the Athletics at the end of Spring Training. He has played multiple positions so far this spring. As a result, he can fill one of several roles for his new Oakland club. He can serve as a first baseman, a corner outfielder or as a designated hitter. If pressed, he can probably also play some third base, a position he has played in the past. I believe he profiles best as a first baseman. Regardless of where he plays, if he remains with the club all year, he can serve as a welcome source of power.
Bernie Pleskoff has served as a professional scout for the Houston Astros and Seattle Mariners. Follow @BerniePleskoff on Twitter. This story was not subject to the approval of Major League Baseball or its clubs.