Mets shield Colon, give Niese intrasquad duty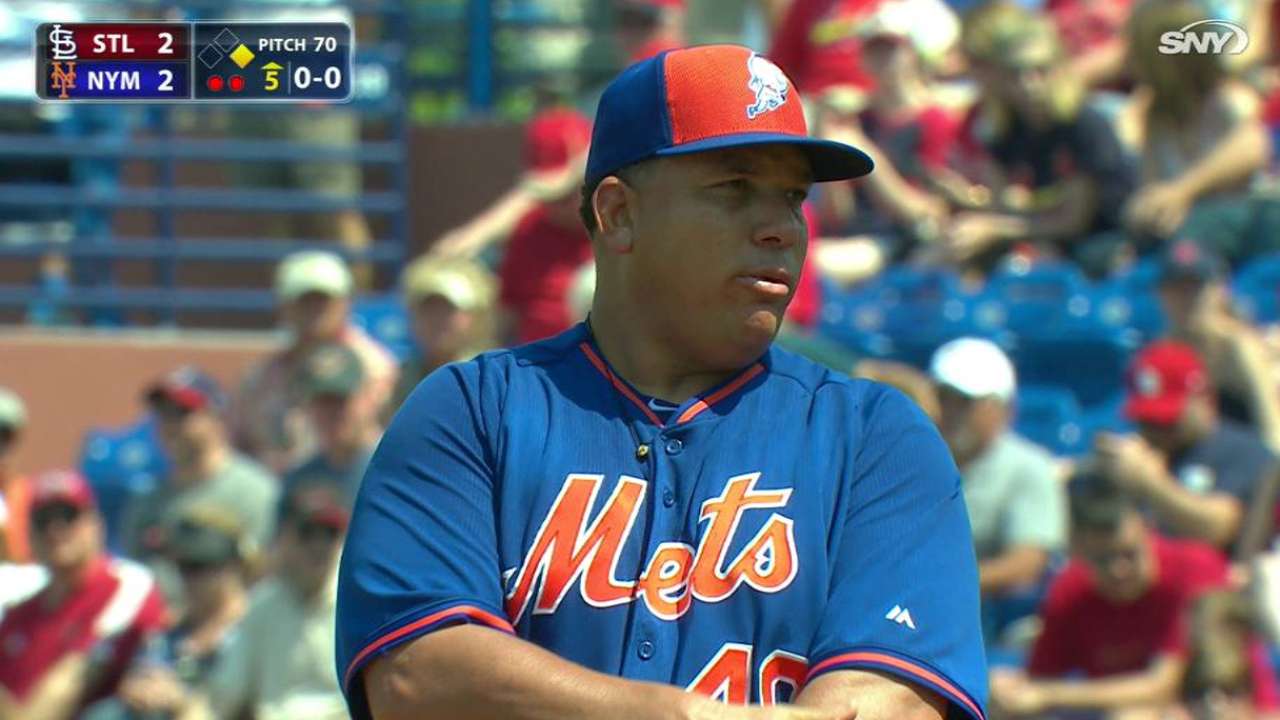 VIERA, Fla. -- Though Jon Niese was a late addition to Thursday's Mets intrasquad roster in Port St. Lucie, Bartolo Colon was not. Once New York named Colon its Opening Day starter against the Nationals, the club abandoned all thought of using him in that evening's Grapefruit League game -- also against said Nats.
Colon, who relies largely on the deception he generates by changing speeds, faced the Nationals five times last season and once already this spring. With his Opening Day start only two weeks away, avoiding their hitters was a priority.
"I think it was a really good decision from [pitching coach] Dan [Warthen] and the staff, because last year they saw me a lot," Colon said through an interpreter. "Now, they're going to face me a lot this year so I got my work in [at Port St. Lucie]."
That work consisted of 73 pitches against a lineup including starting position players David Wright, Curtis Granderson and Michael Cuddyer, the last of whom took Colon deep over the left-field wall. Colon threw 49 strikes.
Also pitching at Tradition Field was Niese, who -- in a game generally devoid of rules or structure -- faced an intrasquad lineup of mostly the same hitters. Niese, who will not pitch in the Mets' opening series against the Nationals, was originally scheduled to face them in Thursday night's Grapefruit League game. But with bad weather in the forecast threatening to wash that game out completely, the Mets used Niese in the intrasquad game instead and gave his start to prospect Matt Bowman, who struck out four in five scoreless innings.
Niese threw 76 pitches in the game, working on a mechanical tweak to align his stride toward home plate.
"It was good to get the work in," he said. "It actually felt a lot better. I wasn't fatigued at the end."
Anthony DiComo is a reporter for MLB.com. Follow him on Twitter @AnthonyDicomo. This story was not subject to the approval of Major League Baseball or its clubs.