Salazar roughed up in lopsided loss to Reds
Cleveland rotation candidate's ERA rises to 8.18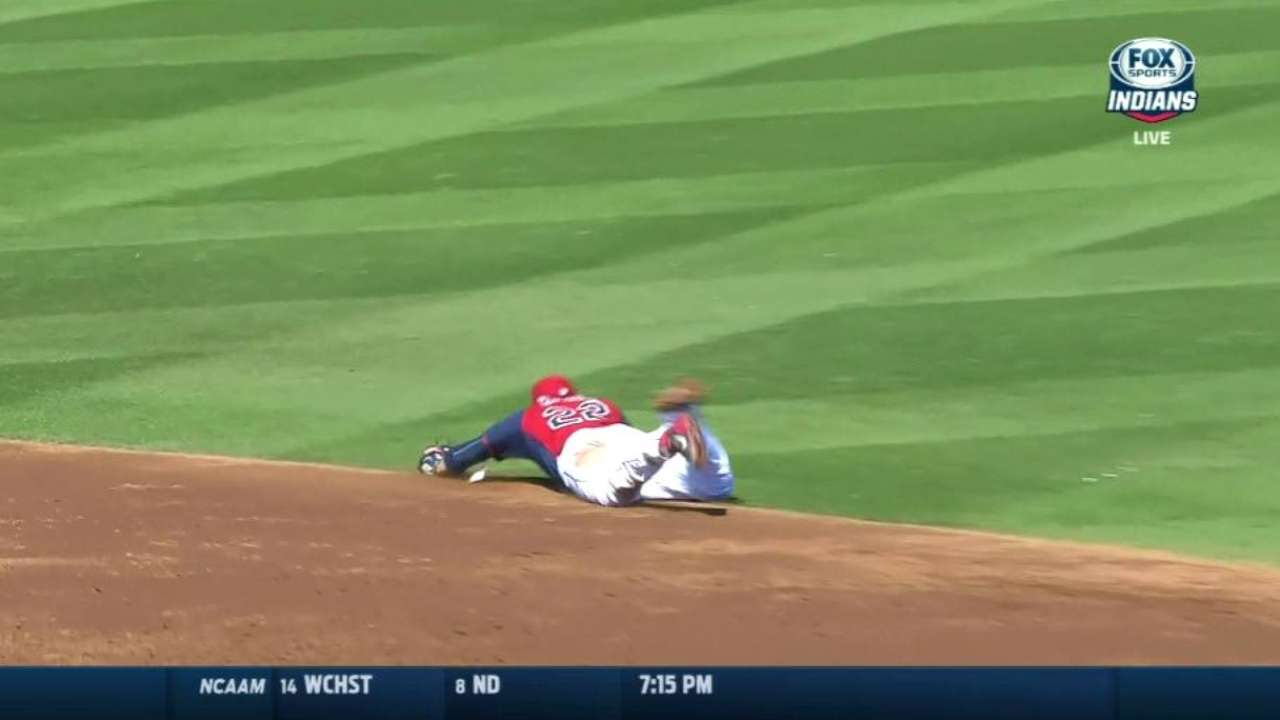 GOODYEAR, Ariz. -- Todd Frazier and Devin Mesoraco each belted a home run for the Reds on Thursday, capitalizing on a rough day on the mound for Indians starter Danny Salazar in a 13-2 victory over Cleveland at Goodyear Ballpark. Cincinnati had 19 hits in the game, with all 12 of its hitters collecting at least one hit.
Frazier and Mesoraco homered in the first and second inning, respectively, helping Cincinnati to an early, 5-1, lead in Salazar's latest audition for a spot in Cleveland's rotation. Joey Votto (three RBIs) and Billy Hamilton (two hits, one RBI) also helped lead the Reds' early offense.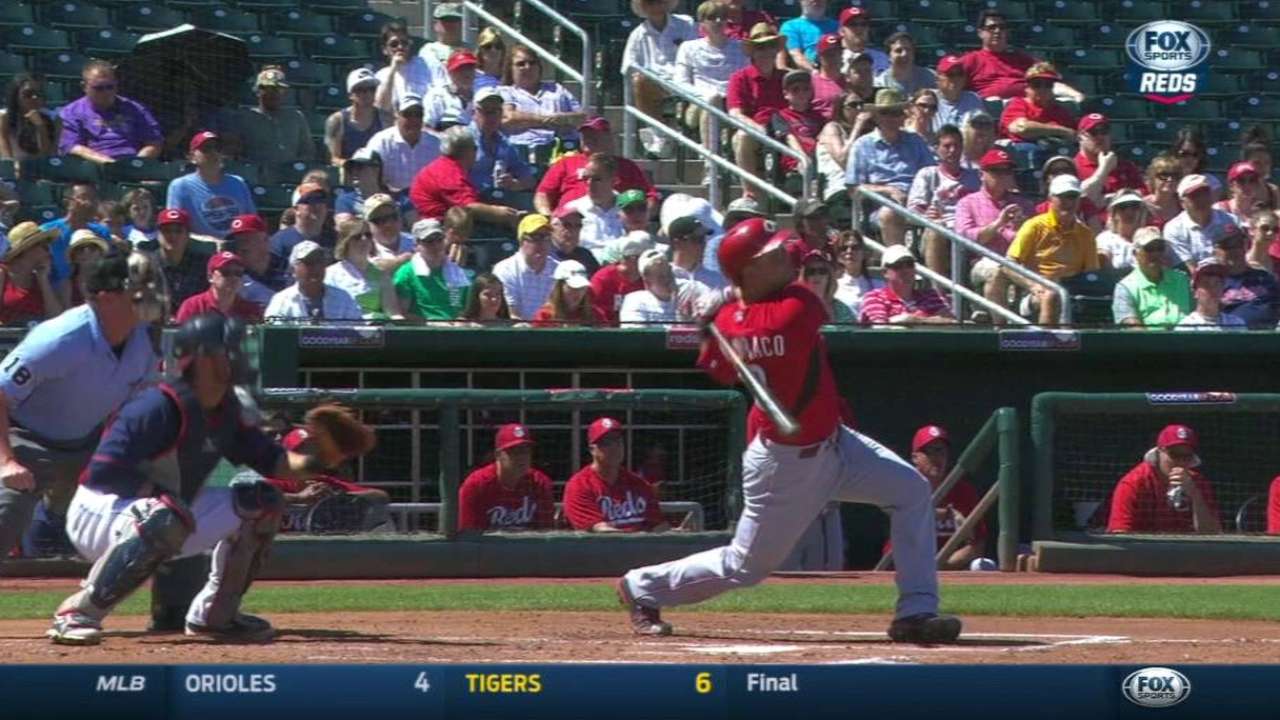 Cleveland's lone run against Reds pitching prospect Michael Lorenzen came in the first inning, when Michael Bourn singled and later scored on a sac fly from Carlos Santana. Lorenzen worked three innings to put his Cactus League ERA at 1.64 this spring.
MOMENTS THAT MATTERED
Roughed up: Salazar's spring ERA ballooned to 8.18 after an ugly outing against the Reds. The hard-throwing righty struck out six and walked none, but Cincinnati tagged him for seven runs (six earned) in 3 1/3 innings. Salazar surrendered a pair of homers, giving him five home runs allowed in 11 Cactus League innings.
"After a game like this, [I don't feel] really good," Salazar said. "Physically, I'm good. But, when you start a game good, and then you just lose your release point, and you start leaving the ball up, and then you have to come down to the middle because you don't want to walk anybody, and they start hitting you, you're going to feel [bad]."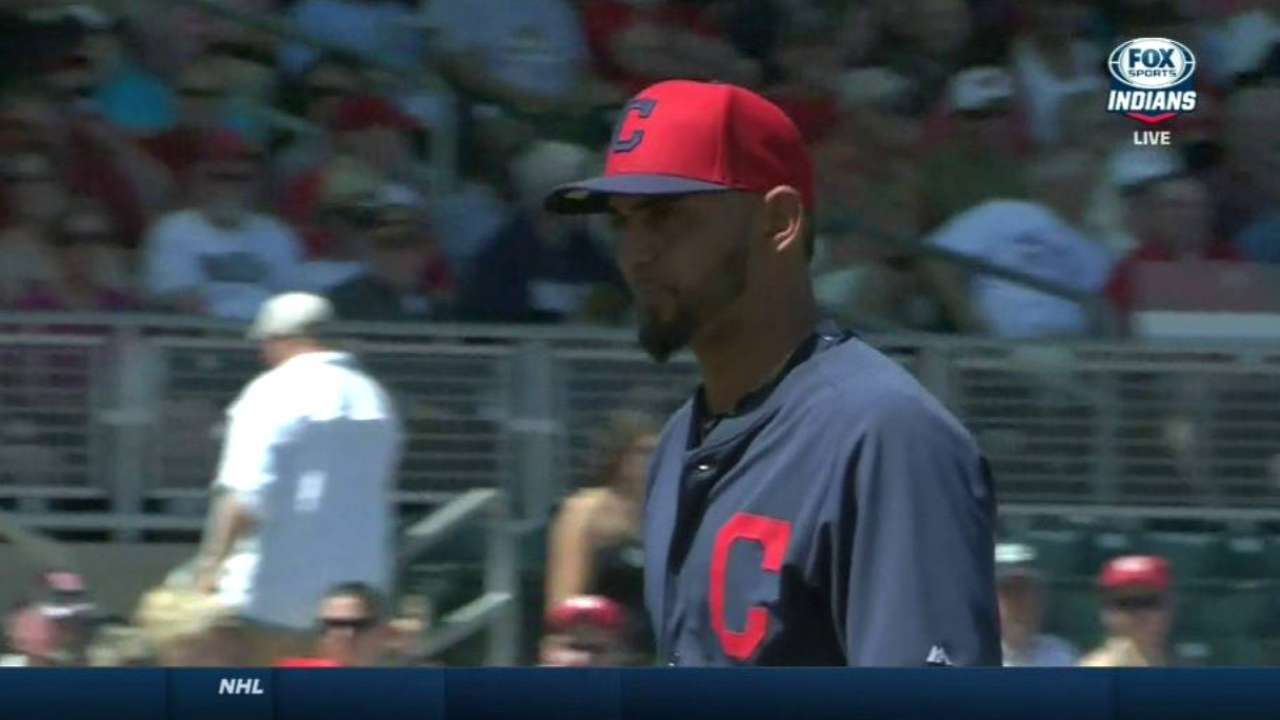 Indians manager Terry Francona said Salazar's issue this spring has been consistency.
"The stuff is definitely there," Fracona said. "It's not there yet consistently, whether he's locating or following a pitch up with two pitches in a row. Again, we'll keep working at it -- that's for darn sure -- but the results weren't kind of what we're looking for."
Frazier streaking: With two outs in the top of the first inning, Frazier gave the Reds a 1-0 lead by slugging a 2-1 pitch for a home run to left field. It was Frazier's third homer of spring. Although batting .237 this spring, Frazier has hit safely in five of his last six games while batting .316 in that stretch and leads the team in runs scored with eight.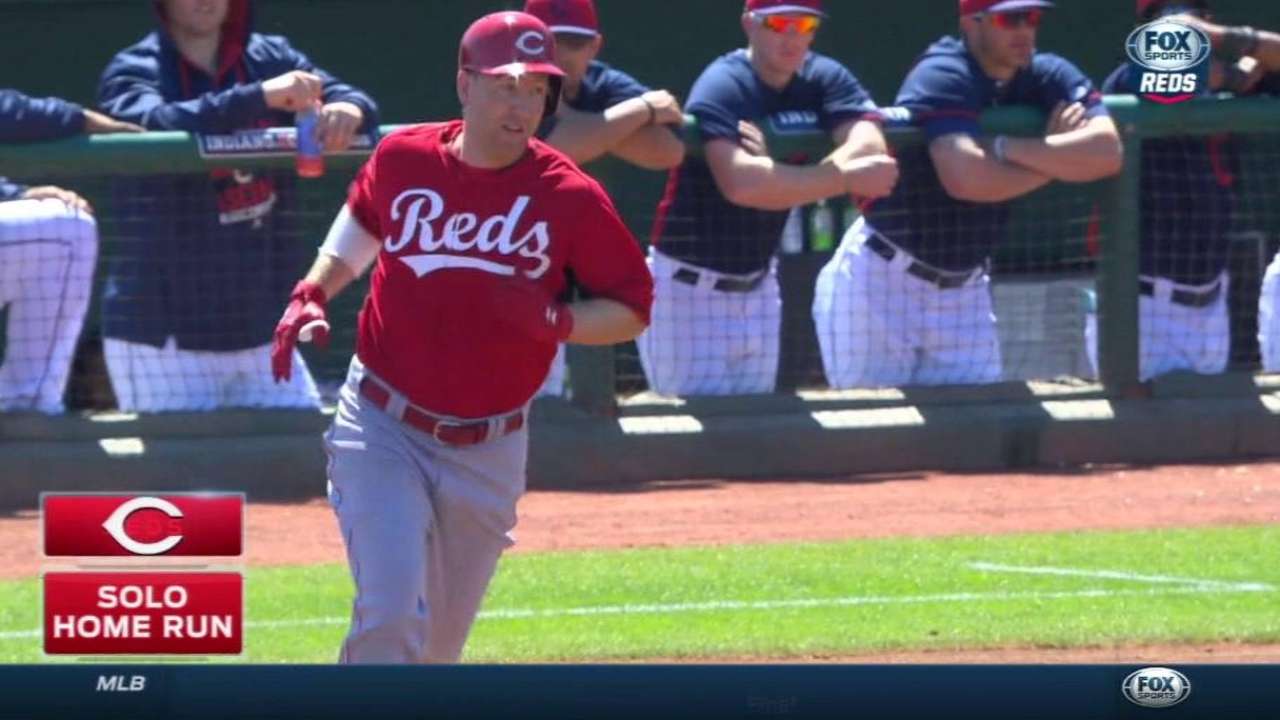 Nice dive: In the bottom of the fourth with no outs and a runner on first base, Reds center fielder Hamilton made a great diving catch in left-center field to rob Lonnie Chisenhall of an extra-base hit, and likely, an RBI.
Kip's back: After missing the previous seven games with a back issue, Tribe second baseman Jason Kipnis returned to the lineup. Kipnis singled hard to center in the first inning in his first at-bat since March 17 and also made a highlight-reel play in the field in the third. The second baseman dove up the middle, snaring a sharply hit grounder from Brandon Phillips, and quickly fired a relay to first for the out.
"We got most of the test done [on Wednesday] in the Minor League at-bats," Kipnis said. "I got five innings of defense and five ABs [in the Minors]. So, we kind of got the legs back under me and the speed of the game back under me. Today, it was just kind of getting back out there and catching up with everybody."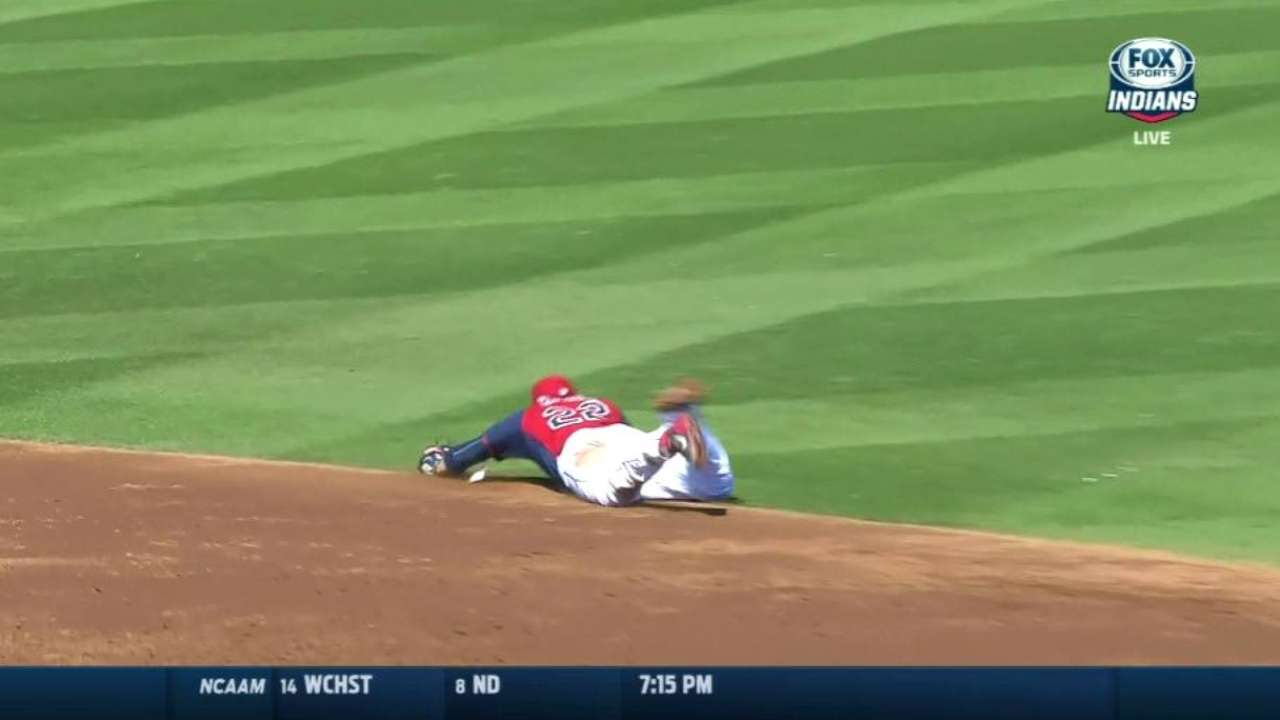 QUOTABLE
"I don't think we would ever make a decision on one start. I think that's where you set yourself up to make a mistake. Obviously, we wanted him to pitch better. I just don't think you can make decisions based on four innings in March. I don't think that's correct." --Francona, on how Salazar's start impacts rotation competition.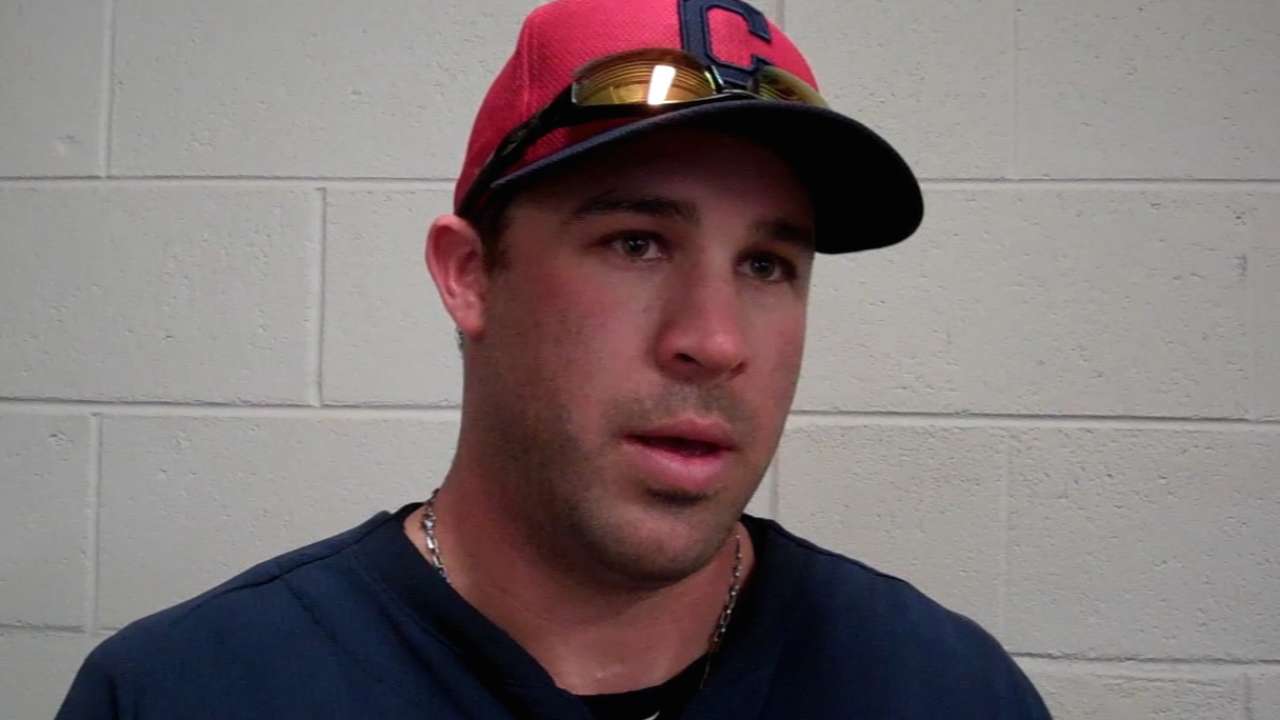 SOUND SMART WITH YOUR FRIENDS
Indians outfielders Michael Bourn and Brandon Moss stayed hot at the plate in Thursday's loss. Bourn went 2-for-3 to raise his Cactus League average to .400 (16-for-40), while Moss went 1-for-3 to boost his spring average to .320 (8-for-25).
WHAT'S NEXT?
Reds: Still looking to lock down a rotation spot, Raisel Iglesias will make his third start, and his sixth appearance overall this spring, when the Reds host the Brewers Friday at 10:05 p.m. ET. Iglesias allowed a three-run homer vs. Oakland in the first inning on Saturday before retiring eight of his last nine batters. The game is available on Gameday Audio.
Indians: On Friday, American League Cy Young Award-winner Corey Kluber will continue his march toward his first Opening Day start. The right-hander is scheduled to log six innings for the Indians at Salt River Fields, where the Tribe will take on the D-backs in a 4:05 p.m. ET Cactus League clash. Lineup regulars Brandon Moss, Carlos Santana and Jose Ramirez are also slated to make the road trip. The game will be available on Gameday Audio.
Jordan Bastian is a reporter for MLB.com. Read his blog, Major League Bastian, and follow him on Twitter @MLBastian. This story was not subject to the approval of Major League Baseball or its clubs.